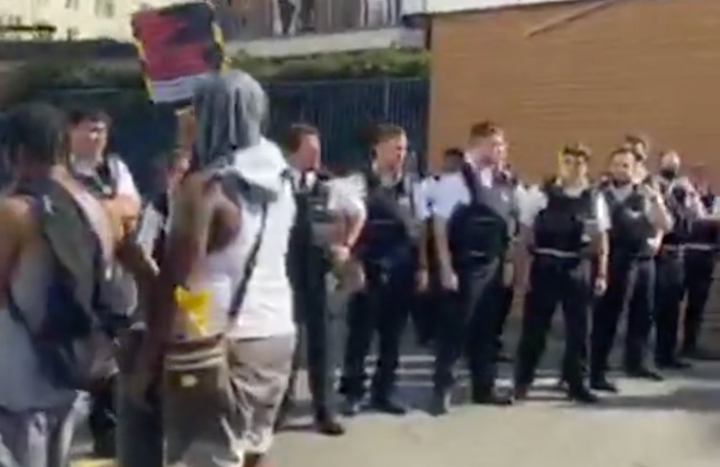 The founder of award-winning youth organisation the 4Front Project has accused the police of brutality following what has been described as a raid on its office in north west London on Friday afternoon.
Four people aged between 14 and 25 were arrested at around 2pm but all were later released, the Met has confirmed.
According to the 4Front Project's Temi Mwale, who was recently named an influential activist in British Vogue's September issue, officers arrested a 14-year-old boy on their premises.
The situation escalated when staff asked why he was being arrested and for more information to pass on to his parents. Officers refused to engage, Mwale said.
Eyewitnesses have said that officers proceeded to "drag kids into vans with no good reason".
Filming outside Colindale police station in Brent, Mwale said: "We've been assaulted so many times here today. We have two members of my staff team that have been arrested.
"We have several young people who have also been arrested. This is what we're dealing with and I've told them we want it to be deescalated and yet they've refused.
"This community is sick and tired of the way we're being treated and now we need your support. We're meant to be out there tomorrow, Tottenham police station, but instead we're out here at Colindale police station right now."
The protest in Tottenham on Saturday has been organised to mark the ninth anniversary of the 2011 riots, which were sparked by the death of Mark Duggan, a 29-year-old Black man who was fatally shot by a police officer in Tottenham on August 4 2011.
In the video posted on Instagram, Mwale added: "Every day we're getting arrested in our community for no good reason. It's the hottest day of the year. We're thirsty. we're tired. [...] Every single day they come to Grahame Park Estate. [...] Stop and search, strip search, the lot of it, we have it. Brutality, punching us. [...] We've had enough.
"Today started calmly, it started peacefully. Us as community workers [...] asking why a 14-year-old was being arrested here today, what has he done, so we can inform his mum. [...] They said they didn't want to engage with us. [...] They said that they aren't able to tell us anything. We've got a mum on the phone and we want to [...] be able to tell her what they're doing."
A police vehicle left the 4Front Project office and a group of 30 to 40 people followed on foot to Coldindale police station, where they remained.
Colindale Police posted on Twitter: "A youth on the Grahame park Estate was arrested today for being in possession of drugs. A youth Project based on the Estate took it upon themselves to try to Obstruct Police carrying out routine duty. Hence the ill feelings from young people towards usat [sic] Colindale Police station."
It comes after the 4Front Project last month commenced legal action against the Met over "unfair" treatment of members of its team.
The Metropolitan Police said: "Officers on patrol in The Concourse NW9, carried out a section 23 stop and search under the Misuse of Drugs Act. A 14-year-old male was arrested on suspicion of possession of cannabis.
"As officers carried out the arrest, a group began to gather around the officers and obstructed the police vehicle from leaving the scene. Further police units attended.
"A further two people, a 23-year-old man and a 25-year-old man, were arrested on suspicion of obstruction of a constable."
A cordon was put in place around the police station and a Section 35 dispersal order has also been authorised, the Met has said.
A 19-year-old-man was also arrested on suspicion of assaulting a police officer.
The force later tweeted all arrested have now been released from police custody.
Chief superintendent Roy Smith, borough commander for the north-west of London, said: "Whilst I understand that people may feel strongly about some police activity and arrests, interfering or obstructing officers at the scene only serves to inflame an already tense situation.
"Instead, I would ask people to use one of our many mechanisms for engaging and listening when the situation is calmer. This enables both sides to review things with a cool and steady head and in possession of the full range of facts.
"Even when well-intentioned interfering, or obstructing officers carrying out their lawful duties, can cause far more problems than it solves. I am committed to listening, learning and improving but my officers must also have the ability to carry out their duties safely and without fear or favour.
"I am also aware of a number of rumours circulating on social media that specifically relate to injuries sustained by those arrested and the nature of this arrest. I want to clarify that no one who was arrested required medical treatment. Likewise, this arrest was not as a result of a raid or anything of that nature, this was part of a routine patrol in the area."
Editor's note: This article has been amended to reflect the fact that the 4Front Project is a registered company, not a charity as we initially stated.