A £5 note engraved with a tiny portrait of Jane Austen, thought to be worth up to £50,000, has been found in a Christmas card.
The second of four Bank of England notes was found in the Scottish Borders on Thursday.
The new owner wants to remain anonymous and has decided to keep the note, frame it and hang it on their wall.
They received the note in a Christmas card from a relative in the same area, who thought they were including an ordinary £5.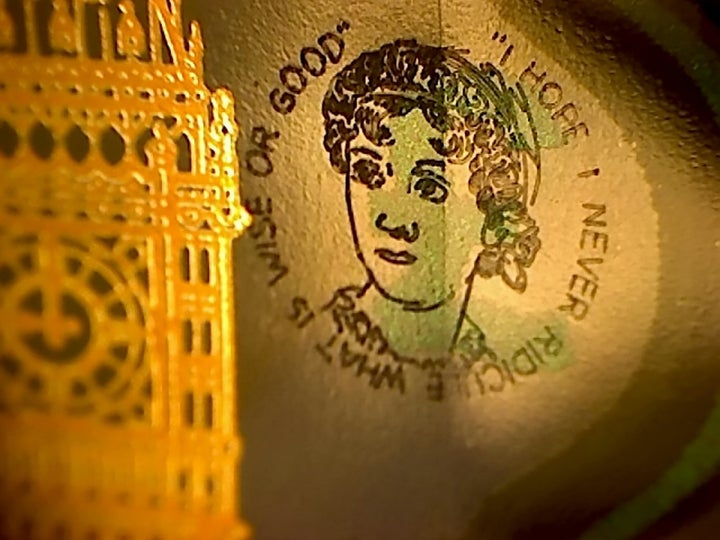 The Tony Huggins-Haig Gallery in Kelso, in the Scottish Borders, launched the project with specialist micro-engraver Graham Short creating the mini artworks.
The note, discovered on Thursday, is the second of the four to be found after one was handed over in change from a cafe in south Wales earlier this month.
Two more special £5 notes, spent in England and Northern Ireland, remain in general circulation and their serial numbers are AM32 885552 and AM32 885554.
Huggins-Haig said the latest finder, who works in education, wants to remain anonymous but has been to the gallery to have the note verified.
He said: "They are completely delighted to have it and it's getting framed and going on the wall.
"They were given it in a Christmas card by a relative and they are delighted as well because they didn't know that's what they were putting in the card - they knew it was a £5 but not one that could be worth £50,000.
"Of the two that have been found, both are with people who want to keep them as art. They've both been found by wonderful people who are very deserving.
"We've let the £5 notes go out there and it's been brilliantly received by people."
He said the project has generated worldwide interest and he has been contacted by Russian, Chinese and Indian television companies.
The artist decided to commemorate Austen on the notes as next year marks the 200th anniversary of her death.
The unique engravings can only be seen in certain lights with the author's picture positioned on the transparent part of the plastic note next to the images of Winston Churchill and Big Ben.
The notes also have quotes from the writer's work. A microscope is needed to see the images clearly.
Huggins-Haig spent one of the notes in Granny Jean's bakery in Kelso on December 5 to start the project, sparking a huge surge in custom when he revealed the move days later.
Head baker Alan Malone said he was "gutted" to have inadvertently given it away in change.
Short's last piece of art, a portrait of the Queen engraved on a speck of gold inside the eye of a needle, sold for £100,000.