Contrary to the myth of isolated family members tapping away on separate screens and zoned out of real life, easy access to digital technology is part of the fabric of happy family life now.
Watching films, playing games and keeping in touch brings us all together as never before – and as well as finding common ground together tech has also seamlessly sorted out those familial flare points we all know.
Here are just some of the ways greater connectivity in and out of our homes is helping us to live more harmoniously and, well, connect better with each other (word to the wise – it helps to have unlimited home broadband and unlimited mobile data with Vodafone Together).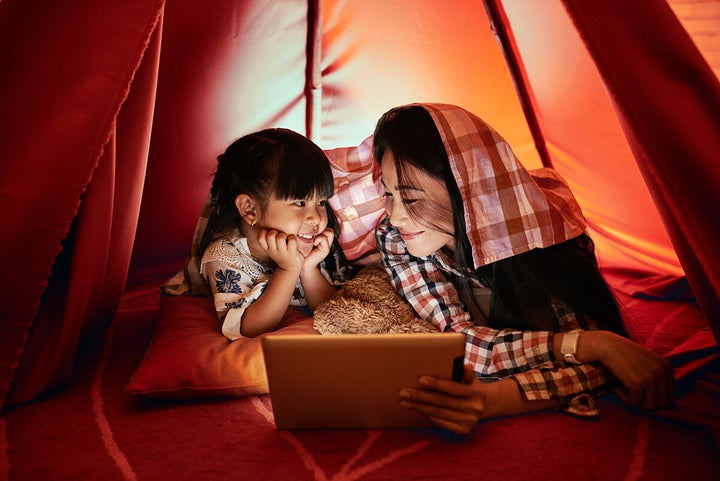 1. Where did you last have it? If I knew that, it wouldn't be lost!
While last night's homework may still be under a bed despite "I've looked everywhere" wails, 4G trackers have made life a whole lot simpler for parents. Synced to phone apps, trackers like the V-Multi Tracker or Tile slipped into bags, pockets and stuck to your child's phone or iPad have eased this parental stress.
2. What's that song? I can't get it out of my head
Rather than mum doing a bad rendition while dad fails to remember it, the song recognition app Shazam is such a relief for everyone. Next step – introducing your kids to the joys of that song you clubbed to in Spain before they were born.
3. This is definitely the quickest way...
Thank you Waze, the app that gives real-time traffic and road info and alternative routes. A happy family is one not snailing towards the Blackwall Tunnel because someone (not you) made the decision to try their luck. Shared playlists are also a great way to come together as a family on a long car journey, rather than suffering Radio 5 Live or each plugging into their own music.
4. What was that actor in before? Oh I know, it was...
...Except it's not and will just annoy you and the rest of the family. Thank you Google, with special mention to IMDb, the site that sorts all TV and film brain fudge and can remind you who married/fought who in Game of Thrones. Best of all is X-Ray on Amazon Prime which lets you live pause and identify the cast, background music and even discover trivia to wow your friends with.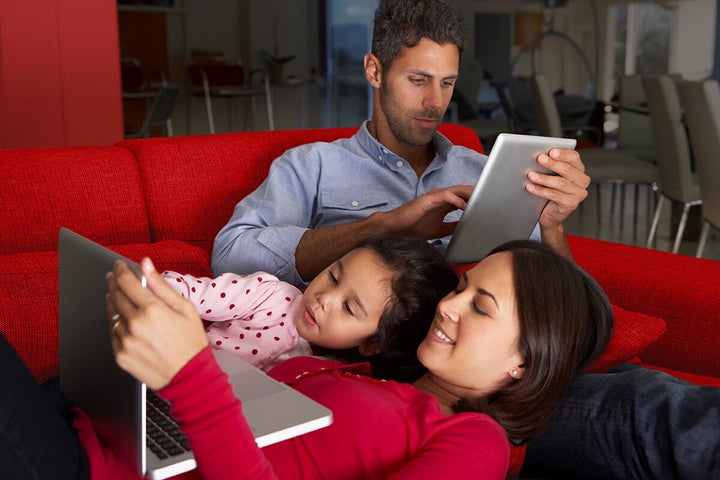 5. I can't believe you forgot the…
Whether it's more milk or the time of parents' evening, there are increasingly few opportunities to forget. We all communicate already through organisational where and when texts, and this trend has got a whole lot more sophisticated with Alexa list-making, Google calendars, Cozi and Doodle for the whole family's busy schedules synched and monitored.
6. I fancy xx tonight …
From food delivery apps like Deliveroo and Just Eat when you just can't face making another meal, to booking ahead and reading reviews for that new restaurant in the high street, family treats in and out are so much simpler.
If only there was an app to settle the family dispute between the child who won't eat pizza and the one who only likes pizza. But family life is certainly made a lot easier by using tech to head off squabbles.
New Vodafone Together allows you and your family to enjoy unlimited home broadband and unlimited mobile data in one great deal. Still in a contract? No problem, simply start with a mobile plan, before adding Home Broadband and you'll start saving when you have both. And with Vodafone Together you don't just get a discount, you get peace of mind. There's no need to worry about being offline with our Stay Connected Promise.
Vodafone Together: Minimum term agreement, subject to RPI increases, credit check, acceptance and availability in your area. Discount only applies while both the home broadband and handset/SIMO plans are active. Minimum term of each service will only coincide if you purchase both plans at the same time. Selected plans only includes unlimited Home Broadband + unlimited data, texts & minutes. Terms & verification: vodafone.co.uk/vodafonetogether.