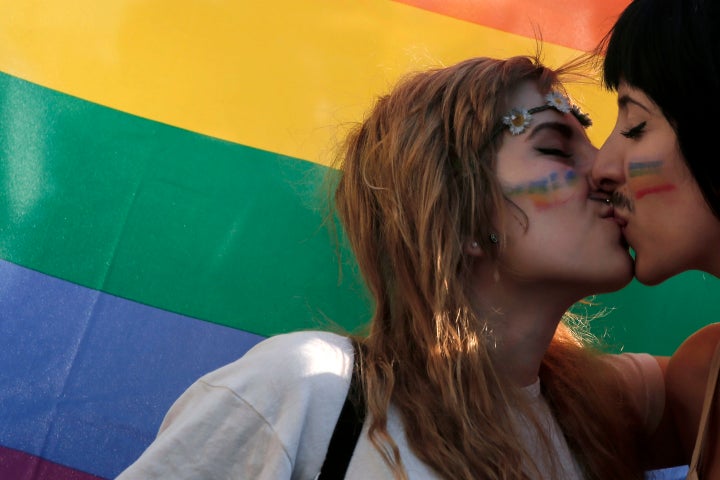 A total of 73% of lesbian and bisexual women in the UK don't feel comfortable enough to be 'out' to colleagues in the workplace, the Huffington Post UK has learned.
A survey conducted by the British LGBT Awards recorded the experiences of more than 1,200 LB women, with nearly two-thirds (64%) saying they experienced a negative reaction to their sexuality while at work.
The respondents cited incidents including sexual discrimination, inappropriate language, lack of opportunity and bullying at work.
Pippa Dale, Head of Global Markets Roadshows at BNP Paribas, suggested that a lack of role models and visibility was to blame.
"My own experience as an out woman has been nothing but positive but two thirds of those who responded to this survey discuss 'fear' in the workplace and open use of negative language," Dale said.
A total of 1,241 women took part in the survey which was initiated in response to the low number of nominations for LB women at this year's British LGBT Awards.
The survey, carried out in May and June, also found that 74% thought bisexual women faced more difficultly when coming out at work.
While 85% of respondents said it would help if there were more visible lesbian and bisexual women in senior roles.
Commenting on the survey results, founder of the British LGBT Awards Sarah Garrett said: "The results are startling and clearly show that in 2016 lesbian and gay women are still finding it hard to be themselves in the workplace and worse still, those who are out at work have had negative experiences including discrimination, bullying and reduced opportunities to progress compared to male counterparts.
"The findings are worrying and show that a lot of work remains to be done to change attitudes and promote acceptance. The British LGBT Awards will now be campaigning to increase the visibility of lesbian and bisexual women."
Daisy Reeves, finance partner at law firm, Berwin Leighton Paisner LLP and an ambassador, who backed the commissioning of the survey, said: "The results speak for themselves - a significantly higher proportion of gay and bi women feel additional obstacles to being 'out' at work compared to their male counterparts.
"Yet evidence, unsurprisingly, demonstrates that LGBT individuals are far happier and more productive in the workplace when they can be authentic. I am now supporting the campaign to address this through role models who will demonstrate that being an 'out' women can be an overwhelming positive experience."
The results are being considered by the British LGBT Awards and the organisers are to launch a campaign to increase visibility of lesbian and bisexual role models.
"The Equality Act 2010 bans discrimination on the grounds of sexual orientation in employment and vocational training, this includes direct and indirect discrimination, harassment and victimisation.
"You are protected throughout the entire employment relationship, from recruitment to dismissal. The ban on sexual orientation discrimination applies to terms and conditions, pay, promotions, transfers, training and dismissal. Some employers have Staff Networks which you might wish to join for support and to meet other people."
READ ALSO: