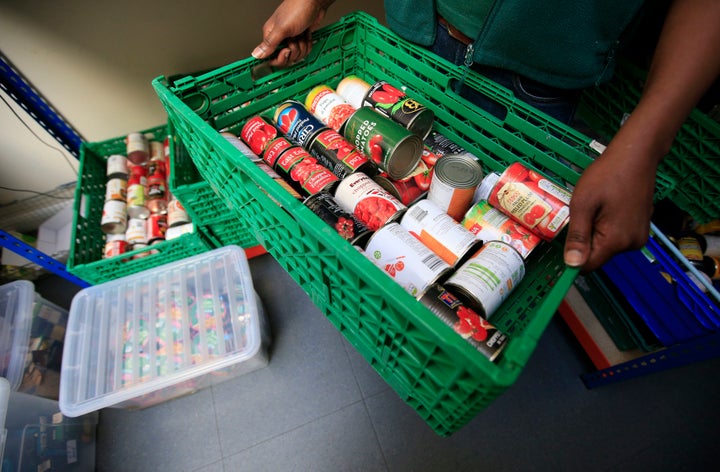 Last week a coalition of national charities wrote to Amber Rudd, concerned about the impact of a No Deal Brexit on vulnerable people on low incomes.
Worried about the warnings of delays at ports and the expected food shortages and price hikes, they told the secretary of state for work and pensions that they need to be clear that "food banks and frontline charities are in no position to respond to such an eventuality, having neither the money nor storage to stockpile food, often being run by volunteers, and many being already over-stretched meeting current need."
The coalition represents the main networks of organisations that provide food for people most in need in the UK.
From April 2018 to March 2019, food banks alone supplied well over 3 million emergency food parcels to people in crisis (roughly a third of these to children).
In addition, emergency meal and other food aid providers supported hundreds of thousands of people, providing food for millions of meals to vulnerable people and the frontline community groups that support them, such as homeless shelters, domestic violence refuges, and school breakfast clubs.
Their concerns include frontline charities who rely on donations from companies and individuals that could easily dry up in the event of the food price rises predicted by the governor of the Bank of England and Cabinet Secretary Sir Mark Sedwill or serious food supply chain disruption.
Amber Rudd has made reassuring noises about what would happen to vulnerable people in the event of a no deal Brexit, but given the government's lamentable track record on supporting those most in need and the total inertia of tackling holiday hunger for our most vulnerable children, I am far from reassured.
It is clear that charities and volunteers cannot provide support to people on low incomes on their own; the government must step in too.
That is why I am calling on the government to establish a hardship fund to help people on the lowest incomes, in the event that the UK leaves the EU without a deal.
The fund would support people on low incomes to afford food, in the event that food prices rise.
The government is now worryingly pursuing a reckless No Deal Brexit, in the full knowledge that it could lead to children & vulnerable people going hungry.
They must urgently spell out what measures will be in place to ensure the worst off in our society are protected.
Sharon Hodgson is the Labour MP for Washington and Sunderland West and the shadow minister for public health.
Welcome to HuffPost Opinion, a new dedicated space for reliable, expert commentary and analysis on the day's biggest talking points. Got a unique angle or viewpoint on a news story that will help cut through the noise? We want to hear from you. Read more here
Related