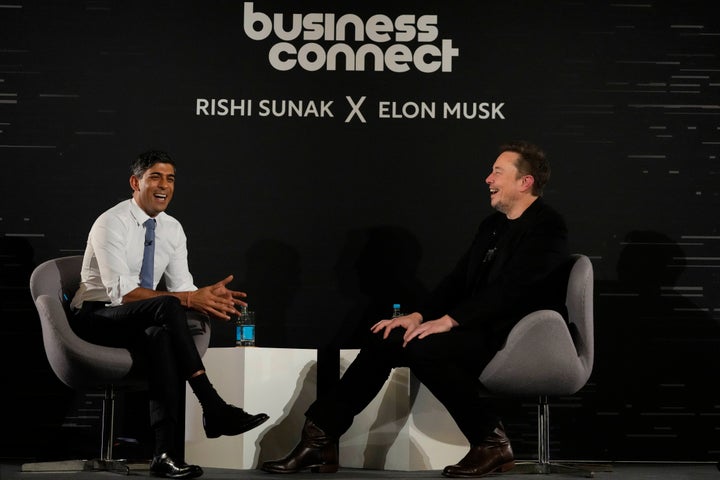 Sam Coates described the event as "one of the maddest events I've ever covered".
Coates' sceptical three-minute monologue on the chat between the prime minister and the owner of X (formerly Twitter) has, ironically, been praised widely on the same social media platform.
The pair were talking following the conclusion of the much-hyped AI Safety Summit at Bletchley Park in Milton Keynes.
Coates said: I'm standing a stone's-throw away from Buckingham Palace and in Lancaster House - that's the foreign secretary's residence - where one of the most extraordinary events I've ever covered as a journalist has just taken place.
″What we've just had at the end of this two-day AI Safety Summit is the prime minister of the United Kingdom interviewing the richest man in the world, Elon Musk, who is not only a businessman, owner of the X social media platform and increasingly asserting himself as one of the most powerful people.
″Across 40 minutes of soft ball questions from the prime minister, jovial witticisms from Rishi Sunak as they tried to bond over the complex subjects of AI, tech the X platform and took questions only from businessmen, not fropm journalists.
"They discussed an array of things, often veering right into the bizarre. At one point Elon Musk said one of the benefits of artificial intelligence is that you could be friends with it, in fact they could be some of the best friends that you have.
"Elon Musk said the problem with it is that AI will always remember your conversations.
"At one point the prime minister and Elon Musk both agreed on the importance of being able to switch off robots that have gone wrong. They were talking about AI in the context of James Cameron Terminator films. I can barely believe I'm saying all of this."
Coates added: "It was all just mad in many ways because what you didn't have at this event was any sense that Elon Musk, through his business activities, actually is a huge political actor.
"He owns satellites, he owns internet services along with social media sites. He is increasingly one of the most powerful figures in the world. It is up to him whether or not to restore internet connectivity to Gaza if Israel turns it off, he has the ability to intervene in the war in Ukraine by either helping or not Ukrainian forces challenge Russia. He's got political views on migration.
"But we didn't get any sense from Rishi Sunak that he was challenging him, that he was dealing with somebody else who is a big political force, some of which might be a force for good, some of which might not be a force for good.
"Instead you had a prime minister who was selling Britain to this guy who is already the richest man in the world.
"So it was an event in which Rishi Sunak hoped that some of the celebrity, the ambition and the entrepreneurism of Elon Musk might even rub off on him, but you didn't get the sense of a prime minister going toe-to-toe with a political figure who sometimes can do challenging stuff that Britain might oppose.
"It was a very, very weird event indeed."
Ed Dorrell was one of the many X users who heaped praise on Coates's roeport.
He said Sky's deputy political editor had "brilliantly described the humiliation of the British PM obsequiously fawning over a megalomaniac billionaire businessman".
Former BBC journalist Rory Cellan-Jones added: "At last someone says it - Elon Musk is not some benevolent AI god but a powerful and often flaky political player and Sunak should have treated him as such not indulged in mutual belly rubs."