A&E departments across the UK are far quieter than usual, prompting Professor Stephen Powis, the national medical director for NHS England, to urge people to seek emergency help if they need it.
Addressing the nation in the daily government press briefing on Wednesday, he said: "The NHS has worked night and day to surge capacity to manage coronavirus. But it's also there for you if you have symptoms of a stroke, symptoms of a heart attack, if you have any emergency condition whether it's a sick child, whether it's a mother in pregnancy who's worried about movements of the baby, you should be seeking emergency services just as you always have done.
"They are there for you and, although we are focusing on coronavirus, it's important we continue to focus on other emergency conditions."
The worry is that those who genuinely need help are staying at home, instead of seeking it. But when you're in cardiac arrest, suffering a stroke, or appendicitis, it will not pass and urgent medical attention is necessary.
New figures show that emergency admissions to A&E departments at hospitals in England fell sharply last month, down 23% from 555,457 in March 2019 to 427,921 in March 2020.
The number of A&E attendances who were admitted, transferred or discharged within four hours in March 2020 was the lowest reported for any calendar month since current records began.
Steve McManus, chief executive of Royal Berkshire Hospital in Reading, said his hospital has witnessed a considerable drop in people heading to A&E. He puts it down to a couple of things. Firstly, that people are "making conscious decisions not to come to hospital" and are going to walk-in centres or calling NHS 111 instead.
"The other is that people are not taking part in the type of activities that can lead to trips to A&E," he told Berkshire Live. "That has, in fact, allowed us to use staff, for example anaesthetists, to help those with coronavirus."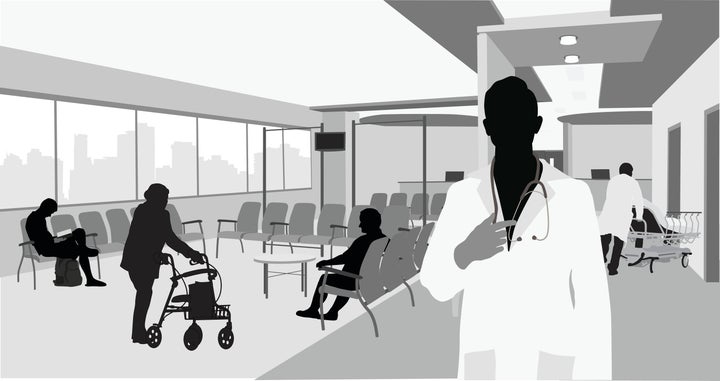 In Scotland, NHS stats showed around 25,000 people were heading to A&E departments for help a week prior to the lockdown. However, in the week ending 29 March, just 11,020 patients went to A&E for help, the BBC reported.
The message is clear: even with coronavirus circulating and the nation on lockdown, people can still visit A&E if they urgently need to.
Reasons to go A&E
You, or anyone in your household, should go to A&E – either in the car or via ambulance – if experiencing the following:
Loss of consciousness, which can be a sign of a problem with the brain.

Acute confused state and fits that are not stopping.

Chest pain, which could be a sign of a heart attack. You should call 999 if the pain spreads to your arms, back, neck or jaw; makes your chest feel tight or heavy; if the pain also started with shortness of breath, sweating and feeling or being sick; or if it lasts more than 15 minutes.

Breathing difficulties.

Severe bleeding that cannot be stopped.

Severe allergic reactions – the symptoms include: feeling lightheaded or faint; breathing difficulties such as fast, shallow breathing; wheezing; a fast heartbeat; clammy skin; confusion and anxiety; collapsing or losing consciousness.

Severe burns or scalds.

Stroke, of which the key symptoms are: drooping of the face; inability to lift arms because of weakness or numbness; slurred or garbled speech, they might also not be able to talk despite appearing awake.

Major trauma such as a road traffic accident.

Abdominal pain that suddenly gets worse and spreads across the abdomen, or abdominal pain which temporarily improves before getting worse again. This could be a sign of appendicitis or a burst appendix, which can have life-threatening complications.