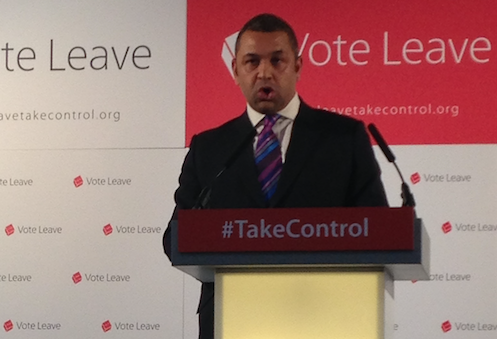 African farmers are being condemned into prolonged poverty by EU trade rules, a pro-Brexit Tory MP claimed today.
James Cleverly branded European Union policy against Africa as "morally repugnant" as he set out why the UK should be able to secure its own trade deals with the continent.
The Braintree MP cited research showing that Germany makes more money from selling coffee than the whole of Africa as an example of the EU's "protectionism".
Cleverly, whose mother comes from Sierra Leone, also made a dig at the pro-EU US President Barack Obama, as he said he is unable to understand how anyone "of African heritage" can support the institution.
Stronger In, the group campaigning for a 'Remain' vote in the June 23 referendum, accused Vote Leave of trying to "hi-jack" the fight against poverty for political gain.
Speaking at Vote Leave's HQ in Westminster this morning, Cleverly said: "We can put a sticking plaster over our collective guilt through aid payments and charitable giving and I'm not saying we shouldn't do those things, but what we have seen time and time again is the only sustainable and effective way of lifting people out of poverty is buying their stuff, buying the produce that they grow and they develop.
"If we don't do that, or more importantly if we don't give them the chance to sell to us, then we are condemning them to prolonged poverty and that's something that I can't subscribe to.
"I find it amazing that when confronted with the facts that I've seen in researching this speech, that anyone could feel comfortable maintaining that status quo."
In his speech, Cleverly blasted tariffs imposed by the EU on products such as processed coffee and cocoa.
The EU imposes a tariff of 7.5% on roasted coffee coming into the single market, and 30% on processed cocoa products such as chocolate bars.
Cleverly argued these tariffs prevent African economies from accessing what is one of the largest consumer markets in the world on a level playing field.
He said: "We all love chocolate, but are we really comfortable supporting a regime that so unfairly prevents cocoa producing countries from selling chocolate bars to us at competitive prices?
"There is also a knock on effect. What is the point in investing in a coffee processing plant or chocolate factory in Africa if the end product is so heavily penalized by the EU?
"Africa needs the development of middle tier industries, agricultural processing, packaging and distribution. But investment in these sectors is currently unappealing because it is exactly that processing function that is penalised by tariffs.
"The EU's tariff regime disincentivises exactly the kind of investment that Africa needs to lift itself out of poverty and aid dependency.
"That is not a fact that I'm proud of - that's not something I want to perpetuate."
Cleverly added: "The EU is keeping some of the poorest people in the world poor and it is using your money to do it.
"Can you really say you're happy about that?"
Towards the end of the speech Cleverly appealed directly to people who, like him, have Africa heritage.
He said: I cannot understand how anyone who is African, or of African heritage, or who cares about Africa and her people, or cares about anyone trapped in poverty in the developing world, can, with a clear conscience, allow this situation to persist."
Today, Remain campaigners Chuka Umunna, Labour MP for Streatham, and Sam Gyimah, Conservative MP for East Surrey, issued a joint statement hitting back at Cleverly's speech.
They said: "Trying to hi-jack the fight against poverty to push an anti-EU agenda really is a new low for the chaotic and desperate leave campaign.
"Inside the EU, Britain is a more powerful force in spreading equality and justice in the world. It magnifies our spending power and increases British influence. That's the opinion of the former UN head of humanitarian relief, the Chair of WWF, the Chair of Trustees of Action Aid, the President of the Development Studies Association, and many more.
They added: "Britons of different backgrounds – rather than listening to this half-baked nonsense – will base their vote on evidence and facts.
"And whether it's the IMF, the CBI, or world leaders like President Obama, this clearly points to Britain being stronger, safer, better off – and more able to influence global development – by staying in Europe."
Related