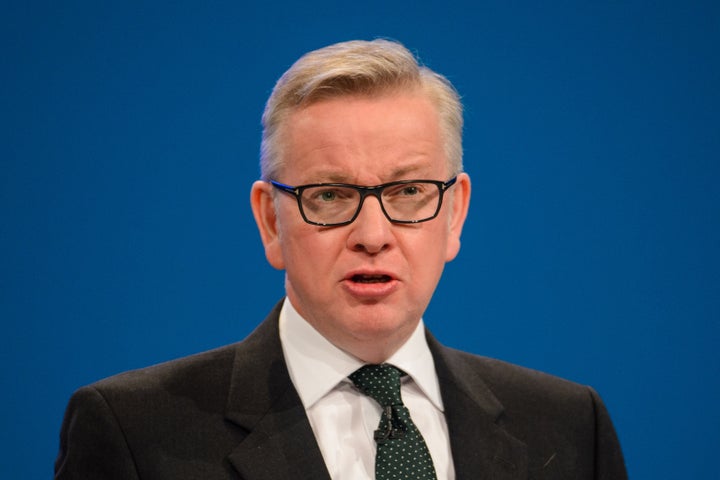 British farmers' incomes will be halved if Theresa May fails to get a post-Brexit trade deal with the EU, the agricultural industry's own statutory advisory body has warned.
In a stark message, the Agriculture and Horticulture Development Board (AHDB) forecast that farm incomes will plunge if the UK decides to unilaterally open its doors to low-cost foreign food importers.
The board, which works under the auspices of Environment Secretary Michael Gove's DEFRA department, said that average farm incomes will fall from £38,000 per year to £15,000 a year if the no-tariff model is adopted.
Its in-depth "Horizon" report also forecast that quitting the EU and erecting protectionist barriers would still see incomes fall to £20,000 on average.
Consumers would see big hikes in food prices for dairy, cereal and pork, as farmers passed on their costs to the public.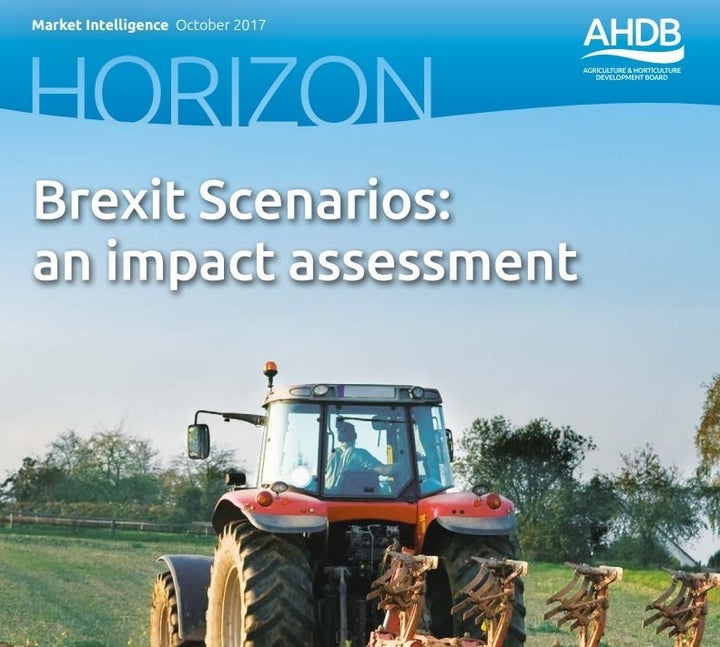 Only a new free-trade deal with Brussels – a so-called 'soft Brexit' that replicates many current benefits of EU membership - would see incomes rise slightly to £41,000 a year and prices roughly similar in the shops.
Many farming areas voted Leave in the EU referendum but there are fears in the industry that it would be hit by much higher labour costs and labour shortages after a 'hard' Brexit.
The AHDB, which is funded by a stautory levy on farmers, found that only 25% of farms – those owned by the wealthiest- would not be affected by any of the post-Brexit forecasts.
The study looked at three scenarios: a 'business as usual' approach with current levels of support; a liberal approach to trade with tariff-free access to the UK and reduced support; and a cliff-edge Brexit, reverting to WTO regulations and with dramatically reduced support payments.
Phil Bicknell, AHDB Market Intelligence Director, said: "This analysis underlines the fact that performance matters. Individual farms can't determine policy, and detail of the UK's Brexit deal is still some time away, but farmers can and should prepare now for Brexit by adopting best practice, or risk falling behind.
"Buzzwords like competitiveness, resilience, productivity are not new to agriculture but Brexit brings renewed focus on farm performance. Do nothing and businesses that are currently profitable run the risk of heading into the red."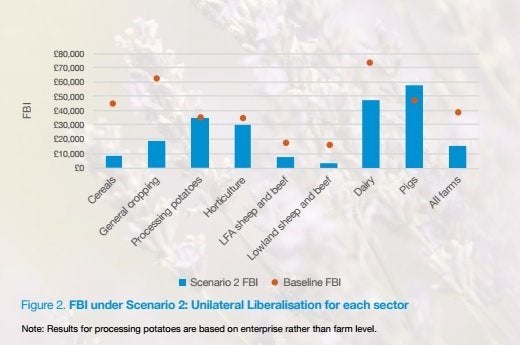 British farmers depend on nearly £3bn of subsidies from Brussels under the EU's common agricultural policy, mostly through farm income support, making up 86% of their income in some cases.
Ministers have pledged to make up for lost EU payments until 2020, but have avoided any specifics on how the cash would be allocated in future.
Cereal and dairy farmers would be particularly hard hit.
Pig farmers were one of the few sectors that would not suffer under any of the three Brexit outcomes – but consumers could face price hikes and cuts of meat not currently in demand in the UK would be pushed in shops.
Gove told a Tory fringe meeting last week that Brexit could be a boon for pig farmers, who could export more livestock to China without EU requirements for ear tags. One farmers' group based in Brussels later claimed he had got his facts wrong.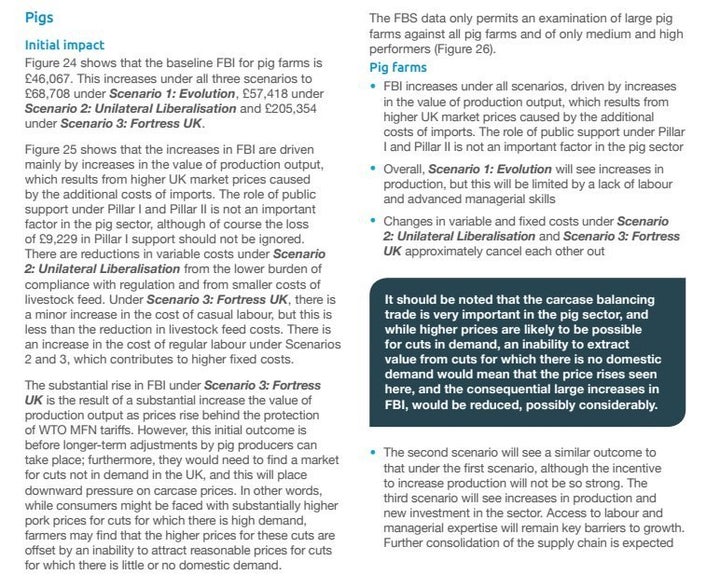 A Defra spokesperson rejected the report's findings.
"This report is based on hypothetical and highly unlikely scenarios that do not reflect the government's negotiating position.
"Outside the EU and free from the bureaucracy of the Common Agricultural Policy our farmers will be able to focus on growing, selling and exporting more fantastic produce.
"We are committed to getting the best possible deal that allows us to continue to have tariff-free frictionless access for goods and services into the European market, and we will strike new trade deals around the world to help farmers take advantage of the growing appetite for Great British food."