Celebrity choreographer Aicha McKenzie made her mark as a dancer after working with the likes of Kanye West, Rihanna, Katy Perry and Madonna.
She then went on to choreograph iconic events including the London 2012 Olympics and many Brit Award performances.
Prior to her dance career, she was a rhythmic gymnastic champion in the British and Commonwealth games, becoming the first black woman to win her category.
Most recently, the mother-of-two has built her own empire as the founder of a AMCK FIT: a fusion of dance, fitness and style.
AMCK FIT includes dance lessons, aimed to raise your heart rate while you're smiling and having fun, hybrid lessons with elements of dancing, boxing, yoga and Pilates, and moving meditation classes.
Fitting in her own workouts with her busy schedule isn't easy, and she finds herself squeezing in squats and planks bursts first thing every morning.
So what does a week in the life of McKenzie look like, from food to fitness? We put our 12 Fit Fix questions to the dancer to find out more.
My Journey 🌍
What do you credit to your success?
"Hard work, self belief and a sprinkling of luck. I always try to make the most of opportunities and try to always do what feels right."
What's one of the most memorable moments in your career?
"My very first professional dance gig springs to mind. I was hired to dance with 'Take That' at the MTV Awards when I was 17. More recently, I was 39 weeks pregnant standing on the pitch at the stadium in Twickenham choreographing the opening ceremony of Rugby World Cup Final."
Have you experienced a low point and how did you get past it?
"The hardest point in my life was when I lost my mother. I was 21 and working as a professional dancer and model. My world was thrown totally but the dance community gathered round me and supported me."
My Training 💪
Talk us through your week in fitness.
"I tend to work out little and often, fitting my fitness in as and when I can. I stretch and do yoga every morning, which can be sometimes just 10 minutes or a full 45, then do a little three min abs and plank burst before I jump in the shower. Whilst I clean my teeth I do squats or I stand in tree pose depending on how I feel. I don't often get to do a full 90 minute class more than once a week."
What's your favourite type of workout and why?
"I work out quite organically in the sense that I move in the way that feels good to my body each day. Therefore, it's always a mix of yoga, Pilates, dance strength and conditioning moves. I also mix that in with walking, always take the stairs and I find that functional training also makes up the rest of my general cardio and fitness."
What's your favourite way to spend your rest day?
"I don't have set rest days in the same way I don't have food cheat days. It's all about balance."
My Food 🍳
What do you eat throughout the week to complement your training schedule?
"I make a fresh smoothie every morning. At the moment, my kids and I are enjoying banana, pineapple, apple, spinach spriulina [superfood plant source], chia and ginger. I eat good fats like avocados, lots of fish and a fairly high carb intake. We are a half-Italian family and eat lots of pasta, so my body is used to it."
What are your pre and post-workout snacks?
"A slice of toast with peanut butter and banana. On the go it's granola bars, cashew nuts, raisins and salted plantain chips."
What's the most important lesson you've learned about food?
"That it's not your enemy. Food is such a big part of our lives socially and emotionally. I never work out to punish myself for what I've eaten and I like to eat what I enjoy. I crave greens and a big fresh salad as much as I do a pizza and glass of red wine. Once again, it's about balance."
My Motivation 🙌
Do you have a motivational mantra that keeps you going?
"Breath, the universe has got you."
Do you always have fitness goals you are aiming for?
"To be the best version of myself I can be. Glow from the inside out and to be able to smile at life. All those things I don't believe can be achieved by obsessing about a flat tummy or if you're walking around hungry."
What's your ultimate workout track?
'Fit Fix' is a weekly dose of fitspiration from leading athletes and fitness fanatics. Each week we chat to stars about their weekly workouts, the food they eat and what keeps them going.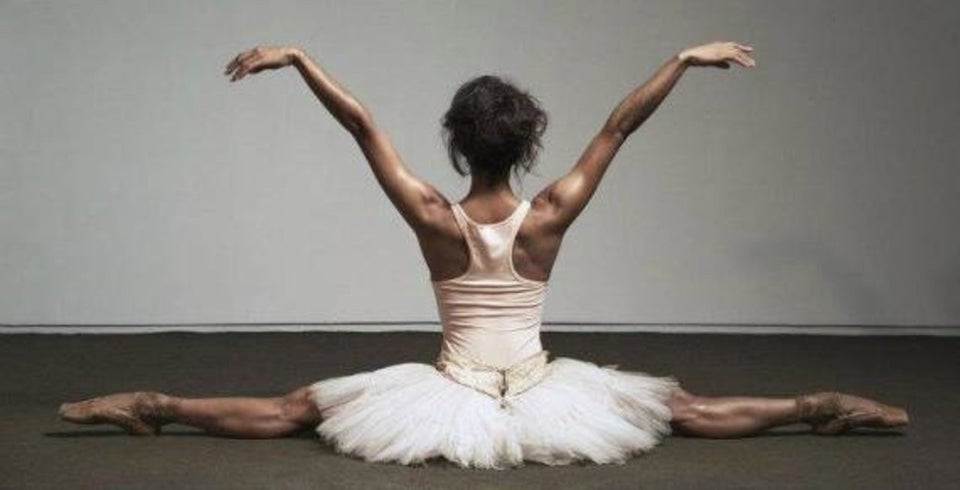 Ballet Dancers Changing the Landscape