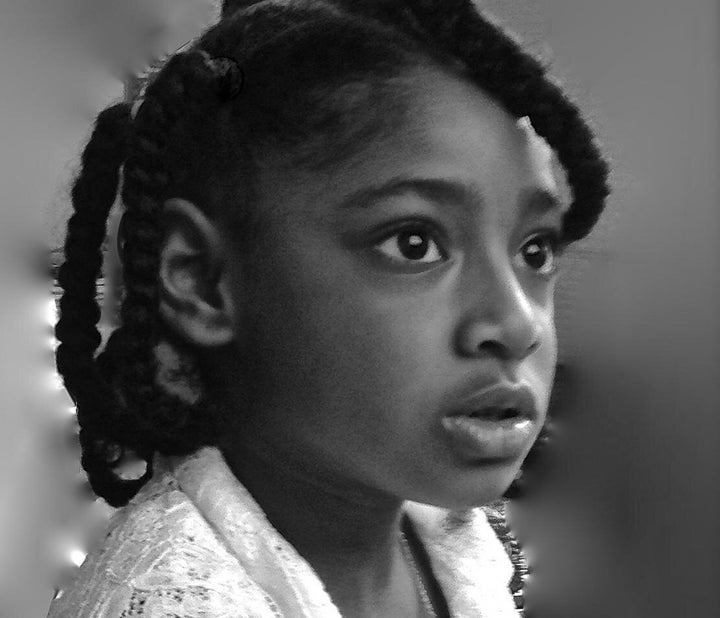 This year's World Environment Day aims to raise awareness about air pollution. But I don't need a World Environment Day to think about air pollution; I think about it every single day of my life.
Ella, my eldest child, was bright, stubborn and very funny. Ella enjoyed swimming and riding her bike, and dreamed of becoming a pilot. There was no sign when she was younger that she would develop a chronic health condition that would eventually kill her.
The first sign that something was wrong was a few months before her seventh birthday in 2010. Climbing the steps at Monument, a central London landmark, Ella had difficulty breathing.
After that, Ella had a blue inhaler prescribed by her GP and used it whenever she coughed, but otherwise life continued as normal. This changed one night when Ella suddenly went blue and stopped breathing. Totally panic-stricken, I called a neighbour who resuscitated her.
Over the next two-and-a-half years family life continued much as before, except we had to make several frightening trips to A&E with Ella. Each time she coughed, which was often, I saw the fear in her eyes.
Doctors carried out numerous tests to try and find the cause, and struggled to comprehend why this bright and active child could have such bad asthma.
She died in 2013, just nine-years-old. A link to air pollution wasn't even considered. The first inquest into Ella's death concluded that her triggers were airborne but never specified what. But on May 2, I learned that after six years of fighting for the truth to be told about why Ella died when she did, the Royal Court of Justice finally agreed to open a second inquest into Ella's death based upon the evidence presented by Professor Stephen Holgate.
Professor Stephen Holgate has studied the impact of air pollution on people's health for many years. He examined Ella's case after the first inquest and concluded her death was preventable. He had evidence to demonstrate that all but one of her emergency hospital admissions correlated to spikes in air pollution – breaching the World Health Organization guidelines – near our home on London's South Circular. He explained that high levels of air particles PM2.5 and PM10 were the culprits – these particles are invisible to the eye, but highly toxic and pollute the air.
Following the professor's intervention I started learning more about the damage traffic fumes do to our health, causing not just asthma but other respiratory diseases, heart disease, strokes and dementia.
I learned that it is the very young and the elderly who suffer the most. I became increasingly concerned when I learned that this pollution is stunting the growth of children's lungs all around the world, leaving some with irreversible damage. In London, children aged eight and nine who have been exposed to badly polluted air can permanently lose as much as 10% of their lung capacity.
Today Britain has the dubious distinction of leading Europe in childhood asthma deaths. On average, a British classroom has three to four children who have an asthma diagnosis, and around the world four million children are developing asthma as a result of traffic-related air pollution ever year. The majority of those cases are happening in areas where the traffic pollution is below the World Health Organisation guideline level, which means that even low levels of air pollution are harmful to our children.
Here in the UK, a ban on the sale of new petrol and diesel cars won't come into effect until 2040, which means a whole new generation of British children will be breathing poisonous air for at least the next twenty years.
We need to put more pressure on our leaders to take action to protect us. Not everyone can afford to move to less polluted areas. Electric vehicles and public transportation need more government support to make them affordable and reliable or we will continue to pay with our lives.
I think Ella's story can help with this, which is why I won't stop telling it.
Ella was once told by one of her doctors that her case would, one day, be documented in the medical books. If the second inquest agrees to name air pollution-aggravated asthma as a cause of death, that prediction will no doubt come to pass. But it won't just be in the medical books, Ella's story will be a turning point for law and policy as well.
Not a day goes by when I don't think about Ella and what she would be doing now. Her death was painful and her suffering was horrific. Ella was kind and wise beyond her years and I know she wouldn't want any other child to go through what she went through.
I believe it is a human right for everyone to breathe clean air and I hope, in Ella's name, that you will join us in our fight, not just on World Environment Day, but every day and speak out against air pollution so we can accelerate the solutions.
Rosamund Kissi-Debrah is co-founder of the Ella Roberta Family Foundation