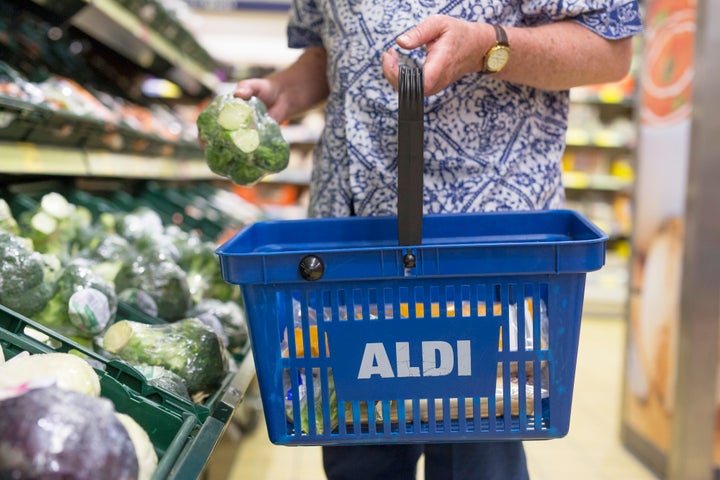 This Christmas, the number of people using foodbanks is expected to soar.
The Trussell Trust, which is the largest foodbank provider in the country, said it's expecting its "busiest Christmas ever" after witnessing a 47% increase in need for emergency food supplies last December.
Thankfully, one supermarket is wholly aware of the issue and will be taking action this Christmas to help others (and prevent food waste in the process).
A viral post has revealed budget retailer Aldi's plans to give surplus food to charities on Christmas Eve to help those in need.
The supermarket will be offering charities and foodbanks the chance to receive surplus food from their stores on the afternoon of 24 December.
The notice reads: "As Aldi stores will shut at 4pm on Christmas Eve until the 27th December, they will have a variety of good quality surplus food products that they wish to redistribute in support of less fortunate individuals and to prevent food going to waste.
"Aldi is unable to deliver products so it would be essential that your organisation is able to collect."
The retailer is expecting levels of food available to vary, however it estimates that there should be around 20-30 crates of food expected from each store.
With over 620 Aldi stores in the UK and Ireland, that's a heck of a lot of food. Here's hoping other supermarkets follow suit.
Information for charities

To request food, contact Aldi with the following details:
:: Charity / group name
:: Main contact name
:: Main contact telephone number
:: City / town
:: Store postcodes which you'd like to collect from
:: Type of products that you wish to collect

Contact: Nicki Monaghan, Energy and Environment Team
Address: Aldi Stores Ltd, Holly Lane, Atherstone CV9 2SQ
Tel: 01827 711800
Organisations will need to apply by Friday 8th December.