The US ambassador to the UN has launched a blistering attack on those responsible for the slaughter in the Syrian city of Aleppo.
Addressing Russia at a meeting of the UN Security Council, Samantha Power gave a passionate speech asking if Syrian President Bashar al-Assad and Iran felt any shame about what has been described as "a complete meltdown of humanity".
As a nonchalant Russian ambassador sat nearby shuffling papers, she said: "To the Assad regime, Russia, and Iran, your forces and proxies are carrying out these crimes, your barrel bombs and mortars and airstrikes have allowed the militia in Aleppo to encircle tens of thousands of civilians in your ever tightening noose.
"It is your noose," she added. "Three member states of the UN contributing to a noose around civilians. It should shame you. Instead, by all appearances, it is emboldening you. You are plotting your next assault. Are you truly incapable of shame?
"Is there literally nothing that can shame you?" Powers said. "Is there no act of barbarism against civilians, no execution of a child, that gets under your skin? That just creeps you out a little bit? Is there nothing you will not lie about, or justify?"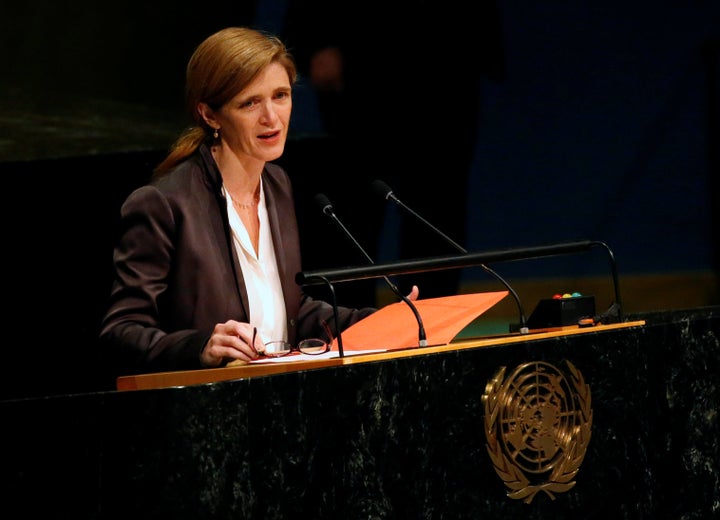 Russia's UN envoy, Vitaly Churkin, didn't take kindly to Power's statement, accusing her of masquerading as "Mother Theresa" and asking: "What country is she representing?"
While tweets of the speech have been liked and retweeted thousands of times, many have accused Power of hypocrisy.
In the UK, Paddy Ashdown warned the West must move rapidly to prevent a repeat of the Srebrenica massacre in Aleppo.
The former Liberal Democrat leader said the only leverage Western powers still had in Syria was to save 50,000 civilians trapped in the war-torn city.
"Is this the end for Aleppo? Yes it is. But it must not be the end for the 50,000 people who are now trapped in four square miles," Lord Ashdown told BBC Newsnight.
The peer said the West must now use its power to intervene to stop mass slaughter.
"It has leverage to do one thing now, and this has got to be the first priority of the entire Western effort, those 50,000 people," he said.
"There must not be another Srebrenica. I remember the aftermath of that, I was in Bosnia when it happened, exactly the same conditions are now being repeated.
"There is nothing else that matters in the next 24 hours and 36 hours than those 50,000 people trapped on those four square miles. We have got to get them out, and we have got to get them to safety."
Lord Ashdown said that a "messy, rough and untidy" peace deal could now be in the offing in the civil war.
The intervention came as rebels said an arrangement had been made for opposition forces and civilians to leave the last non-regime held enclaves of East Aleppo.
Reports of the deal emerged after the United Nations warned of summary killings by pro-regime forces.
The UN said it had received reliable reports that 82 civilians were killed and many more may have died.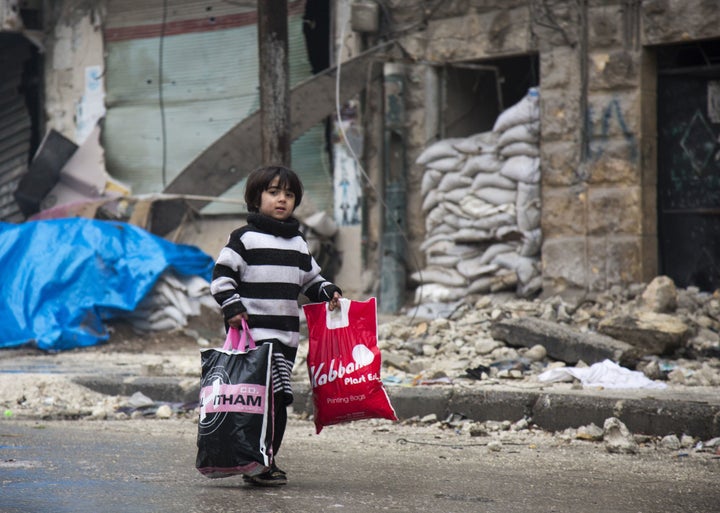 The reports were accompanied by other dispatches of mass killings, reinforcing fears that forces loyal to President Bashar Assad are committing atrocities as they approach victory in the crucial battleground.
The Syrian military said it now held 99% of the former rebel territory and denied reports of summary killings.
Save the Children said the situation was "catastrophic" with people's worst fears of revenge attacks becoming a reality as it joined the calls for humanitarian corridors.
Hundreds of children are believed to be in the middle of the battlefield, the charity's Kirsty McNeill said.
The International Committee of the Red Cross (ICRC) said tens of thousands of civilians trapped in the city "have literally nowhere safe to run" and urged fighters to observe "the basic rules of warfare - and of humanity".
Unicef said it was concerned over unverified reports of "extra-judicial killings of civilians, including children".
Crispin Blunt, Tory chairman of the Commons Foreign Affairs Committee, said Russia was responsible for the situation and the conduct of the campaign.
He told Channel Four News: "There is a much greater evidential trail now and so, sometime in the future, I hope the people responsible for crimes in Aleppo, and elsewhere in this conflict, are going to be held to account."
Popular in the Community