Children in the besieged Syrian city of Aleppo are setting fire to tyres to create 'no-fly zones' for the planes trying to drop bombs on them.
The "little heroes" are among civilians burning tyres in the devastated city as the Syrian government and its Russian allies bombard hospitals, markets and aid warehouses, the Wall Street Journal reported.
The children hope the smoke they create will confuse the planes bombarding them in the rebel-controlled half of the city, which is facing a humanitarian disaster.
Pictures shared online show kids posing beside blazing piles of tyres, while commenters called them "the new generation" of Syrian activists.
The children are among 300,000 people facing desperate conditions as bombs pound their neighbourhoods. Food supplies in Aleppo are expected to last only a few more weeks, and it was claimed earlier this year that there are only 25 doctors left in the city. The last children's doctor was killed in May.
A cartoon of a burning tire on a red background was shared widely online to symbolise their plight, as well as a black and white drawing of a child blowing smoke at a plane in a scene made to resemble a child blowing bubbles.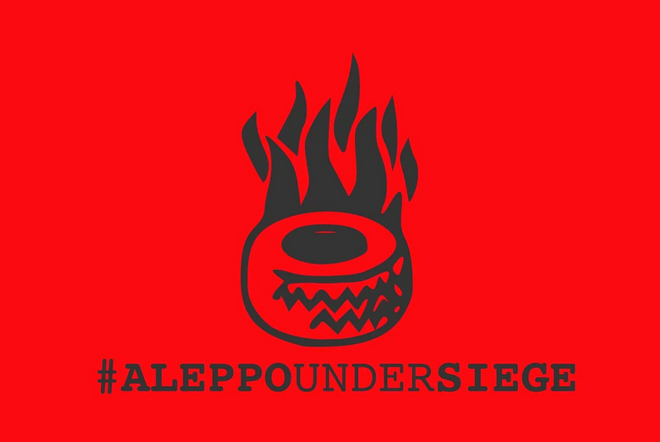 Rami Jarrah, a political activist and journalist in Syria, said burning the tyres was working. "It's causing confusion for the jets and a diversion for the offensive on the ground that aims to break the siege," he told the BBC.
"Everyone is doing it but to participate in the resistance this is really the only thing the children can do."
Rebel groups like the Free Syrian Army shared Twitter hashtags including #AngerForAleppo and #AleppoUnderSiege to build support for their actions.
"These are the heroes" remarked one Twitter user of the children, while another called them the "air defence brigade reporting for duty".
One Syrian released a video apologising to environmental groups for the polluting smoke released by burning tyres. "We are very sorry, please forgive us," he said. "But you have all turned your backs on the Syrian people. You've let us down in [not] creating a no-fly zone, and this has forced us to do this. "
He added: "We are burning these tyres in Aleppo to stop the crimes of the Russians and the Assad regime. This is preventing the planes from attacking."
Popular in the Community