The former first minister, who has always vigorously denied the allegations, was almost a week ago cleared of all charges brought against him at Edinburgh's High Court, but the complainants maintained that bringing their case had been the "right thing to do" and said they "would not let it define us."
The nine women who accused him released a statement, addressed to the public, imploring them to "take strength in calling out bullying, sexual harassment and sexual assault wherever it takes place."
They wrote: "We are devastated by the verdict. However it is our fervent hope that as a society we can move forward in our understanding of sexual harassment and sexual assault."
They recalled that Salmond's lawyer, Gordon Jackson QC, had quoted Woman H and said "his client should have been a 'better man'."
In her evidence to the court, Woman H had said: "I wish for my life the first minister was a better man and I was not here."
Jackson had told the jury: "If in some ways the former first minister had been a better man, I wouldn't be here, you wouldn't be here, none of us would be here," but described the behaviour exhibited by Salmond as "trivial".
Speaking to this, the women said: "The behaviours that Alex Salmond and his defence team admitted to in evidence were not and are not trivial.
"Today we want to send a strong and indisputable message that such behaviours should not be tolerated – by any person, in any position, under any circumstances. "
In the statement, released by Rape Crisis Scotland, the women described the process of taking the case to court as "traumatic", but thanked both Police Scotland and the Crown Office and Procurator Fiscal Service for "taking our experiences seriously and for allowing our voices to be heard".
They continued: "Many of us did speak up at the time of our incidents but were faced with procedures that could not deal with complaints against such a powerful figure. Others were silenced by fear of repercussions.
"It was our hope, as individuals, that through coming forward at this time we could achieve justice and enact change.
"We remain firm in our belief that coming forward to report our experiences and concerns was the right thing to do.
"But it is clear we alone cannot achieve the change we seek."
They added: "The outcome of this trial will pose many questions and be cause for much debate.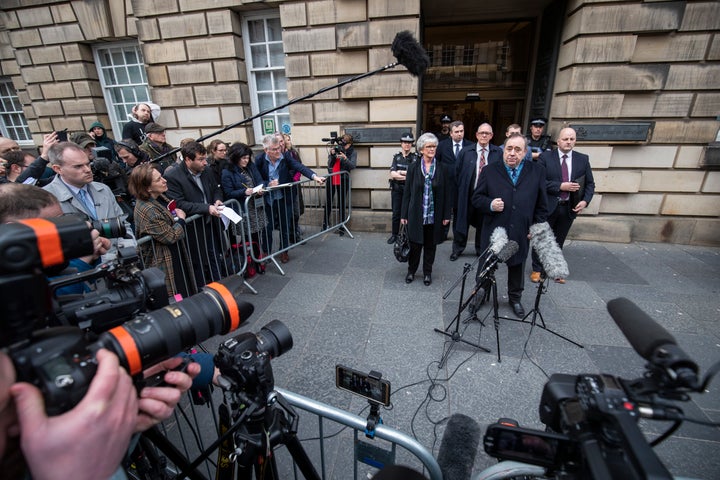 "But as politicians, commentators and society reflect on this case, we would ask you to consider whether behaviour which is so often merely described as 'inappropriate' or is tolerated by society, is acceptable towards your daughters, granddaughters, sisters, wives, friends, and colleagues.
"Many of them will already have suffered such conduct. Often in silence."
They stressed: "All people should feel safe, valued and equal in society and their workplace and it is imperative to ensure robust complaint structures are in place.
"We should all take strength in calling out bullying, sexual harassment and sexual assault wherever it takes place.
"And we should all seek to create an environment in which people can challenge and report these behaviours without hesitation or fear of retribution."
Towards the end of the statement the complainants called out the structural barriers that they said put women in danger instead of protecting them.
"Some say that women's fight for respect has gone 'too far'. We argue it has far to go," they added.
"For too long, behaviour which should be condemned has been accepted and excused. For too long perpetrators in positions of power have been shielded by their ability to influence and intimidate.
"For too long women's complaints have been dismissed or swept under the carpet. And for too long, women have been let down by organisational structures which should exist to protect them, not put them in situations which endanger their welfare.
"This must end."