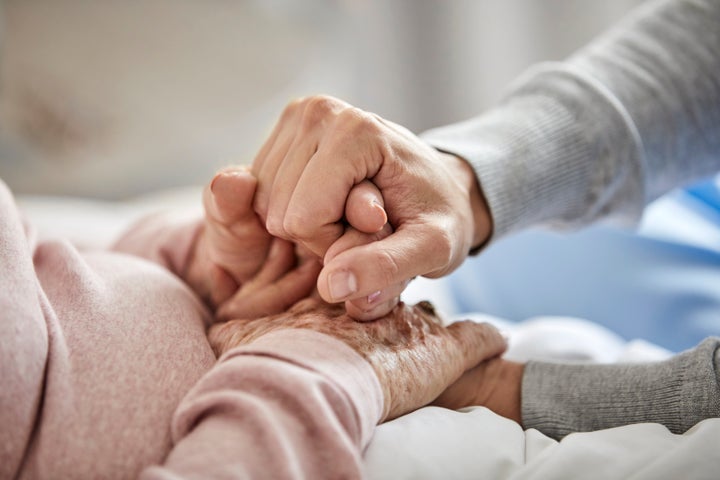 Almost 20,000 care home residents in England and Wales have died with coronavirus either at their care home or in hospital, official figures show.
Death certificates for 19,394 residents mentioned "novel coronavirus" between March 2 and June 12, the Office for National Statistics (ONS) said.
Covid-19 accounted for 29% of the deaths of care home residents over this period and a fifth of all deaths of care home residents this year.
The latest data includes all care home residents who died with coronavirus either at their care home or in hospital.
This pushes the overall care home resident death figure 32% higher than the 14,658 deaths in care homes reported by the ONS on Tuesday.
Three quarters of residents died in their care home while a quarter died in hospital, the figures show.
The latest figures from the Department of Health and Social Care state that, as of 5pm on July 1, 43,995 people in the UK had died after testing positive for Covid-19.
The ONS has also released the first results of a survey monitoring infections in more than 9,000 care homes in England between May 26 and June 20.
The Vivaldi study estimates that more than half (56%) of the care homes that participated in the survey reported at least one confirmed case of coronavirus.
Of these, 20% of residents and 7% of staff are estimated to have tested positive for Covid-19 since the start of the pandemic, as reported by care home managers.
The study also found that care homes in which staff receive sick pay are less likely to have cases of coronavirus in residents, compared with those care homes where staff do not receive sick pay.
Around 93% of care homes are thought to offer sick pay to their staff, meaning that employees at some 7% of homes are left without support should they fall ill, and may have been forced to choose between staying off work with symptoms, and being able to support their families.
It has also been revealed that, for each additional member of infected staff working at the care home, the odds of infection for residents increase by 11%
Furthermore, care homes using bank or agency carers more frequently – either most days or every day – are more likely to have more cases of infection among staff than care homes that never use bank or agency workers.
A Department of Health and Social Care spokesperson said: "Every death is a tragedy, and our deepest sympathies go out to everyone who have lost loved ones.

"We have been doing everything we can to ensure care home residents and staff are protected during this unprecedented global pandemic and the Vivaldi 1 study has proved invaluable as we further build on our understanding of this virus.

"We announced today that we will be rolling out repeat testing for care home staff and residents across the country from Monday, to help further reduce the spread of infection in care homes."