Amazon has confirmed that Echo, a voice-controlled speaker that uses cloud computing to control your home, will be launching in the UK.
The personal assistant/speaker will be available alongside Echo Dot which removes the speaker and acts simply as a voice assistant. Both Echo and Echo Dot have a UK release date of 28 September and will be available in either Black or White for £149.99 and £49.99 respectively.
For the next two days Prime customers will be able to buy Amazon Echo with £50 off.
Designed to be as functional as Siri or Google Assistant, Echo can change the temperature in your home, play music using subscription services or answer questions about your schedule, traffic or weather forecasts.
In fact, thanks to developers building in new functions Amazon claims that Echo has over 3,000 different skills.
While the speaker itself is fairly straightforward you almost have to think of it as a means to and end, and that end is a vastly powerful computer in the cloud called Alexa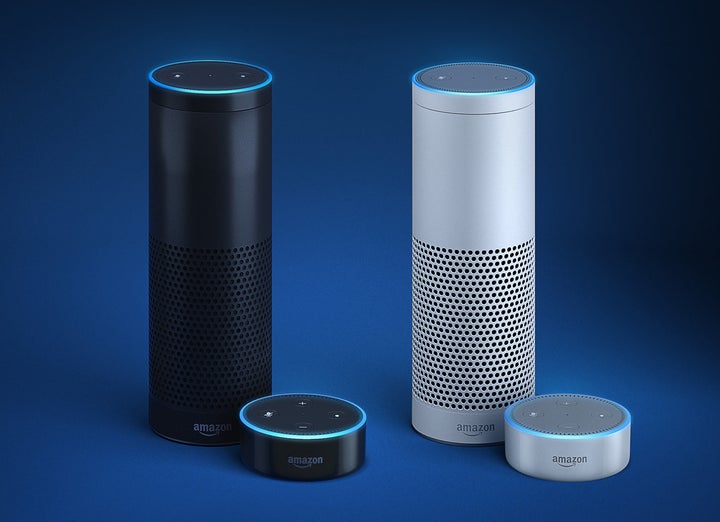 Using Amazon's cloud-computing 'oomph', Alexa is able to intelligently understand your voice whether it's right up close or on the other side of the room, all without you shouting.
It's also designed so that you can actually talk to it like a normal human being, a feature that has always been difficult for the largest tech companies.
To be able to intuitively and clearly understand a person in a busy household, Echo uses six microphones and some mind-bogglingly complex natural language processing to not only clear out the background noise but then actually understand what you're asking.
Because Echo is constantly listening for the word "Alexa" privacy is understandably an issue here.

To help keep things nice and clear Echo uses a coloured ring of light at the top to help you understand. When it hears the word "Alexa" a blue ring will appear showing that your voice is being sent to the cloud.
If you want some privacy then Echo has a mute button on the top which physically removes the power to the six microphones making it impossible for Amazon to record anything that you've said.