Amazon was forced to pull a range of "sexy" Halloween costumes for children as young as five, after a backlash from child safety campaigners.
The costumes, which included a French maid's outfit for children aged 4-5, and a "sexy schoolgirl" outfit, were being sold by Silvia's Wand, which used Amazon.co.uk as a marketplace.
The range, that also included a "sexy leopard" and a "sexy Japan kimono", sparked a storm of protest from children's charities.
The costumes have now been pulled from the online retailer.
Child protection charity, Kidscape CEO, Claude Knight said: "Every year there are a growing number of manufacturers of Halloween costumes who believe, for inexplicable reasons, that outfits should become increasingly sexualised.
"Childhood is a precious time and misguided commercialisation and distortion should not be allowed to hijack it in this way."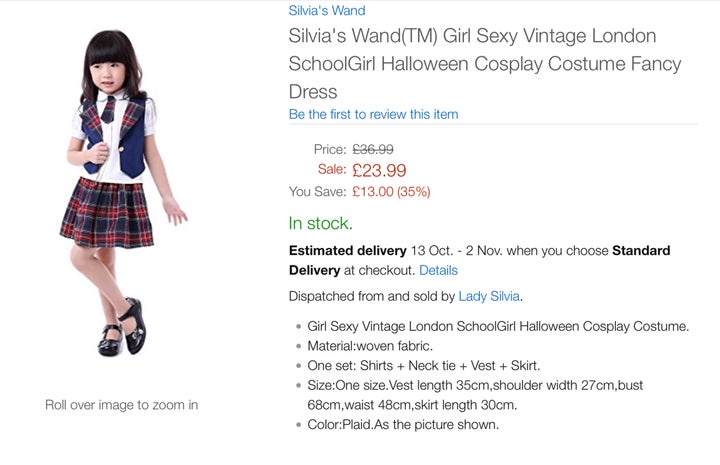 Knight continued: "Costumes are produced for wide age bands starting at age two or four and are marketed under a 'sexy' label.
"This does raise grave concerns, as young girls have no comprehension of the messages that they are sending out when they wear age inappropriate clothing.
"Parents do of course have freedom of choice, but it would be helpful if more thought were given to the wider issues surrounding the sexualisation of childhood."
The costumes from the range, which were modelled by a young girl, feature skirts that are 30cm long, and were on sale for just over £20.
They had reportedly been for sale since October 2014.
The full range was taken off the site following the reaction.
When asked for an explanation, a spokesperson for Amazon said: "All sellers on Amazon Marketplace must adhere to our selling guidelines."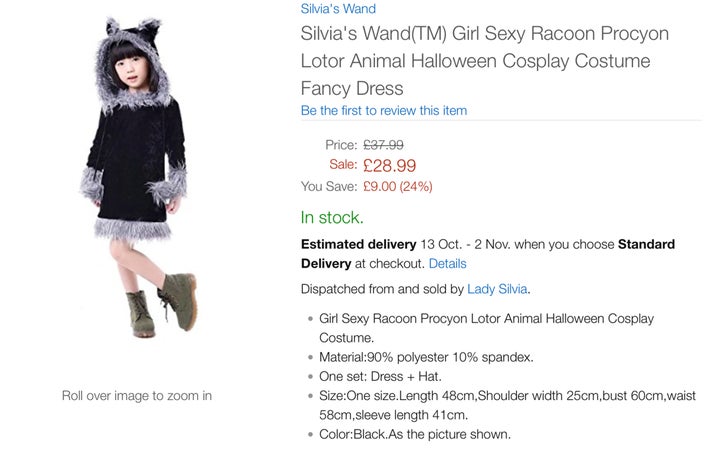 Mumsnet CEO, Justine Roberts also criticised the range.
She said: "It's baffling that retailers will happily market a child's costume as 'sexy', and perhaps even more baffling that people will buy it.
"Thankfully most parents will stick to dressing their children up as superheroes and giving them a bucket full of sweets."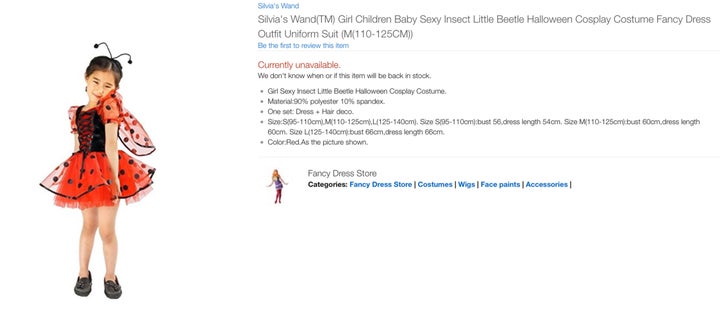 Barnardo's Chief Executive, Javed Khan said: "At a time when surveys show girls are under tremendous pressure to look good, it is irresponsible and immoral for any retailer to advertise clothing that sexualises young girls.
"Children should be seen as children and not as sexual commodities. This 'adult' clothing fashion retailer should not be making money by depicting them as mini sexualised adults.
"We would urge all retailers to monitor and remove inappropriate goods aimed at making children look 'sexy' as soon as possible."
Silvia's Wand is a lingerie brand created by Hong Kong fashion firm Lady Silvia and have no online shop beyond Amazon.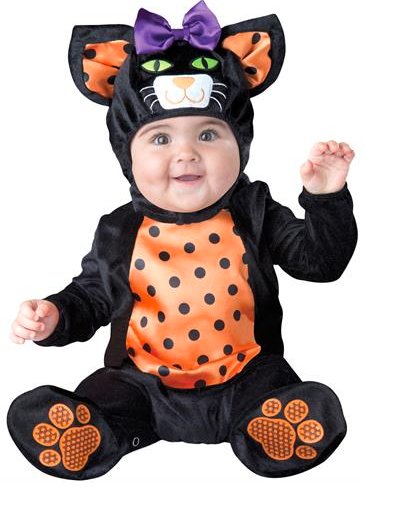 Halloween Costumes For Babies