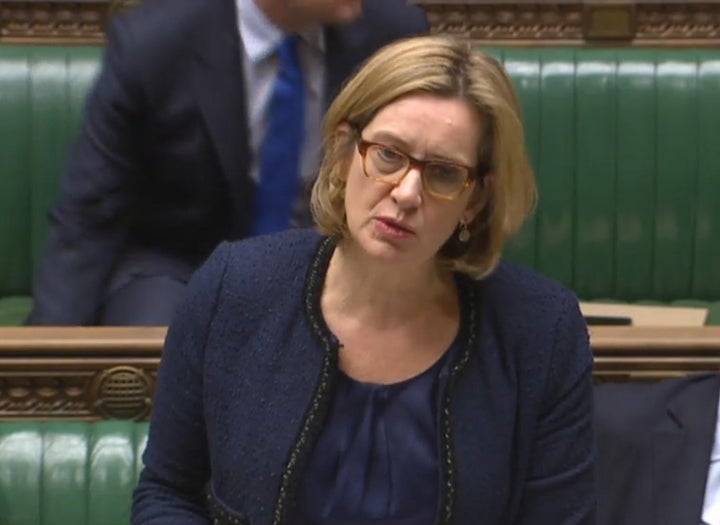 Amber Rudd has admitted she does not know how many Windrush immigrants have been wrongly deported as she apologised for the "appalling" treatment.
Reports suggest that many who answered the call to come to the UK to work in essential services in the 1950s and 1960s are being denied access to state healthcare, losing their jobs and even being threatened with deportation.
"There is absolutely no question about their right to remain and I am very sorry," Rudd told MPs on Monday.
The home secretary also sharply criticised her own department, which was run by Theresa May from 2010 until July 2016.
"I am concerned that the Home Office has become too concerned with policy and strategy and sometimes loses sight of the individual," she said.
Diane Abbott, the shadow home secretary, said it was "an absolute scandal" that the Home Office did not know even know how many people it has wrongly deported.
Caroline Nokes, the immigration minister, appeared to admit on Monday that some had already been kicked out of the UK after being incorrectly branded as illegal immigrants.
She told ITV News she did not know "the numbers" but that there had been some "horrendous situations" which had "appalled" her.
Speaking in the Commons, Rudd said she was "not aware of any specific cases of a person being removed".
But the home secretary said she would investigate to see if any had been as suggested by her junior minister.
Rudd said she would be meeting with high commissioners from Commonwealth countries to find out "if there are any situations where they have been removed".
"I do not want any of the Commonwealth citizens who are here legally to be impacted in the way they have," she said.
"Frankly, some of the ways they have been treated has been wrong, has been appalling and I am sorry.
"That's why I am setting up a new area in my department to ensure that we have a completely new approach to how their situation is regularised."
Labour MP David Lammy had co-ordinated a letter to the prime minister condemning the "grotesque, immoral and inhumane" situation.
It won cross-party support from a string of high-profile MPs, including Labour leader Jeremy Corbyn and Conservative backbenchers including Jacob Rees-Mogg and Tom Tugendhat.
Speaking in the Commons, Lammy said the Home Office under May's leadership had created a "hostile environment" for immigrants.
"If you lay down with dogs, you get fleas and that is what has happened with this far right rhetoric in this country"
Abbott said Theresa May should apologise for the "mess" which has taken place "as a direct consequence of the hostile environment she created".
"As home secretary, she removed the rules protecting Commonwealth citizens and as prime minister she has completely ignored the issue," she said.
"The Windrush Generation must have their rights as British citizens confirmed, any who have been deported must be invited back to the UK immediately and those who oversaw their deportations must be held to account."
The timing could not be worse for ministers as it comes as Commonwealth leaders gathered for a summit in London.
Theresa May has announced she would meet Caribbean state leaders this week. Downing Street had initially rejected the request.
The U-turn on Monday afternoon came as the government scrambled to get a grip on the story.