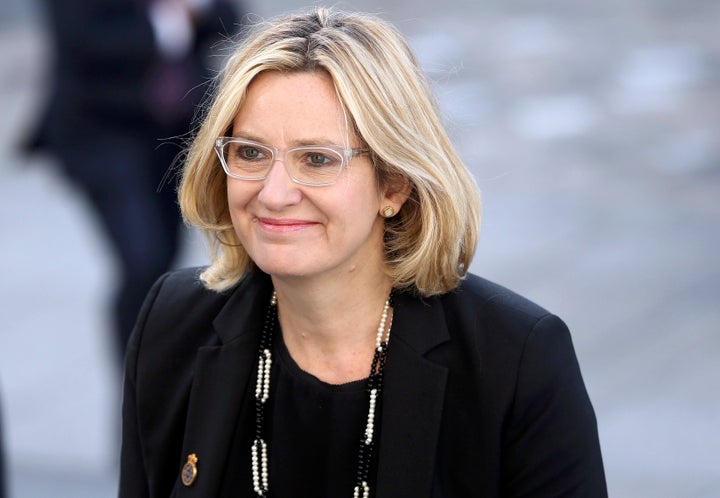 Home Secretary Amber Rudd has told her Conservative cabinet colleagues not to engage in "triumphalism" over the Brexit vote as the country was facing a "difficult time".
Rudd, who was a frontline campaigner of the 'Remain' campaign, told the event hosted by The Times' Red Box that she accepted the result of the referendum.
But she added: "We know some things the result means. But there is a lot within that that we don't know, Brexit means Brexit, but there's a lot to be negotiated, to be agreed, to be discussed at cabinet level" she said.
"I want to be at that table where I can hopefully influence the outcome when those decisions are made," she said.
The home secretary said it was "important to have people like myself at that table helping to to influence decisions as they are taken".
Yesterday, the prime minister said demands from some Tory MPs that parliament be given a vote on Brexit was an attempt to "subvert democracy".
However asked today at a fringe event at the Conservative Party conference in Birmingham whether she agreed, Rudd said it was "not a term I would use".
Rudd said some people who wanted parliament to have a vote on the triggering of Article 50 in an attempt to undo the referendum.
But she added: "In terms of the final terms, I am sure there will be plenty of robust debates in parliament."
"I'm not going to re-fight the campaign. It was pretty robust debate on both sides and in the end the country decided we are going to leave the EU," she said.
"I don't think we should go around saying, 'look it's going to be fantastic' unless we have a plan, I think we do have a plan," she said.
"If you listen to Philip Hammond's speech today, there wasn't a sort of 'oh it's fine' triumphalism about it, it was a very somber speech, sober speech, about the challenges. But also about the great opportunities."
Rudd said the cabinet, which is made up of Conservatives from both sides of the referendum campaign, was now "united" in making a "success" of Brexit. "Nobody is trying to fight any wars for the previous campaign," she said.
During the referendum campaign, Rudd famously tore into Boris Johnson during a live TV debate. "He isn't the man you want driving you home at the end of the evening," she told voters.
Rudd said she was talking about the political "direction of travel" Boris was recommending.
Asked today if she regretted the attack, Rudd said she did not. "No, Boris finds it very funny. He's always shouting at me."
However the Home Secretary used the event to shoot down the foreign secretary's past idea of creating a free movement of labour zone between the UK and Australia, when asked by an Australian reporter.
"There are no plans to increase immigration from Australia. Did somebody promise to increase migration from Australia? Who was that?" she asked. "Oh Mr Johnson again," she replied with a smile when told.
Quizzed on immigration levels, Rudd acknowledged she would be "judged" in part by her ability to bring down the number of immigrants during her time in the Home Office.
"Immigration is a good thing," she said. "But that doesn't mean we can't control the number of immigrants coming here."
Rudd replaced May as home secretary when the prime minister took office earlier this summer. Asked if she considered May a "friend", Rudd said she saw her as "a colleague".
"I don't know her well enough to say as a friend. But I do see her as a supportive colleague, yes," she said.
Popular in the Community