Andrea Leadsom said she would hold a vote to repeal the fox hunting ban if she became Tory leader because the act, which prohibits the hunting of wild animals with dogs, is not "in the interest of animal welfare".
In an interview with ITV News on Thursday, Leadsom called foxes "vermin" and complimented "successful hunts" held in her constituency of South Northamptonshire.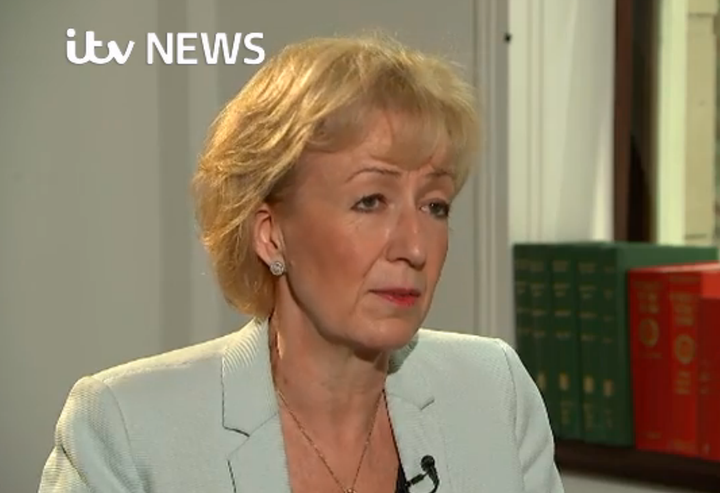 The controversial bloodsport was banned in its traditional form in England and Wales in 2004.
Leadsom was asked whether she would bring back fox hunting and have a vote to repeal the ban.
The Tory leadership hopeful said: "I would absolutely commit to holding a vote to repeal the hunting ban.
"I think it's not proven to be in the interest of animal welfare whatsoever.
"I live in a constituency that is quite rural, there's some very successful hunts there that are now... absolutely abiding by the law as it stands now but who are very often pointing out to me the consequences of the need to exterminate vermin, which foxes are, and the consequences of trying to shoot them."
She added: "I do believe we need a proper licensed regime that works much better and is much more focused on animal welfare."
League Against Cruel Sports president Eduardo Gonçalves called Leadsom's comments "extremely disappointing".
He said: "The Act is supported by 70 per cent of Conservative voters, and over 80% of the UK public.
"They consider this to be a settled matter. By pandering to a small minority of bloodsports enthusiasts, Andrea Leadsom risks alienating not only her own Conservative voters, but also the British public.
"The majority of the public will be shocked that, given the challenges the country is facing post the EU referendum, Andrea Leadsom thinks that holding a vote to potentially make it legal again to chase and kill wild animals for fun should be given precedence.
"Protecting wild animals from being killed for sport remains our main priority during the Conservative leadership election and beyond. We will continue to raise awareness of the cruelty of hunting with both the public and policy makers."
The vote on the changes, which would have lifted the two-hound limit on hunting foxes for vermin control purposes, was due to take place in July last year.
Although the change would only affect hunting in England and Wales, SNP leader Nicola Sturgeon confirmed that her party's MPs would vote against the amendment.
In Leadsom's interview on Thursday, she also told ITV News that she did not approve of the gay marriage legislation passed by Cameron.
The energy minister said: "I would have preferred for civil partnerships to be available to heterosexual and gay couples and for marriage to have remained as a Christian service that was for men and women who wanted to commit in the eyes of God."
Leadsom said while she thought "the love of same-sex couples is every bit as valuable as that of opposite sex couples" she "didn't really like the legislation" passed by Cameron in 2013.
Leadsom and May are now battling it out to become the next Tory leader after Michael Gove was eliminated from the race on Thursday.
In the final round of voting by Conservative MPs today, May came first with 199 votes and Leadsom came second with 84.
Conservative Party members will now choose whether they want May or Leadsom to succeed Cameron.
The result will be announced on September 9.