Conservative Party leadership hopeful Andrea Leadsom has said she did not like the gay marriage legislation passed by David Cameron - in what will be seen as a bid to appeal to the grassroots Tory members who will choose the next party leader.
The energy minister, who campaigned for Brexit, is battling Michael Gove to make it into the final two when MPs whittle down the candidates later today. Theresa May is expected to come first. Tory members will then vote on which of the top two they want to become party leader and prime minister.
She told ITV News today: "I would have preferred for civil partnerships to be available to heterosexual and gay couples and for marriage to have remained as a Christian service that was for men and women who wanted to commit in the eyes of God."
Leadsom said while she thought "the love of same-sex couples is every bit as valuable as that of opposite sex couples" she "didn't really like the legislation" passed by Cameron in 2013.
She said there had been "very clear hurt caused to many Christians who felt marriage in the Church can only be between a man and a woman".
However in the same interview she added: "I absolutely support gay marriage."
Rather than voting against the 2013 Bill, she abstained by voting both ways.
Leadsom also told BBC Radio 4's World at One programme she believed "the love of same sex couples is exactly as good as love of heterosexual couples" but "wasn't happy" with the gay marriage legislation.
In his resignation speech, Cameron cited gay marriage as one of the things he was most proud of having achieved during his time in office. Both May and Gove voted in favour of the Bill.
Leadsom, a Christian, was asked by Channel 4 News today if she had ever been spoken to directly by God. "That question is not one that is for open laughing at and poking fun at," she said. "I absolute am a christian and i am very proud of it."
She added: "If you are asking me, am I going to saying well 'God's told me to do this and do that' well of course that's not the case."
During a 2013 Commons debate on the gay marriage, Leadsom said she shared concerns held by some that straight marriages would "undermined" by same-sex marriages.
However rather than voting against the Bill - she abstained. She told MPs: "I shall be walking through the Aye Lobby in solidarity with the minority of same-sex couples for whom marriage represents the ultimate expression of their love for one another.
"And then I shall be walking through the No Lobby to support the liberty of those whose freedoms may well be under threat from this ill-considered legislation."
The South Northamptonshire MP has also previously complained about a gay couple being "selected ahead" of a straight couple when it came to adoption.
During the ITV News interview, Leadsom also addressed two issues close to the heart of the Tory membership.
The energy minister said if selected to be prime minister she would hold a vote to bring back fox hunting - describing foxes as "vermin" - and would review the HS2 rail link which would run through many Tory constituencies.
Defence minister Penny Mordaunt, a key supporter of Leadsom's leadership who and introduced her at a high profile campaign speech today, voted in favour of gay marriage.
"I'm tremendously proud of the progress we have made in the Armed Forces on LGBT issues. I know that you understand why our freedoms are so important – and that you know that freedom needs defending," she said.
"The freedom for every individual and human being to thrive, to reach their full potential – and to do that we need democracy and accountability, and we need our sovereignty back."
The result of the Tory MP leadership ballot should be revealed from 4pm this afternoon.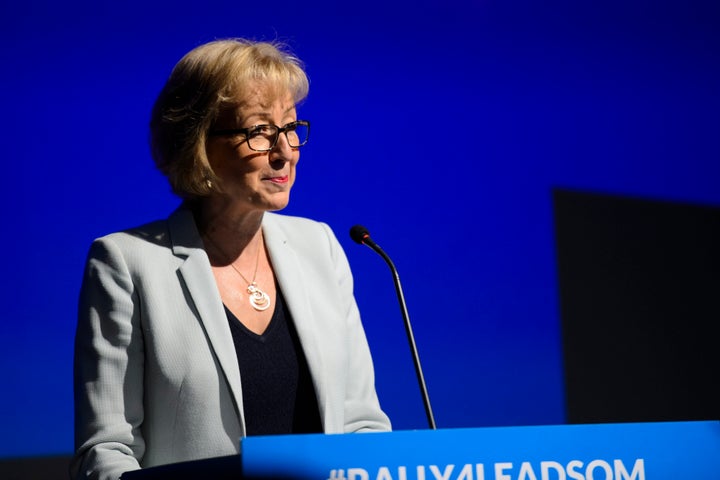 Popular in the Community