Andrea Leadsom advocated abolishing worker's rights for small companies in 2012, it has emerged.
She said: "I envisage there being absolutely no regulation whatsoever—no minimum wage, no maternity or paternity rights, no unfair dismissal rights, no pension rights—for the smallest companies that are trying to get off the ground, in order to give them a chance. That would all change, however, as soon as the number of employees increased."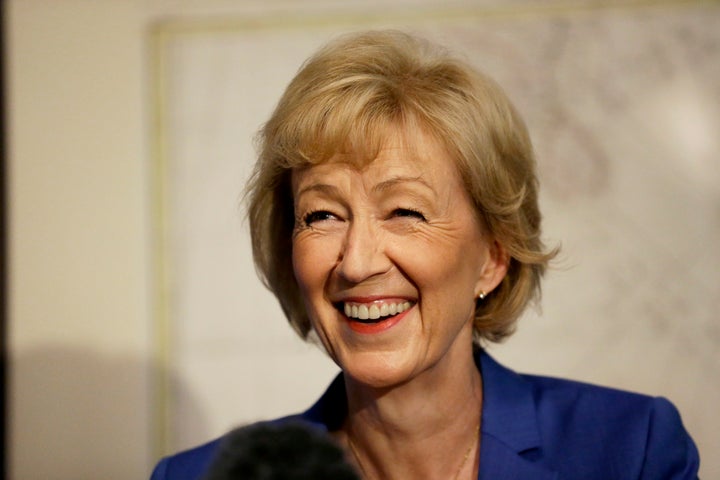 Worker's rights are designed to protect individuals from discrimination and unfair work practices and also cover equality based on gender, age, race, sexual orientation and religious beliefs.
The accusation led to denials from her team who called it a "fabrication".
A spokesman for Leadsom told The Huffington Post UK: "We have conducted a detailed investigation into the circumstances of this tweet. Andrea Leadsom did not retweet the message from @QueenBritain beginning 'I really doubt'.
"It appears that the message in question never existed, but was fabricated in some way. We are continuing to investigate how the impression was created that Andrea retweeted this message. We will not speculate about those circumstances."
Guardian journalist, Claire Phipps who initially highlighted the retweet hit back.
Conservative MPs are to cast their votes in the first ballot in the Tory leadership race after Boris Johnson threw his weight behind Leadsom, a fellow Leave campaigner.
The former London mayor – who saw his own leadership hopes dashed after a devastating personal attack by Michael Gove – said she had "the zap, the drive and the determination" to lead the country.
His intervention came as a significant boost to Leadsom, the energy minister, after she was said to have performed poorly in front of Tory MPs at a leadership hustings at Westminster on Monday evening.
It was widely seen as an act of revenge against Gove, the Justice Secretary, who had been expected to back Johnson for the leadership after campaigning alongside him in the referendum, only to say he was not up to being prime minister.
There was speculation that it could finally scupper Gove's own leadership bid, with many Tories unhappy at the way he treated his erstwhile comrade.
Johnson pointedly praised Leadsom as being "level-headed, kind, trustworthy".
Ahead of the first ballot, a poll by the ConservativeHome website of 1,214 party members gave Leadsom a narrow lead with 38%, one point ahead of Home secretary Theresa May – widely seen as the frontrunner - on 37%.
In contrast a YouGov poll for The Times of 994 Conservative Party members suggested that if it came to a final round run-off between the two women candidates, May would win by by 63% to 31%.