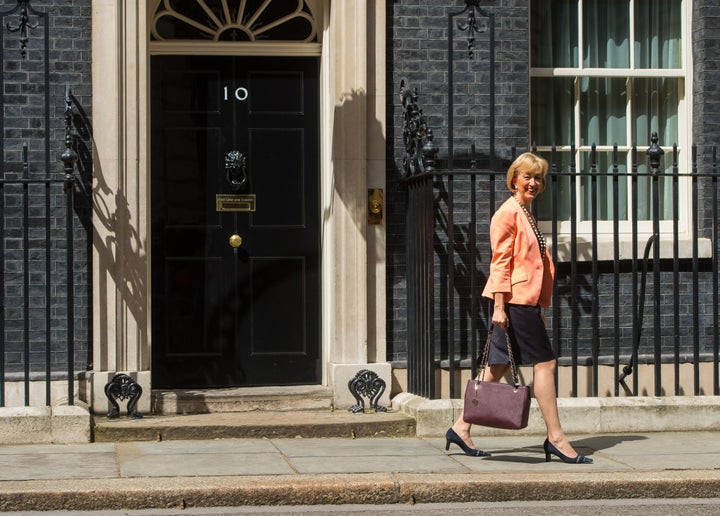 Andrea Leadsom has said it would be "sensible" for parents not to employ a male nanny to look after their children because he could be a paedophile.
The former Tory leadership candidate, who was yesterday appointed environment secretary by Theresa May, made the comment during the infamous Times interview which is credited with sinking her leadership ambitions.
"As an employer we're not, let's face it, most of us don't employ men as nannies, most of us don't," she told the paper.

"Now you can call that sexist, I call that cautious and very sensible when you look at the stats.

"Your odds are stacked against you if you employ a man. We know paedophiles are attracted to working with children. I'm sorry but they're the facts."
The Times released the comments today having not included them in a previous front page story in which Leadsom suggested she would be a better prime minister than May as she had children.
Tim Farron, the leader of the Lib Dems, said Leadsom "has let yet another of her masks slip".
"These remarks are stupid, ignorant and not ones any minister should be making. Over the last day Theresa May has shown she is willing to relieve ministers of their duties and she must do so again now," he said.
"It is inconceivable that somebody who holds such offensive, ignorant views should be sat around the cabinet table."
Leadsom told The Times that being a mother "means you have a very real stake in the future of our country" but insisted she was not trying to make it an issue in the Tory leadership election.
She dropped out of the race against May a few days later.
Yesterday, the new prime minister moved to sweep away many David Cameron and George Osborne loyalists.
May's spokesperson insisted the Cabinet shake-up was "bold" and necessary after she dismissed Osborne, Michael Gove, Oliver Letwin, Nicky Morgan and John Whittingdale.
Labour said the promotion of a string of right-wingers contradicted Mrs May's "warm words" on her entry into 10 Downing Street about seeking to govern "not for a privileged few, but for every one of us".