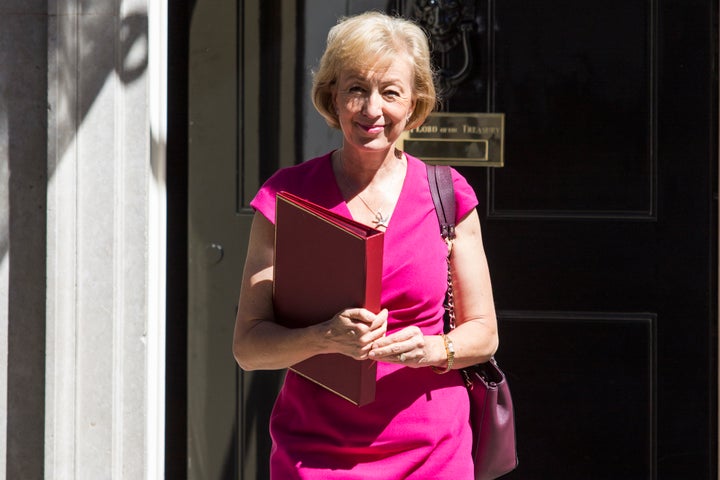 Andrea Leadsom's decision to give an interview to The Times which resulted in her being accused of attacking Theresa May for not having children was a "cock up" and a "rookie mistake" by the then Tory leadership candidate, her former campaign manager has said.
Speaking at the Edinburgh Festival over the weekend, Conservative MP Tim Loughton also said Leadsom was being "set up" by a newspaper which planned to trap her into making May's diabetes a campaign issue.
And Loughton, who ran Leadsom's short-lived bid to succeed David Cameron, that fellow Tory MP Nick Boles was a "tosser".
He also conceded the march he led of Leadsom supporters and MPs from a leadership rally to parliament was, also, a "cock up".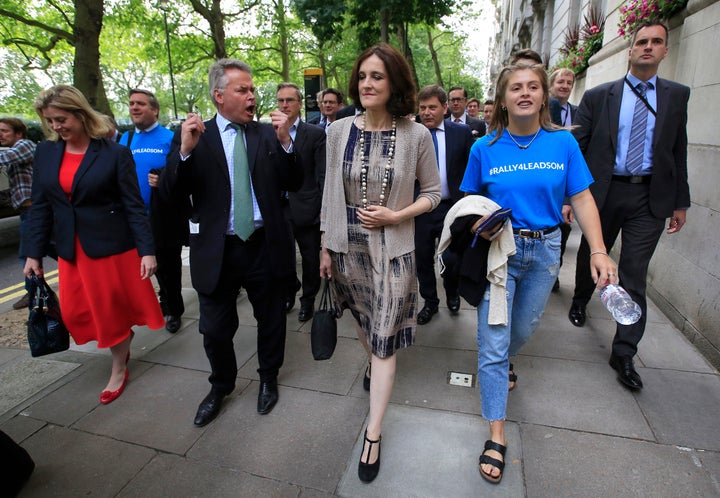 On July 9, The Times ran an interview with Leadsom in which the then energy minister said being a mother meant she had "a very real stake in the future" of the country.
May and her husband have been unable to have children. Leadsom's comments were taken as a personal attack on the then home secretary.
Leadsom was appointed environment secretary by May when the new prime minister formed her first cabinet.
In an interview at the Festival with comedian Matt Forde, Loughton said the Times interview should never have taken place. "It was a really rookie mistake," he said.
"It was a cock up. She wasn't supposed to give any interviews over that weekend. It had been a completely knackering week. So on that Thursday evening I told her go home, get some rest and get your head round the fact she was going to have a nine week campaign that could end up in her being prime minister. Don't do any interviews.
"Then some idiot press officer somehow got her to do an interview which happened in Starbucks in Milton Keynes, which is never a good place to do an interview, with Rachel Sylvester from The Times, who was never going to be her friend, without recording it."
Loughton added: "That's what journalists can do, they took her to bits on that."
The Tory MP insisted Leadsom had in no way attempted to make a contrast between her family and May's. "What she was saying was the thing that really motivates me is my kids. Since when has it been a crime to take pride in your kids? And she does. It's a big thing for her," he said.
"She was being set up all the way along. The next thing that was coming we were told, they were going to try and make her do an interview that would say 'Theresa is not up to it [being prime minister] because of her diabetes'. Which was never an issue. A journalist was setting her up."
One of the most memorable moments of Leadsom's campaign was a protest march of MPs and activists through Westminster. Leading from the front, Loughton was filmed shouting: "What do we want? Leadsom for leader. When do we want it? Now."
Loughton told Forde of the march, which took place immediately after a speech by Leadsom, "it was a complete cock up".
"She went on the stage, she spoke for about 15 minutes and didn't take questions so all the journalists were a bit disappointed about that.
"Everybody spilled out on the pavement, 250 MPs and supporters wearing t-shirts, including my daughters, very embarrassing, and me. And a whole load of cameras, BBC, Channel 4, ITV, German TV, the lot were there. And then Penny [Mordaunt] and Andrea came out, got in a Mercedes, and buggered off.
"So which point, what do you do. I thought, 'well we probably better march'. We had people like Bill Cash. Bill Cash, well in to his 70s, probably never ever been on march like that before. And some other sane people."
"It was a complete cock up"
Loughton recalled how reporters were "falling into gutters" ahead of him to try and capture the scene. "We carried on and a mad dog was set loose on us when we got past Millbank and the press went bonkers."
Loughton also poked fun at Michael Gove's leadership campaign manager, Nick Boles, who had text Tory MPs encouraging them to back Gove to prevent Leadsom making it into the final two candidates with May. The text messages were leaked to the press. "What a tosser. That was the end of him," Loughton said.