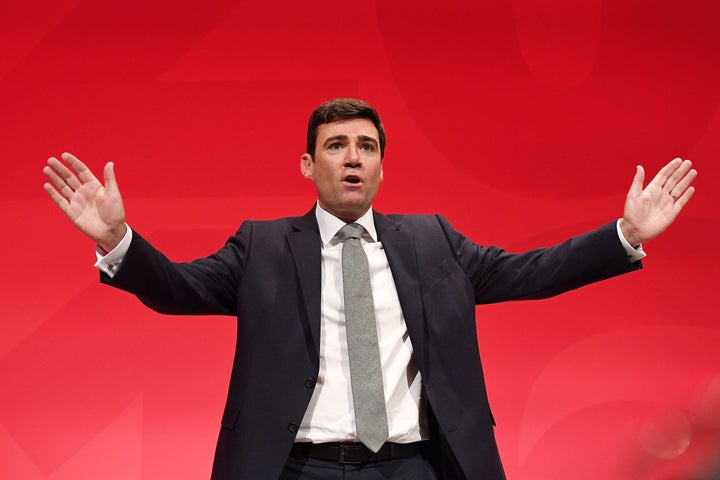 Andy Burnham today warned Labour must listen to the millions of its voters who voted for Brexit as he announced he was quitting the Shadow Cabinet to focus on his bid to be Manchester Mayor.
In a well-received speech at Labour conference, the Shadow Home Secretary revealed he would be stepping down as soon as Jeremy Corbyn carries out a reshuffle of his top team.
The former leadership contender, who finished second to Corbyn last year, is Labour's candidate for the role of Greater Manchester Mayor in next May's election.
Burnham used his final speech as Shadow Home Secretary to urge Labour to learn the lessons from Brexit, in particular around immigration.
Speaking from the conference stage this morning, he said: "This party must fully face up to this fact: millions of lifelong Labour supporters voted to leave the EU and - let's be honest - voted for change on immigration.
"We haven't yet even begun to show to them that we understand why.
"I don't want to hear this party make the patronising argument that people didn't understand their Referendum vote. They understood it very well.
"The truth is the EU was working better for some parts of our country than it was for others.
"For some of our country's least affluent areas, it wasn't working well at all.
"These were the places that lost industry in the 80s and 90s and got no real help from any government to replace those good jobs.
"Places that saw house prices collapse and whole terraced streets bought up by absent private landlords.
"Places that then experienced even more rapid change when the EU expanded - cuts to wages, job insecurity, more pressure on primary schools and GP services - but, once again, got no extra help from Government to cope with it.
"In fact, it's worse: these are the council areas which have had the biggest cuts from the Tories and are left to take practically all of the country's asylum seekers - while more comfortable areas like the Prime Minister's constituency take none at all.
"We have to ask ourselves, Conference - is that fair on them? No wonder this feels like two countries. No wonder some places feel forgotten and abandoned by the political class. Europe wasn't working for them - and we were way too slow to see it."
Burnham's comments on immigration come as a divide over how Labour should respond to the Brexit vote widens.
She is one of a number of MPs – including Jonathan Reynolds and Stephen Kinnock – call for an end to freedom of movement as part of any post-Brexit deal.
However, the Labour leadership have made no such calls, and a spokesman for Corbyn said on Tuesday "it is not an objective to reduce the numbers, to reduce immigration."
In his speech, Burnham earned applause as he claimed Westminster has "failed the North of England."
He said: "It has created a very unequal country. Unequal access to truth and justice. An unfair distribution of wealth, health and life chances. Two countries.
"Theresa May's response has been to threaten to pull the plug on the Northern Powerhouse and Tory promises of investment.
"If you do, Prime Minister, it will be as big a betrayal of the North as Margaret Thatcher's in the 1980s.
"Surely the right answer to Brexit is to deepen the commitment to the Northern Powerhouse, not abandon it?"