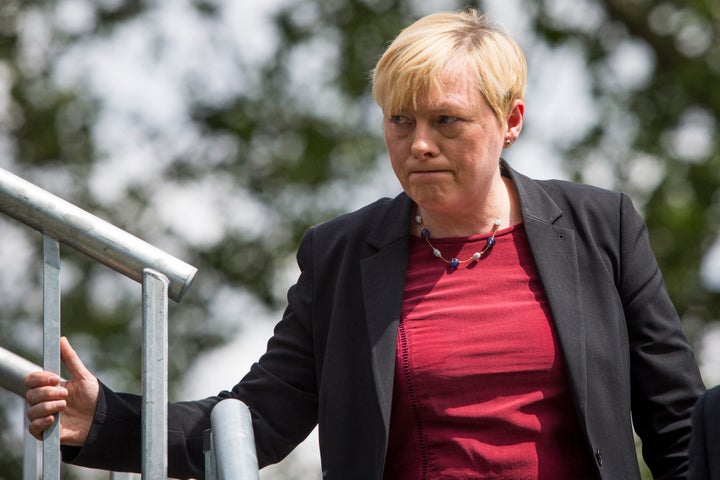 Angela Eagle's local Labour party has come out in support of Jeremy Corbyn, HuffPost UK can reveal.
The chair and secretary of Wallasey constituency Labour party have written to express their backing for the leader.
Kathy Miller and Kathy Runswick said that their local party had decided at their annual meeting on Friday to urge their MP to oppose the 'motion of no confidence' in Corbyn.
Eagle has lots of support among fellow MPs and has big trade union backing as the "unity" candidate to succeed Corbyn.
But her local party has decided to hold the former Shadow First Secretary Of State to her remarks, issued in the wake of the EU referendum Brexit result, when she sugested that the party leadership was not a priority.
In an emailed letter to their MP, it is understood that the local party felt it was reflecting the views of the bulk of her local members.
"Hello Angela

At the CLP AGM on Friday 24th June 2016, delegates asked me to write to you to ask you to reject the motion of no confidence in Jeremy Corbyn. The meeting was overwhelmingly behind Jeremy continuing as Labour leader. Your appearance on TV during the post referendum programme was mentioned. Your response in putting the question of his leadership aside to deal with the issues was welcomed. The idea that the Labour Party would rather miss the chance to capitalise on the splits in the Tory party by in fighting was not acceptable to members.
On behalf of the constituency I would ask you to make a clear public statement of support for him.



Regards

Kathy Miller & Kathy Runswick
Secretary & Chair Wallasey CLP"
Several Labour MPs have decided to quit their shadow posts after consulting their local parties.
Shadow Justice Minister Andy Slaughter revealed that his CLP had given its overwhelming backing to his resignation from the frontbench.
But pro-Corbyn supporters believe they have enough membership numbers in many Parliamentary seats to save him from the 'coup' attempt.
Plans to introduce mandatory re-selection of MPs, force recall by-elections of MPs who step out of line and moves to entrench members' powers are all being considered.
Related