Tim Farron was confronted by an angry Brexit supporter today who revealed he would be voting Conservative for the first time in his life.
Malcolm Baker, celebrated his 65th birthday today, by shouting at the Lib Dem leader during a campaign stop in Kidlington.
"I tell you what, you keep going on all the time. I voted leave and I am proud to vote leave and I knew what I was voting for," he said.
Farron defended himself against the apparent accusation that he thought people who voted for Brexit were racist. "Loads of my mates voted leave, I don't think they are racist," he told Baker.
But Baker was not having any of it. "Yes you do," he insisted.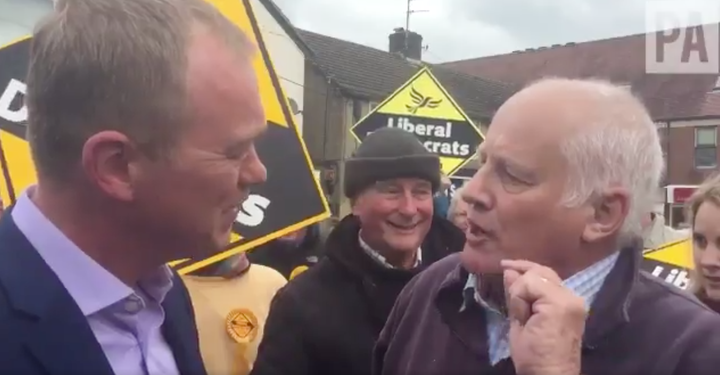 Farron, who is running a ardently pro-EU general election campaign on the platform of holding a second referendum, asked: "Have you got grandchildren? Are you proud they will inherit a poorer, less powerful, less secure country?"
Baker replied during the heated exchange: "I am proud they will be coming out of Europe and we will have our own destiny and not have people telling us we have to pay £100bn to get out. If that's your policies, I hope you only get six seats."
The Lib Dem leader told him :"Well thank you very much, nice to talk to you."
The two men shook hands after the debate ended. And Farron later wished him a happy birthday on Twitter.
In the video filmed by the Press Association, Baker can be seen shouting back at Farron: "I tell you what, I have always voted Labour but I will be voting for Theresa May."
To which another man in the crowd hit back: "You fucking idiot."
After Baker left, Farron said the encounter would "never have happened to Theresa May" because "she never talks to anybody normal".
"God bless him. He is a regular human being with an opinion and I respect him," Farron added. And he told his Lib Dem supporters "don't boo him, we're not Corbyn".
A Lib Dem spokesperson said: "Tim today was out meeting voters today, unlike Theresa May, like he did yesterday and the day before. That exchange should have worried Labour as a life long brexiteer voter is leaving them.
"This election is a chance to change the direction of our country. On one side it's Theresa May and on the other is the Liberal Democrats. If you want to change the direction, you need to vote Liberal Democrat."
This general election campaign has been one of the most tightly controlled in. recent years. However it has not stopped some voters giving politicians a piece of their mind.
While visiting the St Austell and Newquay constituency in Cornwall, May was approached by a woman angry at Brexit.
The prime minister told her that leaving the EU had "huge opportunities" for the UK.
But the voter told May: "It doesn't help that Boris Johnson says Brexit is about selling haggis to the Americans."
Theresa May meets some voters: