Annie Lennox delivered an impassioned speech on Saturday evening, urging the world not to forget about the HIV/AIDS crisis in sub-Saharan Africa.
Lennox said although there have been "tremendous strides" over the past decade to improve the fate of those affected, it all risked unravelling if the West grew complacent.
Speaking at WOW - Women of the World festival to a packed auditorium at Southbank Centre's Royal Festival Hall, she said: "We have made tremendous strides over the last decade in halving mortality rates and doubling access to treatment, but if we don't continue to pressure governments towards making appropriate responses then we risk going back to where we were a decade ago."
She added: "When we take our eyes off the ball, it starts to reverse."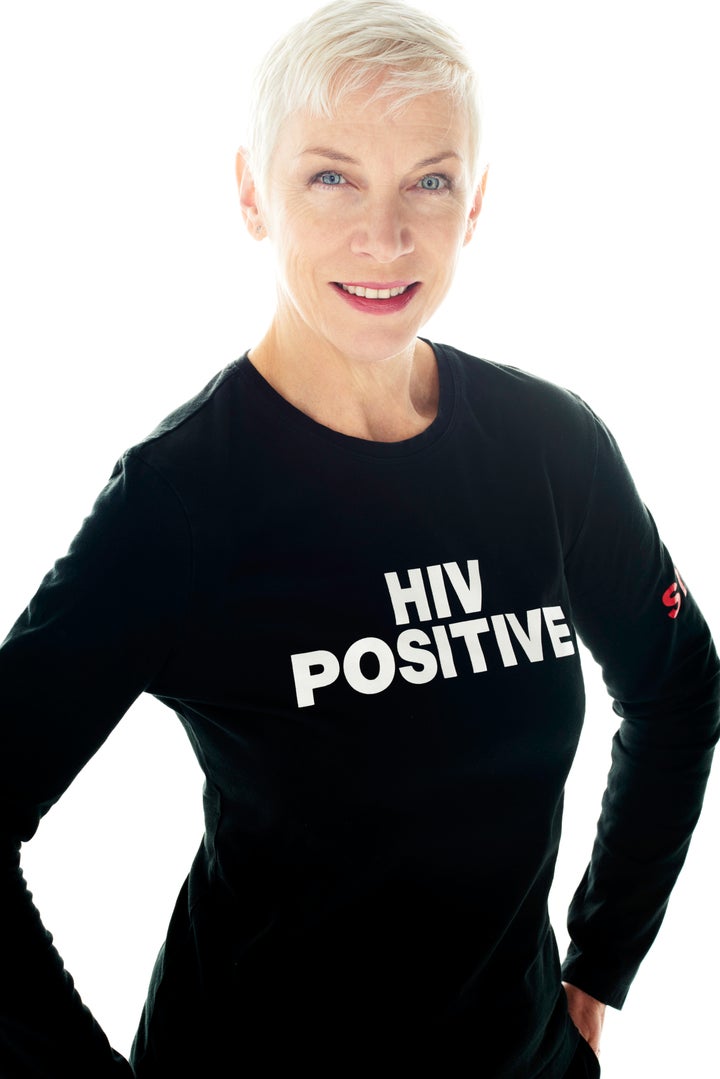 Lennox, who is a UN AIDS ambassador, said that the new challenge facing HIV/AIDS campaigners is maintaining the sense of urgency of the situation, in spite of progress made.
"As campaigners this [progress] can be quite a challenge because we're no longer in the headlines," she said. "In a sense when you say you've half sorted it, people kind of assume it is sorted."
Lennox was first introduced to the crisis in 2003 when Nelson Mandela invited her to Cape Town to take part in the 46664 music concert, named after his prison number, in a bid to raise awareness of HIV/AIDS in South Africa.
At the time Mandela described the HIV/AIDS crisis a "genocide", claiming an estimated 1,000 South African lives per day.
He also declared women and children as "the face of AIDS". On Saturday evening Lennox said that, in many ways, "nothing's changed".
For women in their reproductive years (ages 15–49), HIV/AIDS is the leading cause of death across the world, according to a UN AIDS report, a figure that has remained the same since 2003.
Furthermore, in sub-Saharan Africa one in three pregnant women will have HIV/AIDS and women constitute 58% of all people living with HIV.
Keen to inspire activism rather than preach to the audience, Lennox said "still to this day people don't know" about the sheer extent of the problem.
She said that her initial visit to South Africa more than a decade ago changed her life forever.
"It blew my mind," she said. "As a woman and a mother, I thought had to do something... I have to use my platform in some way."
She says she sees her work as an opportunity to "stand shoulder-to-shoulder with women around the globe".
"My gender gives me the connection to these issues. Even though my skin is white, I speak for women of all colour because it's my gender, I'm part of that sisterhood," she said, to huge applause.
"I used to describe myself as a feminist, now I see that I'm a global feminist."
Lennox has since founded The Circle, in partnership with Oxfam, which is a network of like-minded influential female activists, working together to improve the lives of women and girls.
The Circle aims "to inspire and connect women to harness their skills, creativity and influence, thereby becoming catalysts of change in order to transform the challenges and injustices faced by the most disempowered women and girls in the world".
Lennox thanked a range of organisations including 46664 Mandela Foundation, Comic Relief, UN AIDS, Oxfam, The Elton John AIDS Foundation, mothers2mothers and other grassroots organisations, for their tireless work on the HIV/AIDS crisis.
At the end of the evening, the audience applauded Lennox and her efforts with a standing ovation.
HuffPost UK is running a month-long project in March called All Women Everywhere, providing a platform to reflect the diverse mix of female experience and voices in Britain today. Through features, video and blogs, we'll be exploring the issues facing women specific to their age, ethnicity, social status, sexuality and gender identity. If you'd like to blog on our platform around these topics, email ukblogteam@huffingtonpost.com with a summary of who you are and what you'd like to blog about.