Anti-Trump protesters could be heard from inside his press conference with Theresa May, despite the US president's best efforts to decry them as – you guessed it – "fake news".
At the end of the first day of his state visit on Monday, Trump tweeted: "London part of trip is going really well. The Queen and the entire Royal family have been fantastic."
He then added: "Haven't seen any protests yet, but I'm sure the Fake News will be working hard to find them. Great love all around."
He doubled down on the claim during a press conference with Prime Minister Theresa May on Tuesday, adding that there were "thousands of people cheering" on his way to Downing Street and that "a lot of it is fake news...it was tremendous spirit and love".
He accused the protests of being "put in for political reasons".
But it didn't take much hard work for anyone in central London – let alone journalists – to encounter fervent opponents.
Parts of the capital were alight with rallies, gatherings and speeches for much of Tuesday.
The demonstrations on Tuesday have been creative, from the 20ft Trump Baby blimp kicking off day two of the visit, to a rally in Westminster attended by thousands.
Although the numbers were lower than the hundreds of thousands that organisers had hoped for, speeches by Labour leader Jeremy Corbyn and Tottenham MP David Lammy definitely happened. No fake news there.
Protesters waving anti-Trump placards took to Trafalgar Square, and a 16ft talking robot depicted as Trump on a gold toilet took centre stage at one point.
At least 100,000 demonstrators took to the streets of London during Trump's 'working visit' last July. According to Guardian columnist Owen Jones, some 75,000 people showed up on Tuesday.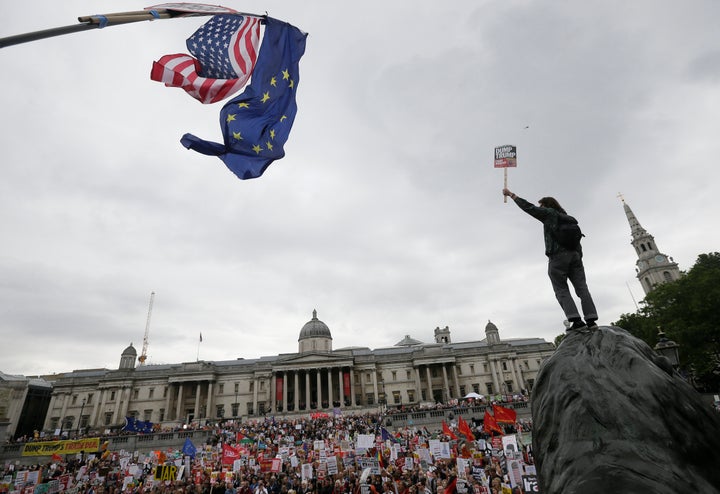 And on Monday, Amnesty International unfurled a series of huge banners across the side of Vauxhall Bridge, one of which read "resist Trump".
But there were nowhere near as many as 1 million Londoners as predicted by a YouGov/Queen Mary University London poll out last month.
As for the "great love all around"? There were a few supporters and well-wishers about with "welcome" banners, however they were outnumbered.
A sprinkling of bystanders welcomed the presidential motorcade as it rolled into Downing Street on Tuesday afternoon.
Trump and First Lady Melania have seen the red carpet rolled out for them since they touched down in Stansted airport on Monday, enjoying a tour of Westminster Abbey and a State Banquet with senior royals, among other events.
The joint press conference between the two heads of state saw Trump briefly discuss a post-Brexit US-UK trade deal. He also ruffled feathers by saying that the NHS would be on the table during negotiations.
He also awkwardly asked Tory leadership hopeful Michael Gove whether his rival for the top job – Boris Johnson – would "do a good job".