A petition has been launched demanding an apology from an exam board after a GCSE biology paper included a reference to underage drinking.
Close to 2,000 people have signed the appeal for examiners AQA to say sorry and provide an explanation for its inclusion of a graph detailing the drinking habits of 15-year-olds.
"By including this question, AQA make it seem as though underage drinking is perfectly acceptable, and it is not," the petition said.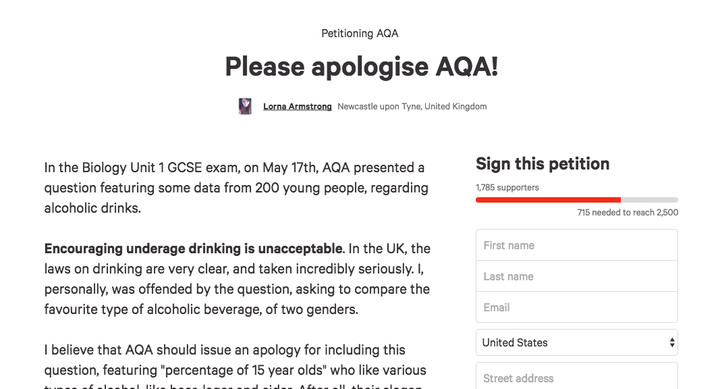 Lorna Armstrong, a student from Newcastle, began the petition after her experience in Tuesday's exam.
She wrote: "I believe that AQA should issue an apology for including this question, featuring 'percentage of 15 year olds' who like various types of alcohol, like beer, lager and cider. After all, their slogan is 'Raising Potential', yet they encourage such damaging behaviour?
"We need an explanation. We need an apology."
However, AQA told The Huffington Post UK on Tuesday night that it had "no problems" with the exam's questions.
It said the graph on underage drinking was part of a section on alcohol abuse.
"Exams aren't meant to be easy and students are obviously going to tweet about that, but there was nothing wrong with this paper. We wish everyone the best of luck with the rest of their exams," a spokesperson said.
Dozens of edits were made to the Wikipedia entry for 'independent business', a company free from outside control, which was referred to in a section about drugs trials.
10 Best 'Independent Business' Wikipedia Edits After #AQABiology