Meghan Markle has been captured reading Archie's favourite book to him, in a video to mark the one-year-old's birthday today – and you need to watch to the end for the cutest father-son moment.
The Duke and Duchess of Sussex released the short film that shows Meghan reading Duck! Rabbit! to support Save the Children's Save With Stories initiative. Archie and Meghan are dressed casually, with the Duchess wearing a denim shirt, and Archie in a white baby grow.
Shot by Harry last weekend in California and posted on Save the Children's Instagram, the film shows Archie sitting on his mum's lap and helping her turn the pages of the book as she reads to him.
"Good job," Meghan says to him, as he opens the book, before laughing as his attention momentarily wanders and he throws another book to the floor.
Archie is like any other one-year-old in the video, getting bored quickly by the book, having a little moan, and wriggling to get down. Harry is heard cheering at the end of the story, and Archie responds by saying, "Da, da, da".
The video gives the first snapshot in the couple's life, after they've recently relocated to Los Angeles, where Meghan is from and where her mum, Doria Ragland, lives.
Previously, they were staying on Vancouver Island in Canada, following their announcement in January that they were stepping back from their royal duties, a change that officially began on 31 March.
The video marks a year since the nation was over the moon to welcome Meghan and Harry's son into the world. Shortly after the birth, Meghan said Archie had the "sweetest temperament" and was "really calm."
"He's just been the dream, so it's been a special couple of days," she said, while Harry added that he was having a great time as a new father. "Parenting is amazing," he said. "It's only been two and a half days, three days, but we're just so thrilled to have our own little bundle of joy."
Archie is seventh in line to the throne but doesn't have a title.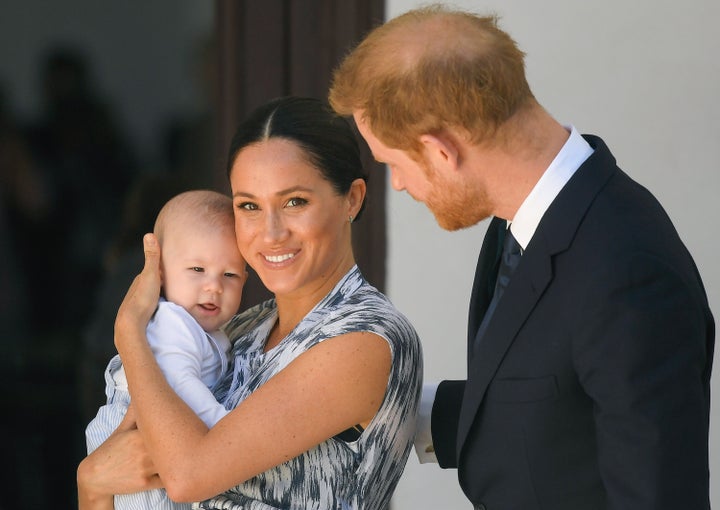 The family's reading of Duck! Rabbit! is part of the charity's initiative, Save With Stories, that aims to raise money for children around the world who have been hardest hit by Covid-19 and highlight the millions of pupils whose education has been disrupted.
A spokesperson for the couple said they wanted to mark Archie's birthday by highlighting the issues. "As they celebrate this family moment, the Duke and Duchess wanted to continue to raise awareness around the urgency of bringing food and learning resources to millions of children," they said.
Gemma Sherrington, fundraising director at Save the Children UK, said: "We're delighted that the Duke and Duchess have chosen to focus attention on the need to protect a generation of children from the consequences of Covid-19."