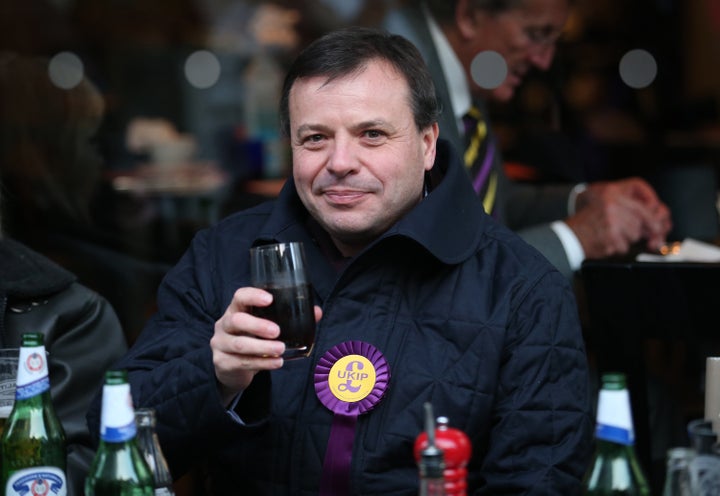 Businessman Arron Banks is being considered as Ukip's new chairman in a move that could lead to a rebranding of the party, the Huffington Post UK can reveal.
The multi-millionaire businessman, who is a close ally of Ukip leader Nigel Farage, could step into the role after the EU referendum on June 23.
Banks, who hit the headlines when he donated £1million to the party in 2014, has recently hinted that Ukip could emerge with a different name after the EU referendum in a bid to broaden its appeal.
As well as bankrolling Ukip, Banks is one of the key figures behind the Eurosceptic organisations Leave.EU and Grassroots Out, and has repeatedly clashed with another anti-EU organisation, Vote Leave.
But it is the potential appointment of Banks as party chairman - replacing Steve Crowther - which could cause the biggest shake-up.
A source close to leader Nigel Farage told The Huff Post UK there are "behind the scenes discussions" around the issue.
The source added: "People are talking about it."
"All things are possible," he replied.
Such a move would be met with fierce opposition from senior party figures, including Ukip's Deputy Leader Paul Nuttall, who spoke out against any rebranding plans at regional conference in Peterborough in February.
One senior figure in the party claimed Banks as chairman would bring a "comic involvement" to Ukip.
The figure said: "We need to start getting serious, and that means putting serious people in serious roles."
Banks did not reply to the Huff Post UK's question on whether he would be becoming party chairman.
As well as campaigning for the UK to leave the EU, Ukip is also gearing up for a series of crucial local elections on May 5
The party is expected to perform well in Wales, and could win seats on the Welsh Assembly for the first time in its history.
In last year's General Election, Ukip secured 3.8million votes, but only managed to secure one seat – Clacton, in Essex.
Since then, it has been engulfed in a series of internal battles sparked by Farage's 'unresignation' in May 2015.