A man has become the first person in Britain to appear in court charged with upskirting on the transport network, following the introduction of new laws.
Daren Timson-Hunt, 54, admitted to using a phone to take pictures under a woman's clothing on the Northern Line of the London Underground. The charge specifies he did so "for the purpose of obtaining sexual gratification".
Timson-Hunt followed the woman out of Embankment station, the court was told in the hearing on Thursday. A member of the public saw him hide his phone under his leg to take the picture, then follow her up the stairs to film her again.
Prior to April 2019 there was no specific legislation to prosecute for 'upskirting' behaviour with law enforcement instead relying on outraging public decency or outdated voyeurism laws.
The Voyeurism Offences Act, a bill passed after campaigning by victim Gina Martin, means upskirting is now a criminal offence in England and Wales and victims are granted anonymity as with other sexual offences.
Timson-Hunt, a barrister and former employee of HMRC, faces sentence next week – and is banned from carrying a device capable of capturing images or recording except for a laptop turned off and carried in a bag.
Detective Inspector David Udomhiaye, head of the Sexual Offences Unit for the British Transport Police, told HuffPost UK that it could be the first of many prosecutions.
"You can expect to see more and more people being prosecuted under this legislation," he said. "We have zero tolerance of upskirting and other sexual offences on the transport network".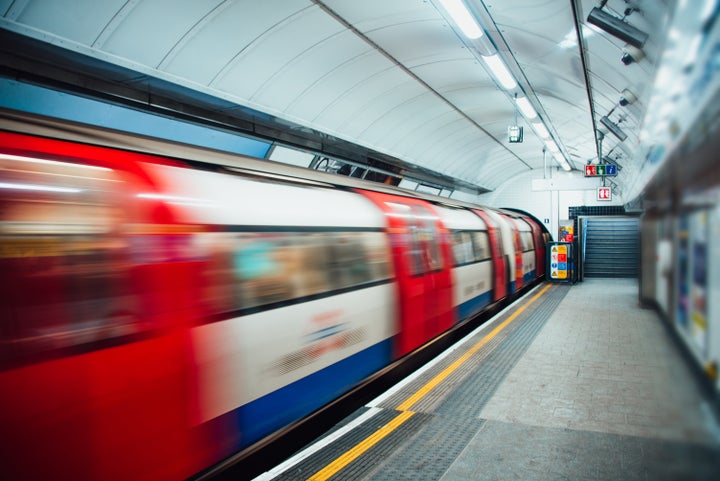 This is the first charge secured by the BTP and the first charge in London since the introduction of the new laws. It is also one of the first cases nationwide according to the CPS.
A teenager, Timothy Boomer, who took pictures under the skirts of two teachers at his school in Northern Ireland was found guilty of upskirting earlier this year.
"It's a big moment for the legislation," said Udomhiaye. "As far as I'm concerned this is a positive step. We have a piece of legislation to tackle this behaviour where we didn't before."
″[Upskirting] is not an epidemic on the transport network but with that number of people in a condensed space, opportunists will always see it as a chance to get away with it and not be seen."
The BTP says it would welcome legislation updates on other issues including cyber flashing (where people are sent unsolicited sexual images on their smartphones on the transport network).
Udomhiaye said he would welcome more tools for help bring offenders to justice. "We do the best we can with the law as it exists but if something was introduced by the government, or campaigned for, we would totally be supportive of that."
The BTP currently receive two to three reports a month of upskirting and always encouraging more victims to come forward. "We will always take it seriously," says Udomhiaye. "Every report helps build a picture."
You can report an incident to the BTP by speaking to a member of staff or texting 61016. Udomhiaye says if you aren't the victim you should also tell the victim what you have seen to make them aware.
The British Transport Police has seen a 26% rise in reports of sexual offending on the transport network since the launch of its 'Report It To Stop It' campaign.