Clothes retail giant Asos has come under fire for allowing staff to keep working in crowded warehouses despite the coronavirus pandemic – allegedly placing profit before employees' health.
MP Stephanie Peacock says her office has been inundated with calls from workers at the firm's warehouse in Great Houghton, South Yorkshire.
The online clothes retailer has reportedly demanded warehouse employees come into work even though office staff at its Camden headquarters have been sent home due to the pandemic.
Warehouse conditions are said to clearly breach social distancing rules, with some employees reportedly working in narrow warehouse alleys where it is impossible to keep a safe distance.
The MP said hand sanitiser provided at one Asos warehouse was alcohol-free and did not sufficiently protect staff from Covid-19, and that workers were sharing tools from tape guns to knives without cleaning them.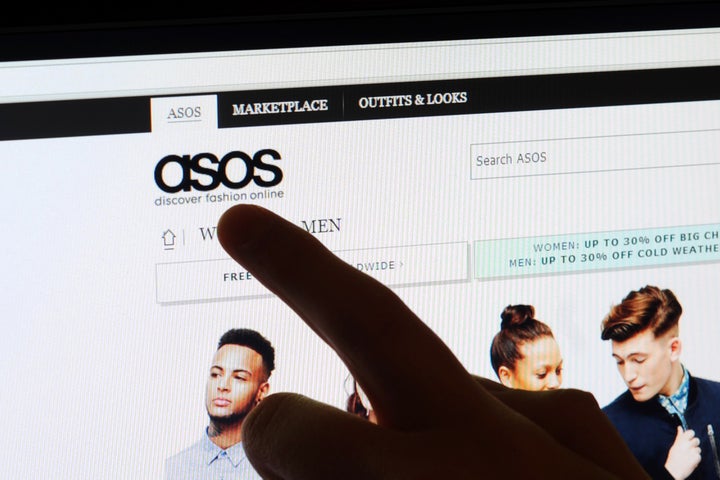 Asos denies it is putting anyone at risk, saying the health and safety of staff is its number one priority.
"Confusion has allowed clothing companies, such as Asos, to put the health of their workers on the line in service of company profit margins," said Peacock.
"If high street clothes shops are closed why are online retailers any different?"
She added: "This is an issue that disproportionately affects working class communities. Coronavirus is showing the price of being poor in our country."
But Asos said it "totally refuted the allegations" and believed it was "striking the right balance" between keeping its warehouses operational for the good of employees and the wider economy, and maintaining the safety of staff.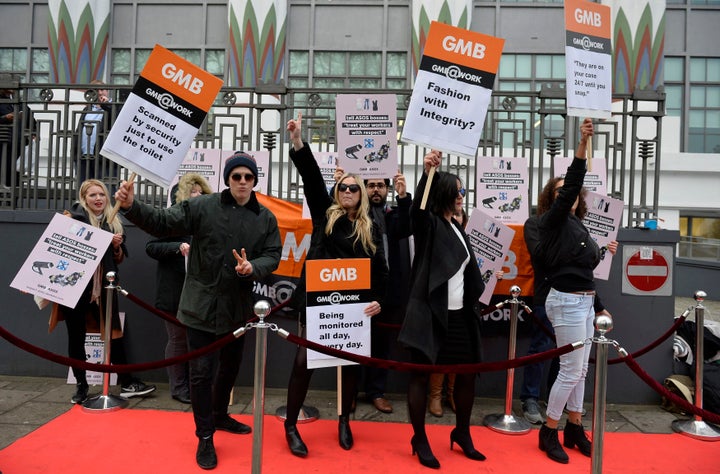 Along with 14 other Yorkshire MPs, Peacock has written to the prime minister seeking clarification on what counts as key workers and "essential work".
The Barnsley East MP has also written to Asos CEO Nick Beighton saying the health of the clothing giant's contracted workforce of 2,000 workers and 2,000 flexible agency workers should not be an afterthought.
"I have heard reports that management have failed to put in place social distancing measures," the Labour MP told HuffPost UK. "These would reduce the spread of coronavirus to others, and, ultimately, help save lives.
"I have been informed that on an average day approximately 600 staff are on shift, with three shifts over 24 hours, totalling nearly 2,000 members of staff coming into contact with one another.
"Pickers, returns and 'putaway' staff work in fear of becoming infected as their jobs take place in narrow warehouse alleys where it is impossible to keep a safe distance.
"Workers have let me know that the 'hand sanitiser' provided at various points within the building is alcohol free, which does not sufficiently protect them from Covid-19.
"And co-workers dread sharing tools, from tape-guns to knives, due to a lack of cleaning processes."
Asos workers fear lives might be at risk.
One employee said: "It'll be like a domino effect. If one gets it, we'll all get it and people will lose their lives."
Another said: "They are playing roulette with people's lives."
A third added: "I'm currently in isolation as I live with someone who is high risk. However, because I have been told I am not sick myself I will not be entitled to sick pay. So I'm currently off work unpaid."
Peacock said Asos warehouse staff are scared to complain about conditions.
"Staff are frightened to speak out," she said. "I've been told that warehouse managers turn off the radio whenever a government announcement reminding everyone to stay home comes on."
She called on the retailer to "do the right thing, close and use the government wages cover scheme to support its workers at this time".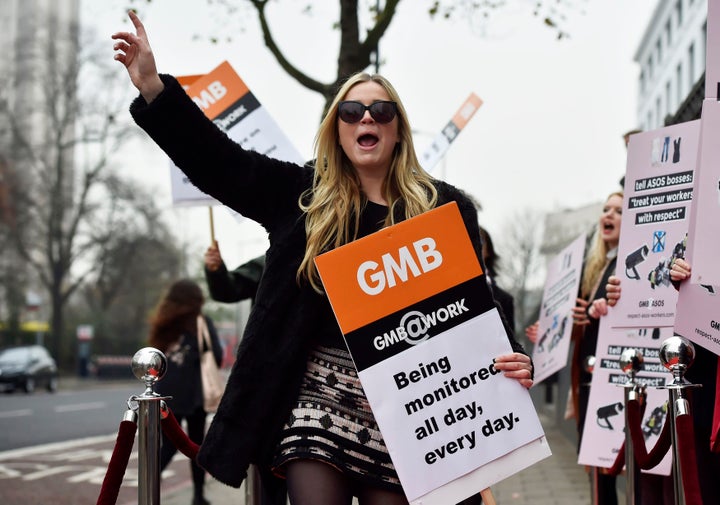 GMB has echoed the MP's calls for Asos to take action to protect workers.
"The situation at Asos is disgusting – thousands of people under one roof, not enforcing social distancing," said GMB organiser Deanne Ferguson.
"It looks exactly like a hotbed of infection – and workers are very scared."
But Asos said the GMB had a "continuing campaign" against it.
"We totally refute the allegations made by the GMB," a company spokesperson said. "They are false, do nothing more than serve to create panic and hysteria in an already uncertain time, and are part of a continuing campaign against us and the recognised union on site, Community.
"As directed by the government, we, along with other online retailers, are ensuring we are striking the right balance between keeping our warehouse operational, for the good of our employees and the wider economy, and maintaining the health and safety of staff, which is always our number one priority."
Confusion over government guidelines about which industries are "essential" and can continue to operate has exacerbated the situation, Peacock claimed.
One of the country's biggest fashion chains, Next, announced it had closed its online and warehousing operations yesterday off the back of growing pressure to protect workers in warehouses across the country.
The retailer said it had taken the "difficult decision", adding that its priority is the welfare of its distribution staff.
In a statement, it said: "It is clear that many increasingly feel they should be at home in the current climate."
It comes just days after Boris Johnson ordered the shutdown of thousands of high street businesses.
Under government guideline, retailers are allowed to trade online, but the guidance says the focus should be on essential goods.
Got a story about coronavirus you think we should look into? Email uktips@huffpost.com.