The Australian family due to be deported from Britain because of a change to the rules has said the government is "untrustworthy" when dealing with immigrants.
Gregg and Kathryn Brain moved to the Scottish Highlands in 2011, as part of a drive to boost rural communities, under a student visa, planning to move to a post-study work visa once Kathryn finished her Scottish history degree at the University of the Highlands and Islands.
But this was scrapped shortly after they arrived.
The case has attracted the attention and support of politicians, particularly the SNP, and they have been granted leave to remain - but not work - until August 1, just before they were due to be deported.
Speaking on BBC Radio Four's Today Programme, Gregg Brain said they arrived before the visa changes were even announced. They both had job offers since arriving, and their son Lachlan is bilingual and all his formal education has been in Gaelic.
His parents fear he would struggle in Australia, having received no education in reading and writing English.
Brain quoted a letter from Immigration Minister James Brokenshire who wrote they should "never assume" the terms they entered Britain under would remain in place.
Mr Brain added: "It seems the UK government's stated policy on the matter is be untrustworthy in their dealings with immigrants."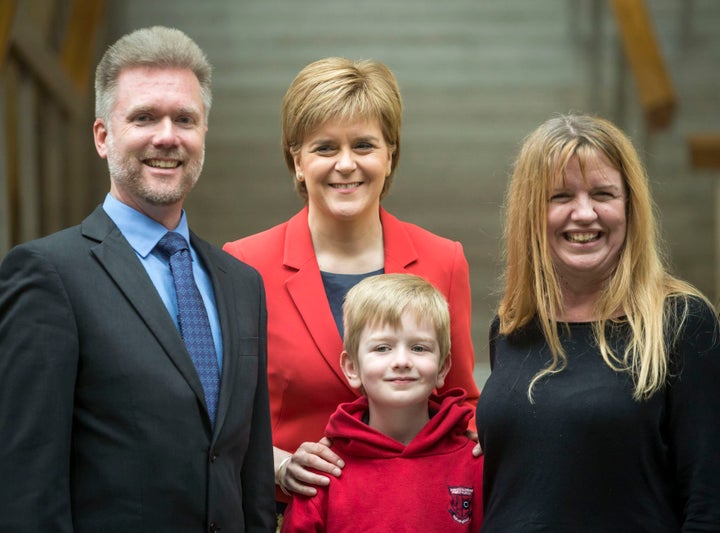 The family are "homeless but for the charity of friends" and Mr Brain said he and his wife faced having their licences revoked and their bank accounts frozen.
Lachlan's "seven-year-old's understanding of what is happening" is making things easier for him, his father added.
When presenter Justin Webb put it to him that "Australia is not that bad a place to be sent back to," Mr Brain said: "Britain prides itself on being the birthplace of the rule of law.
"When you are dealing with the UK Government, you have a right to assume you'll be dealt with honestly and ethically and the deal you have done with them, when you uphold your end of the bargain, they would uphold theirs.
"Unfortunately, as James Brokenshire's letter seems to indicate, he seems to suggest making that assumption is a dangerous thing to do."
A petition, signed by nearly 4,000 people, says: "Gregg, Kathryn and their 7 year old son Lachlan Brain have done nothing but contribute positively both personally and financially to the UK.
"They paid over £35,000 for Kathryn's degree, and have paid over £40,000 in taxes during their time here. Both were employed in jobs that took some months to fill before they were employed. They have kept their end of the bargain."
The family's local MP, the SNP's Ian Blackford, told the programme the Government was "trying to force them out the country".
He added: "Both Kathryn and Gregg have secured jobs in the local area, which would benefit the local economy and allow them to continue the enormous contribution that they have already made to life in the Highlands."