Aussie flu has already taken lives in Ireland. So is it only a matter of time before the same happens across the rest of the UK?
Recent media reports told of how the UK could be set for a "deadly flu outbreak". But most experts agree that while this year's flu strain of influenza A (H3N2) is particularly nasty, there is no need to panic.
Professor John Oxford is one of the UK's top experts on influenza and the scientific director for Oxford Media Medicine. He told HuffPost UK: "The virus is most likely here already and the flu figures are going up, but are still below that of an epidemic." That said, he anticipates that the number of flu cases will increase some more, as we are now "at the heart of flu season".
Dr Steve Iley, medical director for Bupa UK, told HuffPost UK: "There's no need to panic and – for the most of us – symptoms of the flu should clear up in about a week."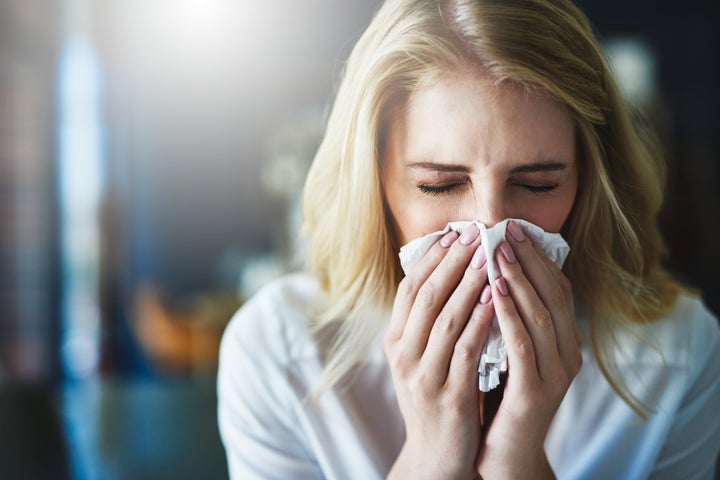 What is Australian flu?
Australian flu is the name given to flu subtype influenza A (H3N2). It was witnessed predominantly in Australia this year, hence the name. As of September 2017 there were more than 137,500 reported cases of flu in Australia, according to news.com.au, which was more than double the number of cases from the year before.
Now, this particular type of flu is spreading in Ireland. The Irish Health Service Executive (HSE) said cases of infection doubled in the space of a week, with some fatalities.
Dr Kevin Kelleher, from HSE, said: "There have been a few deaths already... under 10 people have died so far this year. I don't give specific numbers when it's less than 10 because people could be identified."
Prof Oxford said it's unclear what makes one strain of flu more deadly than others, "and this question is at the centre of research here in the UK", but one thing's for sure: if you think you have flu, you shouldn't worry unless you're in a high risk group (more on that later).
England, Wales and Scotland are also not immune to its spread. The number of people being treated for flu in England has already increased. In week 51 of 2017, the overall weekly influenza-like illness GP consultation rate was 18.9 per 100,000 in England, compared to 11.4 per 100,000 the week before.
As of 11 January, Public Health England (PHE) revealed there had been 48 flu-related deaths so far this winter, including 24 deaths in the last week of 2017.
What are the symptoms?
The symptoms of Australian flu do not differ from other strains of flu, however they can be more severe. Typical symptoms include coughs, a runny nose, fever, sore throat, fatigue, aches and pains.
Who is worst affected?
As with any flu, the Australian flu is highly contagious and can spread quickly. But there are some who are particularly susceptible to catching it and can become very ill.
Dr Iley explained: "High risk groups are more susceptible and are more likely to experience serious complications. These groups include older people and children, pregnant women and those with long-term health conditions or weakened immune systems.
"Young children are often called 'super spreaders' as their personal hygiene habits aren't as good as adults'."
Does the jab protect against Australian flu?
A/H1N1 – the strain of flu that caused the swine flu pandemic in 2009
A/H3N2 – a strain of flu that mainly affects the elderly and people with risk factors like a long term health condition. (Also known as Australian flu.)
Influenza B – a strain of flu that particularly affects children. In 2017/18 the vaccine will contain B/Brisbane/60/2008-like virus.
A spokesperson for PHE told HuffPost UK: "We are currently seeing a mix of flu types, including the A(H3N2) strain that circulated last winter in the UK and then in Australia.
"We see this subtype in many flu seasons and the circulating flu strains match those in the current flu vaccines meaning they are still the best defence we have against the virus.
"We therefore encourage all those who are eligible to take up the offer of the vaccine."
PHE said it will continue to actively monitor flu activity. It is working with NHS England to put measures in place to manage potential increases in flu activity.
How to avoid getting it
In addition to having the flu vaccine, there are a number of ways to limit the spread of flu.
It's important to carry tissues around with you and use them to catch coughs or sneezes. You should then dispose of the tissues in a bin and wash your hands regularly with soap and warm water.
It's also important to frequently clean surfaces like computer keyboards, telephones and other regularly used objects.
PHE advises to avoid having unnecessary contact with other people if you or they have symptoms of flu.
When and how to seek help
People concerned about flu-like symptoms should stay at home and contact their GP, or call NHS 111, to seek further advice.
For most healthy people, recovering from flu can take roughly a week. However, for those that are more vulnerable, it can be more severe and it is important to be aware of this and seek help when needed.
Dr Iley concluded: "You should see a GP if your symptoms last for more than seven days, or if you're in one of the high risk groups discussed earlier.
"If you experience sudden chest pains, difficulty breathing or coughing up blood, you should call 999 to seek immediate help."