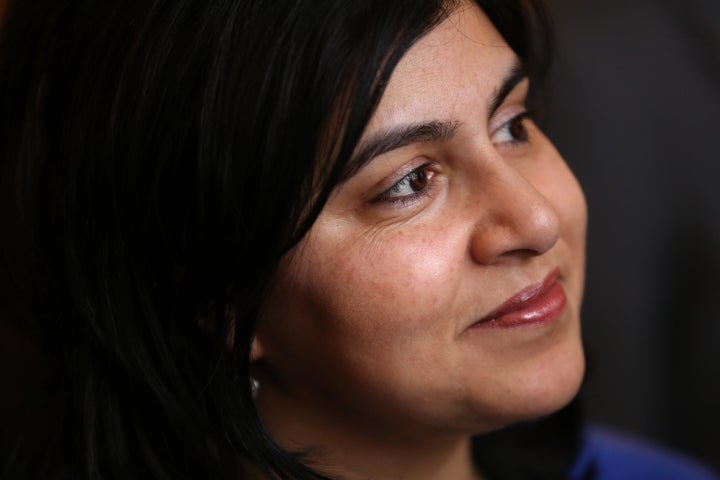 Baroness Warsi, the former chairman of the Conservative Party, has said she is switching sides from the 'Leave' to the 'Remain' side in the EU referendum.
The Tory peer told The Times the anti-migration poster produced by Nigel Farage showed a queue of refugees was the trigger for her to change her mind on Brexit.
"Are we prepared to tell lies, to spread hate and xenophobia just to win a campaign? For me that's a step too far," she said.
Speaking to BBC Radio 4's Today programme on Monday morning, Baroness Warsi said Vote Leave had been fostering an "environment of hate".
"This kind of nudge nudge, wink wink, xenophobic racist campaign may be politically savvy or politically useful in the short term but it causes long term damage to communities," she said.
However several figures in the official Vote Leave campaign questioned whether Baroness Warsi had actually ever been on their side.
Kate Hoey, a leading Labour Brexiteer, told BBC Radio 4's Westminster Hour when given the news: "I didn't think she was part of our campaign."
A tweet from Baroness Warsi on June 7 was cited as evidence she had previously backed the 'Leave' campaign.
Baroness Warsi insisted she had backed 'Leave' "right from the outset" and had been campaigning for Brexit since last summer.
Last week Farage unveiled a pro-Brexit billboard that showed a queue of refugees and claimed the United Kingdom was at "breaking point".
On Sunday, it was attacked by politicians on both sides of the referendum.
Micheal Gove, the chairman of Vote Leave, said it made him "shudder". George Osborne said it was "disgusting" and compared it to Nazi propaganda. David Cameron said it was an "irresponsible" attempt to "frighten people".
Defending the poster, the Ukip leader said it was no more "strong" than anti-EU posters created by the official Vote Leave campaign led by Gove.
And he said he did not think there would have been as a big a row over the poster had Labour MP Jo Cox not been killed.
Popular in the Community