Paedophile football coach Barry Bennell was branded the "devil incarnate" on Monday as he was jailed for 30 years for a string of historical sexual assaults committed on a dozen young boys in his care.
The 64-year-old was ordered to serve an additional one year on licence after earlier being convicted of 50 child sex offences committed between 1979 and 1991.
Recorder of Liverpool, Judge Clement Goldstone QC, described Bennell as the "devil incarnate" saying he "stole" his victim's childhoods.
"Your behaviour towards these boys in grooming and seducing them before subjecting them to, in some cases, the most most serious, degrading and humiliating abuse was sheer evil."
He said Bennell had appeared to his victims as a God but added: "In reality, you were the devil incarnate.
"You stole their childhoods and their innocence to satisfy your own perversion."
One of Bennell's victims, Andy Woodward, spoke outside the Liverpool Crown Court following the sentencing, saying he had "mixed emotions" about the amount of time his former coach will serve behind bars.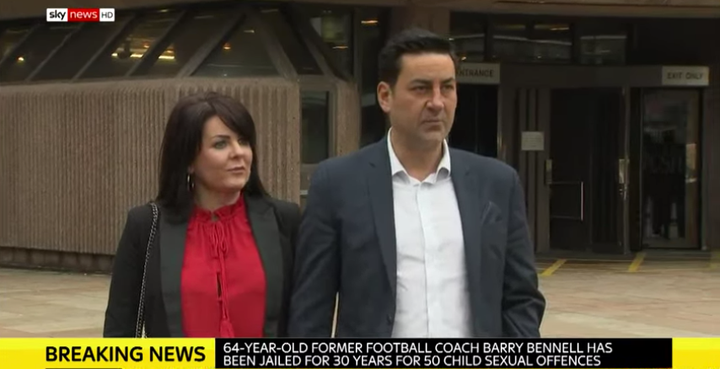 "I'm really proud that I was able to speak out publicly... I'm quite nervous now because I have mixed emotions. No sentence is long enough for that man and right to the death he didn't show any remorse or say sorry to anyone."
As Bennell's victims gathered outside the court they urged other survivors to "come forward and unlock the suffering... the hurt is not yours to carry, it is his".
Survivor Micky Fallon said he "welcomed" the sentence handed down to Bennell, saying the victims could now "move forward in our lives safe in the knowledge that our abuser is locked away and can no longer cause us any harm".
Fallon added: "Today we looked evil in the face and we smiled because we have won. Today we handed our shame and our guilt and our sadness back to you (Bennell). It should never have been ours to carry in the first place. From here we go forward united in justice."
During a harrowing sentencing Bennell was confronted by several of his victims.
One approached the dock after reading an impact statement to the court and said "Barry. Barry. Why?"
He was stopped from getting close to the dock by a court usher and asked to return to his seat by Judge Goldstone.
One victim who read a statement to the court said: "Not a day goes by without thinking about the abuse I received. I was just a child."
Following the delivery of the final jury verdicts last week, it was revealed the ex-Crewe Alexandra coach and Manchester City scout may have more than 100 victims in total as an additional 86 complainants have come forward to say they too were abused by him.
Bennell has already served three jail terms – one in the United States – since 1995 for similar offences involving 16 separate victims.
Bennell had followed proceedings in the six-week trial from prison videolink for health reasons because he needs to be regularly fed by tube after he developed oral cancer more than a decade ago. He has since beaten cancer, his lawyer told the court, but still requires the feeding tube.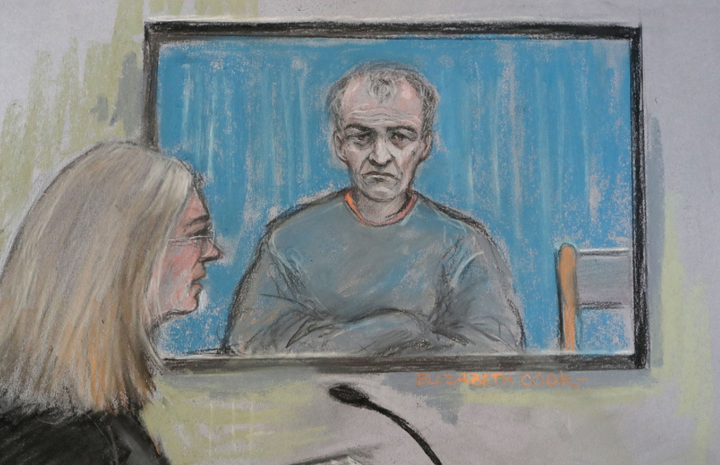 Following the close of the prosecution case Bennell chose not to give evidence in his defence and none was called on his behalf.
During the trial, prosecutor Nicholas Johnson QC described Bennell as a "devious paedophile" who systematically abused vulnerable pre-pubescent boys.
Complainants told how he had a "power hold" over them as they dreamed of becoming professional footballers.
Bennell was compared to the Child Catcher from Chitty Chitty Bang Bang, luring boys to his homes in the Peak District where he had arcade games and exotic pets including a puma and a monkey.
He also abused them on trips away and in his car while on the way to and from football training.
Bennell regularly shook his head as the judge recapped the offences he had committed. At times he also smiled, sighed, mouthed "no", raised his eyebrows and stared at the ceiling.
Bennell smirked again as he was led from the dock to begin his lengthy sentence.
The jury returned guilty verdicts on 43 counts of abuse against 11 boys, involving offences of buggery, attempted buggery and indecent assault.
Before the trial started last month, Bennell pleaded guilty to seven counts of indecent assault involving three boys, two of whom were part of the trial.
The defendant, who has changed his name to Richard Jones, told police he admitted having a "grooming process" and being attracted to teenage boys.
But he denied most of the allegations and said complainants were "jumping on the bandwagon" following publicity sparked by one of his previous victims, Andy Woodward, waiving his anonymity to give media interviews in November 2016.