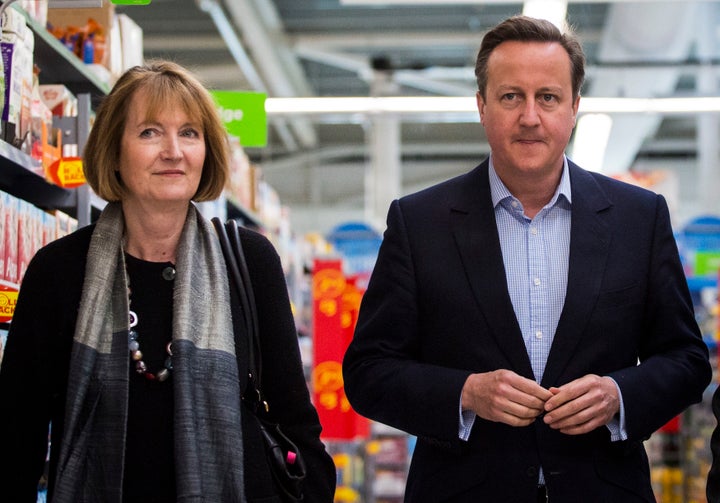 Labour has called for broadcasters to be forced to give more airtime to female voices on each side of the EU referendum, warning women are being "pushed out" of the debate.
Harriet Harman said the argument over Britain's future membership was "too important to be left to men" and has written to Ofcom calling for action from the regulator to ensure a better balance.
The former Labour deputy leader said male politicians had so far outnumbered female counterparts by nearly five to one on BBC Radio 4's flagship Today programme, by six to one on BBC Breakfast and three to one on ITV's Good Morning Britain.
In her letter to Ofcom chief executive Sharon White, Harman cited research by Loughborough University which found only 16% of TV appearances on EU issues had been by women.
"No woman makes the top 10 of voices heard on EU issues. Indeed, the top three voices are three white, male, Tories," she complained - Boris Johnson, David Cameron and George Osborne.
"It fails to reflect the breadth of voices involved with the campaign and as a consequence, a narrow range issues ends up being discussed, leaving many women feeling shut out of the national debate."
Veteran Lib Dem Baroness Williams has also criticised the 'Remain' campaign for not promoting enough women to the top of the organisation.
She said the referendum debate "has turned into a conversation between two white middle aged gentlemen on one side and two white middle aged gentlemen on the other".
"The debate can sometimes seem more like a contest between Boris Johnson and George Osborne to see who will be next leader of the Conservative Party."
In a speech in Westminster yesterday, Williams, who is campaigning for the UK to remain inside the EU, said it was "very depressing" that there were so few women, or people from minorities engaged in the debate.
And she also encouraged the public to call the BBC and complain next time they see a male v male, blue v blue debate on EU membership.
"The BBC is sensitive to this charge, and if enough people complain they will change in the last weeks of the campaign because at the moment the broadcasters do not have a leg to stand on," she said.
A new report from the TUC published today warned leaving the EU would turn the clock back on women's rights by "decades", hitting equal pay and protection against pregnancy discrimination.
The union organisation said "huge" gains had been made as a result of membership, including equal wages for hundreds of thousands of low-paid women, and paid holidays for 1.5 million part-timers.
TUC general secretary Frances O'Grady said: "Women have made huge gains in the workplace as a result of EU membership, ranging from protection against pregnancy discrimination to fairer pay, holiday and pensions.
"Brexit risks turning the clock back decades on these hard-won rights.
"I think we should all be very worried when he hear leading Brexiters describing EU social and employment protections as burdens. These laws have helped to improve the lives of millions of working women.
"If we pull out of Europe all the leading employment law experts agree that it will be worse for workers' rights, and it is women who stand to lose most."
Vote Leave chairwoman Gisela Stuart said: "The UK has led the way in promoting and protecting workers' rights, and it's deeply misleading to suggest that leaving the EU would put them at risk.
"The best way to ensure that workers' rights are to protected is to have a parliament that is directly accountable to the people; in other words, to put power back in people's hands."