If you're already planning the contents of your Christmas dinner, listen up. BBC Good Food magazine has revealed its annual pick of the best Christmas food items - and if you love a mince pie, Morrisons is your store.
An expert panel blind-tasted 166 products from 11 of the UK's leading retailers. Marks and Spencer's Pembrokeshire bronze free-range turkey (£10 per kg) was revealed as the best Christmas turkey, which judges said turned a "lovely golden colour with a tasty, crisp skin" when roasted. "The breast meat was succulent and the legs were savoury and gamey," they added.
Meanwhile Aldi's Specially Selected Exquisite Ramburgh Farm British free range whole turkey (£8.99 per kg) and Lidl's Silverslate Turkey (under £9 per kg) were both highly commended in the category. Judges said the brown meat on the Aldi turkey tasted "a little like duck" while Lidl's bird was described as having a "gamey" flavour, but not too much.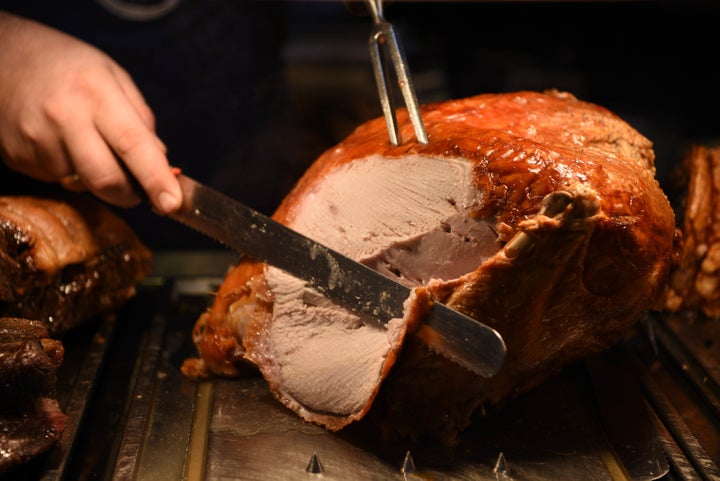 In the best mince pie category, the judges loved the buttery, almost shortbread-like pastry on the Morrisons deep-filled mince pies (pack of six for £2), as well as the design and the sugar dusting. Both very important features.
The supermarket also came up trumps with its Free From mince pies (pack of four for £2), which won the gluten-free mince pies category, and in the Christmas cake category with The Best Poinsettia Christmas Cake (£12).
Asda's Extra Special Christmas pudding (£6.50) was crowned the best Christmas pud. The judges described it as "a good-size pudding with a glossy exterior" and added: "Plenty of nuts and plump cherries gave this dense pudding a great texture, and the kick of booze really developed after each mouthful."
Christine Hayes, editor-in-chief of BBC Good Food, said: "This year's results show that you don't have to blow the budget to enjoy great food. We always blind-taste all the products so that we judge solely on taste and appearance, and aren't influenced by the packaging or the retailer's reputation."
Marks and Spencer did particularly well, winning in five categories. Its spicy pulled pork tacos (£7) were judged "irresistible" in the savoury canapé category.
They also won the vegetarian main course with their baked ricotta stacks with creamy white wine sauce (£7) and in the alternative meat centrepiece category with the M&S British Sirloin of beef (£45). The judges said it was one of their favourites overall.
For those with a sweet tooth, the M&S Belgian Chocolate & Cherry Dessert (£20) won the centrepiece dessert category.
Other winners

Best ham - Juniper Smoked Spiral Crackling Gammon, £12.49 per kg from Waitrose.

Best stuffing - Deluxe Apricot and White Stilton Stuffing, £2.39 from Lidl.

Best smoked salmon - Extra Special Heather Honey and Black Pepper Smoked Salmon, £3.99 from ASDA.

Best gluten-free Christmas pudding - Free From Richly Fruited Christmas Pudding (454g) £5.00 from Waitrose.

Best stollen - Deluxe Luxury Stollen with Jamaican Rum, £3.99 from Lidl.

Best panettone - Specially Selected Exquisite Panettone (800g), £6.99 from Aldi.

Best vegan canapés - Vegan Jackfruit Tacos (264g), £7 from Waitrose.

Best vegetarian canapé - Feta, Spinach and Pine nut Spanakopita (170g) £7 from Waitrose.

Best sweet canapé - Specially Selected Snowflake Tiffin in Honeycomb & Orange, £3.29 from Aldi.
BBC Good Food's Christmas issue is on sale on 25 October at £4.50 with over 100 festive recipes.