Conservative minister Anna Soubry was asked on Sunday evening what it felt like to be "punched in the nose" by working class voters following the EU referendum result.
BBC Question Time held a special edition of the programme in the wake of the Brexit decision.
Audience member Chris Abbott, asked: "Project Fear has failed. The peasants have revolted. After decades of ignoring the working class, how does it feel to be punched in the nose?"
Presenter David Dimbleby added: "Anna Soubry, how does it feel to be punched in the nose?"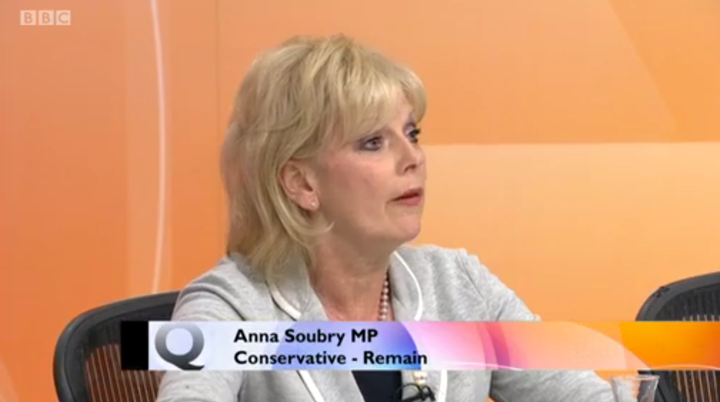 Soubry, who campaigned vigorously for a Remain vote, told Abbott and Dimbleby that was "the sort of language now we've got away from".
"This debate in this who referendum has not been our country's greatest hour," she said.
Soubry said she had witnessed worrying language about immigration on the streets during and since the campaign.
"I have not witnessed that since I was as student here in Birmingham back in the mid-1970s. I am worried about the state of our nation."
The Conservative minister added she was concerned about the anti-immigration motivations behind some people who voted to leave the EU.
"A lot of people who voted 'Leave', they came from all classes in our society and backgrounds, and many people who voted leave voted for reasons. I don't agree with them, which were completely honorable," she said.
"Unfortunately I think a lot of people also voted 'Leave' for reasons which I am deeply troubled by, and that was the immigration thing, and that was wrong."