David Dimbleby couldn't help laughing after making an awkward remark during BBC Question Time that appeared to reference Thurdsay's incident involving Ukip MEP Steve Woolfe.
The veteran host stuttered and giggled after accidentally telling two panelists they could "have that one outside later".
In the broadcast from Wales, Dimbleby asked MP Alun Cairns and Plaid Cymru leader Leanne Wood which of them could better speak Welsh.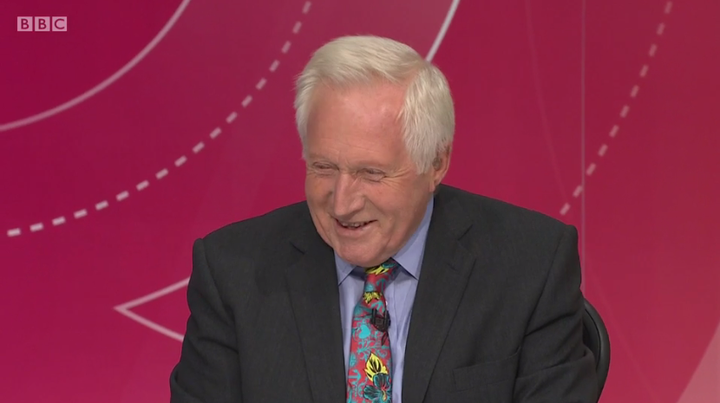 Wood said she wasn't as good as Cairns, "But you're catching up?" Dimbleby asked.
"Well, I'm a learner... and I'm not fluent," Wood responded, before calling an audience member "perverse" for claiming that her party was against the English language.
"Alright, alright, let's go on," said Dimbleby in an attempt to move the situation on.
"Now, we can have that one outside later," he added, to laughter from the audience.
"Oh no, I shouldn't have said that," he said, giggling, before stuttering: "I didn't, I didn't, I didn't mean to say that... I said the discussion can..."
"The discussion can go on later," he said, finally regaining composure.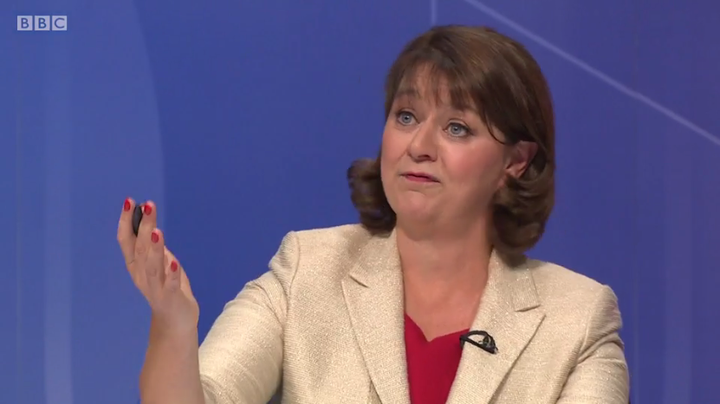 Woolfe was taken to hospital on Thursday with suspected bleeding on the brain after collapsing outside the European Parliament following an altercation with a fellow Ukip MEP.
It is alleged he challenged fellow Ukip MEP Mike Hookem to "step outside" and settle their differences "man on man" during a heated discussion about the future of the party.
In an interview with the Daily Mail, the Ukip leadership hopeful said he "wasn't bruising for a scrap. I asked to deal with the matter outside of the room because it was flaring up in the meeting.
"Mike clearly read that totally the wrong way."
Woolfe said he had "numbness" on one side of his face before collapsing, but was feeling "brighter, happier and smiling as ever" after waking up in hospital.
Hookem denied hitting Woolfe and told the paper "I did not see him hit his head".
The incident prompted Leanne Wood to tell last night's Question Time audience that Ukip is a "party full of thugs".
She said its rhetoric had encouraged racism, when asked about the future of Ukip as it reeled from crisis to crisis.
Dimbleby held the panel with Cairns, Wood, Chuka Umunna MP, comedian Andy Parsons and Neil Hamilton.