John McDonnell was attacked as a "nasty piece of work" by Conservative MP Anna Soubry on Thursday evening as the pair clashed angrily over the state of the Labour Party.
Appearing on BBC Question Time, Soubry tore into the shadow chancellor for allowing female Labour MPs to be "terrorised" by supporters of Jeremy Corbyn.
During the programme McDonnell also engaged in bitter exchanges with Alastair Campbell, branding him "nauseating".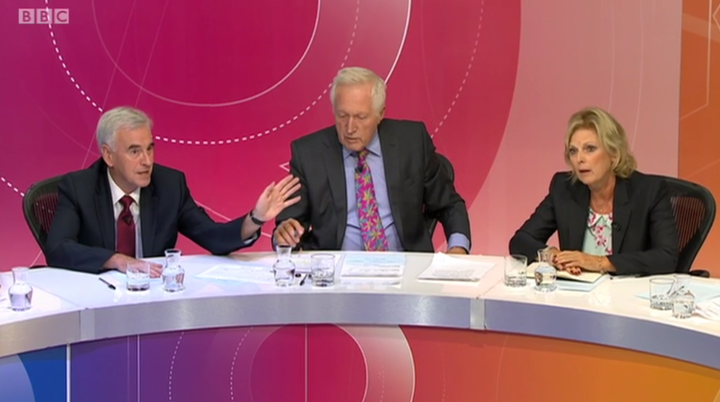 Soubry launched into an attack on McDonnell after the shadow chancellor denied saying he was a Marxist as a video posted online appears to show.
The former Tory minister told him: "You said 'I'm a Marxist'. You can go on YouTube and you can watch it."
She added to gasps from the audience: "And I tell you something else Mr McDonnell, you are a very nasty piece of work."
"There are colleagues of mine in House of Commons, Labour MPs, who are at the point of being terrorist by McDonnell and his cronies," she said.
"There are women MPs who suffer day in and day out from misogynist, unpleasant, sexist abuse on Twitter, on Facebook, from people who are apparently within their own party.

"There is a Jewish Labour MP, a women, who is living in safe house because of the level of anti-Semitism she has to bear."
Soubry said many Labour MPs were "so frightened, humiliated, almost terrorised by Mr McDonnell and his gang they will leave politics".
Turning to McDonnell she told him: "You sir can stop it."
McDonnell branded Soubry's "abuse" of him "outrageous" and insisted the Labour leadership condemned any abuse of the party's MPs. "We are not accepting this smear campaign that is going on from the Tories and others as well," he said.
McDonnell also came to blows with Campbell over the direction of the Labour Party. Tony Blair's former communications director said Corbyn was a "disaster" and said Labour was now in the grips of "revolutionary posh boy madness".
McDonnell hit back: "It's nauseating because you are the one, above all else, who actually created the environment where no one believed a word a politician said."
To audience, applause, the shadow chancellor added: "You lost us three million votes in that process and set us up to fail." Campbell interrupted: "We won three general elections John."
Raising his voice, McDonnell continued: "The reason Jeremy was elected was people wanted some honesty back in politics.
Campbell told McDonnell he had come onto the programme "to be as nice to you as I possibly can".
McDonnell said "the feeling's mutual", before adding New Labour had taken the party "to the edge".
He added: "We're trying to restore honesty and confidence in politics again that you destroyed."
Campebell's row with McDonnell came after a rare show of unity between the pair - as both agreed that Theresa May's plan to bring back grammar schools was wrong.
Popular in the Community