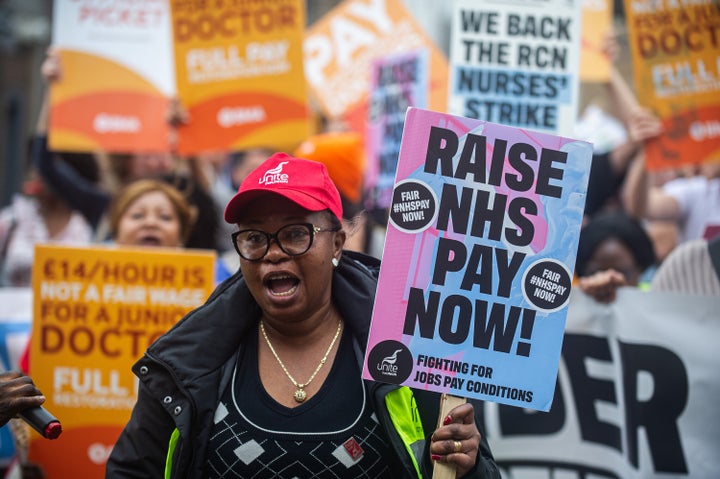 An NHS nurse revealed what she really thought of the government's response to the ongoing strikes on BBC Question Time, and she didn't hold back.
Junior doctors and consultants chose to take joint industrial action for the first time in history this week, with more walkouts planned across October.
According to NHS England, approximately 885,154 hospital appointments have been affected by the last 10 months of walkouts from NHS staff – but the government is still no closer to resolving the ongoing tensions around pay and working conditions.
So on Thursday, a member of the BBC Question Time audience spoke up in defence of the strikes.
She said: "I'm a nurse, I voted to strike in the last ballot, when I'm balloted again, I will vote to strike again, and I'll do that continually until pay talks open and they're realistic."
Nurses' strikes ended in England in June after failing to secure enough votes for more action, but the unions will hold another ballot later this year to refresh its strike mandate.
The audience member continued: "We are striking for pay, we are striking because we feel undervalued but we are also striking for patient safety, so when we're accused of putting patients at risk, I say, patients are at risk every single day of the week.
"We've got 700 people on waiting lists, we've got 140,000 vacancies, people are dying on waiting lists, people are dying in the back of ambulances, and this cannot go on.
″The government needs to get real and address the situation."
But, the nurse in the Question Time audience pointed out that unions already put in minimum service levels, adding: "This is nothing new."
She continued: "And I would say we welcome the government saying we want minimum staff in – but we want minimum staff in every day of the week.
"I've worked in the NHS for almost 20 years. I did shifts nearly 15 years ago that were 27 hours long because there were no nurses to take over because we were so short-staffed.
"Now that was nearly 15 years ago – and here we are now with a government talking about minimum service levels.
"Frankly, that is an insult to us all."