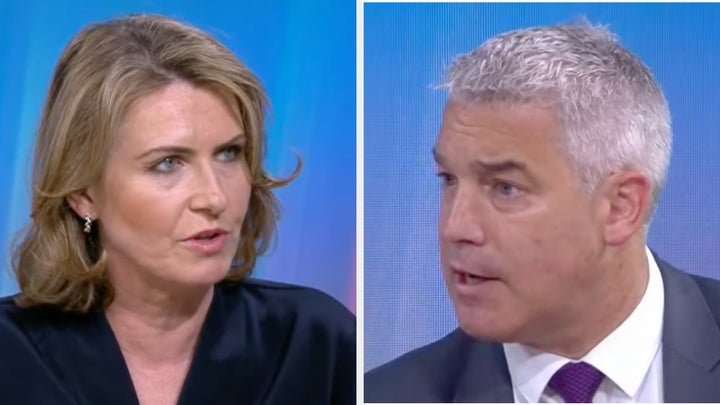 Steve Barclay was put on the spot over the government's failure to end the NHS strikes as consultants and junior doctors prepare to walk out at the same time.
The co-ordinated industrial action - the first of its kind in the history of the health service - is part of the long-running dispute over pay and conditions.
Appearing on Sky News this morning, the health secretary was asked by presenter Jayne Secker: "How have you let it get to this? This is happening on your watch."
Barclay insisted the government had accepted the recommendations of the independent pay review body "in full", meaning junior doctors were getting an average rise of 8.8%.
He added: "We also need to be fair to other workers across the public sector in terms of how we bring inflation down and manage that, whether that is in our armed forces, teachers and elsewhere within the NHS."
Barclay said the 35% rise the junior doctors have asked for "would not be reasonable and is not consistent with bringing that inflation target down".
The health secretary also defended the government's plans to bring in so-called "minimum service levels" in the NHS, meaning some medical staff will effectively be banned from going on strike to ensure enough cover for patients is provided.
Secker said: "Why are you expanding anti-strike legislation instead of getting top the root of the problem? Wouldn't it be quicker to get around the table and talk about this?"
But Barclay said it was about protecting "time critical" medical procedures.
"We recognise the right to strike, but we have to balance that with the rights of patients to key treatments like chemotherapy, like dialysis," he said.
He said countries like France and Italy already have similar arrangements in place.
"It's important to look at what other countries are doing, to have legislation that protects key time-critical treatments," he said.