It was Boxing Day and Clare Davies had just collected 110 frozen turkeys that were about to be binned because they hadn't sold ahead of Christmas. It took her three trips back and forth in her little Hyundai, and lots of manhandling the birds into her boot, to ferry them between the supermarket and the carpark of Dorking Christian Centre, where she duly started giving them out – for free.
"I was out there with the boot of my car open," Davies is telling me, pointing at the centre's carpark, "and as people walked past I asked if they wanted a turkey. I was foisting a turkey on every passer-by. And they all went."
Three months later, it's a cold, rainy Tuesday in March and we are peering into an empty fridge inside the centre. This morning, says Davies, it was full to bursting with fresh food. By lunchtime almost everything has gone – except a cardboard box of M&S brown sauce, a few ketchup sachets and some oranges.
Trays of bread rolls, fresh loaves and chocolate twists sit to the left of the fridge. Locals are popping by with carrier bags, but the thriftier shoppers came hours earlier – when the doors opened at 10am – to snap up what was on offer.
This is Dorking community fridge – essentially an open pantry for the local community – and its contents, which would otherwise go to waste, are free for the taking.
"We're now processing over a tonne of food a week," says Davies, brandishing a crate of fresh artisan bread rolls, packaged in brown paper bags, with the £1.40 Waitrose price tags still attached. All of the food – and there's a lot of it – is either donated by local supermarkets such as Tesco, Lidl, Waitrose, or the food redistribution charity Fareshare. "We had a tray of dragon fruit last week, which was great," Davies tells me. "We get loads of speciality bread from Waitrose, trays of doughnuts from Lidl, Higgidy pies, and hemp milk."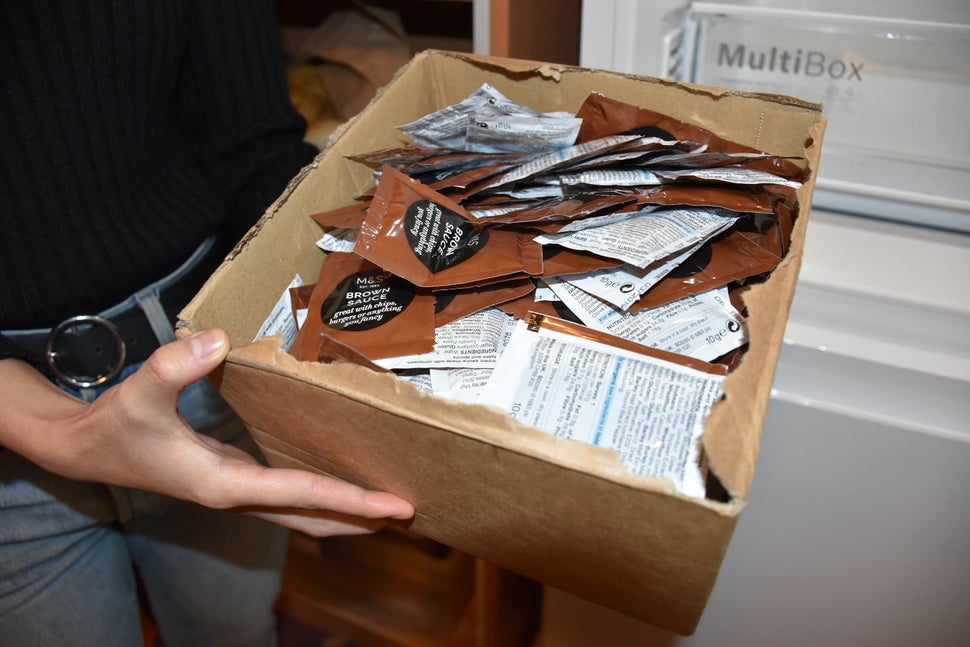 Davies and co-founder Tony White set up the fridge in 2017 with the help of environment charity Hubbub and is at pains to explain that it is not a food bank – but it does provide free access to food. She shows me the donation box attached to the wall. People who can spare the cash put money in when they take food – those who can't afford it don't. The purpose of the community fridge is two-fold, she says: to reduce the huge amount of food waste locally and to provide affordable food to the whole community.
Even though this is Surrey, one of the wealthiest counties in the UK, there are many people living in food poverty in the area – and Davies says she has seen an increase in the people depending on the fridge since its opening. "Within an hour, the food is gone," she says. "You have to get here in the morning or there won't be any left."
With such high demand, she recently opened a second community fridge in Dorking because, she reports, many people couldn't afford the bus fare to the first and were struggling to eat in between their trips to the local food bank.
"I think food waste is appalling. We were brought up to eat whatever we bought. We don't throw things away.""
While I'm there, Emily, a local parent, walks in and takes some bread. "I come here quite often to pick up snacks for my kids as there are so many pastries, which are great for after-school bites," she tells me. "It's brilliant, and anything anyone can do to dispel the stigma of food waste being equated with a food bank is really, really good. It's trying to teach supermarkets not to be so wasteful – and in the meantime, the community can benefit."
According to Fareshare, a monumental amount of food (1.9 million tonnes) is binned by the food industry every year in the UK – and 250,000 tonnes of that is edible. Meanwhile, almost four million people rely on food banks to eat.
Redirecting supermarket food waste to local communities is a no-brainer for Hubbub, the environmental charity that helped Davies set up and run the community fridges in Dorking. The charity helps to run 50 community fridges across the country, but wants to double this number to 100 by 2020.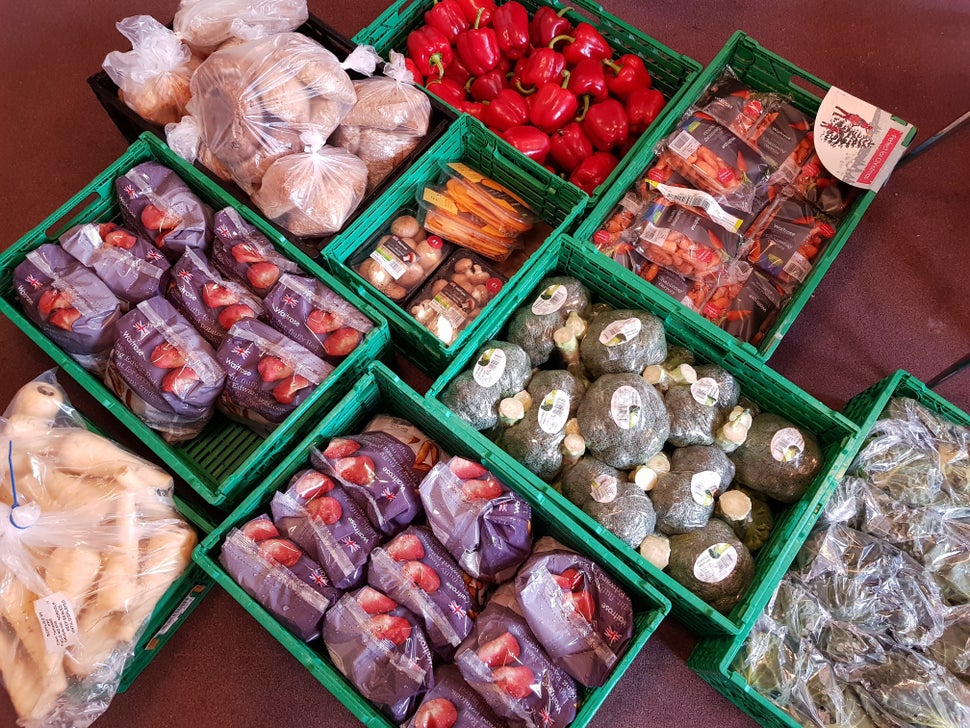 The level of waste Davies has witnessed since opening the community fridge is sobering. Last year, she took a phone call from an airline food supplier offering her 36,000 in-flight meals that were about to go to waste, because their menu had been changed. "I couldn't take them but we managed to get rid of them," she says. Davies used her network of food contacts to distribute the meals – mostly to homeless charities and soup kitchens.
"We drove a van up to Heathrow airport and took what must have been 200 pots of Moma instant porridge – and that's also where the tomato sauces and brown sauces came from," she says. "We're still trying to get rid of the sauce! It's shocking. There is so much waste, so much."
The local community also benefited from free fresh tomatoes – "the type you'd like to buy [at the supermarket] but can't" – which were donated from a Sussex farmer after they were rejected by a supermarket for not meeting stringent standards, a regular fate for fruit and veg destined for shop shelves And then there were the Boxing Day turkeys – all 110 of them.
"We're not very good at saying no to things," says Davies with a smile.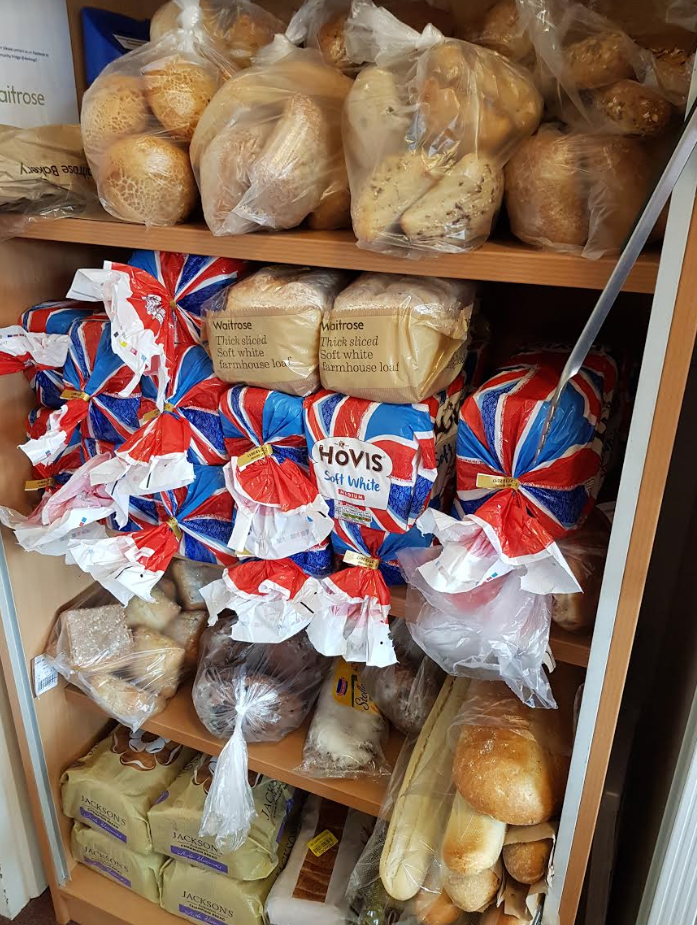 Diane Kemp, a regular visitor to the fridge, usually picks up a small loaf of bread and browses what else is on offer. "A lot of us thought it was just for the needy, but we've been told it's for anybody to save food waste," she says. "I think food waste is appalling. We were brought up to eat whatever we bought, we don't throw things away."
Mental health support worker Lynn Baxter agrees food waste is a generational problem. Her family had a store cupboard when she was growing up and they used everything in it – an attitude she still lives by today. She has used the community fridge on occasion, picking up some overripe bananas for a banana cake.
"I don't use it often as people come in here who are in need, but if it's here and there's loads extra I'll use it and put my money in the pot," says Baxter. "Some people haven't got any money though, and who are we to judge?"
Local residents aren't the only beneficiaries of this open pantry. I ask Clare what happens to the food they can't give away. "A chap that volunteers here has a mate that's a pig farmer," she says. "We only really have bread that's left over – when we do we put it in sacks and it gets taken over there.
"And there's a farmer who also takes bread to feed his cattle," she adds. "We just don't have any waste here, which is fantastic."