An 11-year-old boy with cerebral palsy was disappointed not to be met by David Cameron when he was invited to hand deliver a written plea for the NHS to fund his treatment to 10 Downing Street.
Ben Baddeley travelled from Stoke-on-Trent on Wednesday 4 May to hand over the letter, which he'd spent two days writing because his hands are still weak following surgery.
But he was disappointed to be greeted by a member of Cameron's staff instead of the Prime Minster himself.
Ben's mother Amy Baddeley told The Huffington Post UK: "Ben has not long been able to walk, so to walk up Downing Street was a huge deal and achievement for him."
"So much effort was put in by Ben and he received no effort back whatsoever."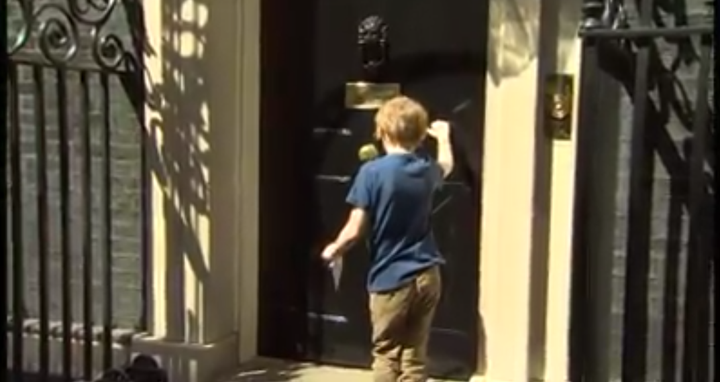 "I felt annoyed that the Prime Minister wouldn't give up five minutes of his time to take the letter from Ben," Mrs Baddeley continued.
"I can't say I was surprised that he didn't come to the door but it did annoy me.
"Ben says he wasn't surprised either, but he was surprised at how rude Mr Cameron had been by not opening the door.
"He has said he would have expected someone who was so high up and in charge of England to be polite and remember his manners."
The Huffington Post UK has contacted David Cameron's office for comment.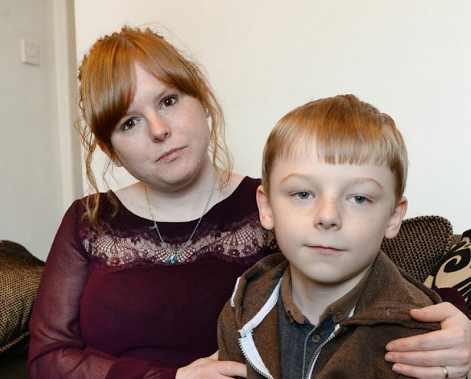 An anonymous donor covered the £11,440 surgery, but Ben is still petitioning for the NHS to cover the 18 months of further rehabilitation treatments he needs, which cost just under £2,000 a month.
Cameron replied to Ben's initial letter and Mrs Baddeley said she had been in touch with a member of his team to explain that it would be a big deal for Ben to be able to hand deliver his next letter to Cameron.
"The team at No10 agreed to Ben having an appointment to deliver his letter of response and we choose the Wednesday afternoon because Mr Cameron has a press office on a Wednesday morning, so he wouldn't have had to go out of his way to take Ben's letter," Mrs Baddeley explained.
"Ben hopes he isn't waiting ages for a reply like he has with his previous letters."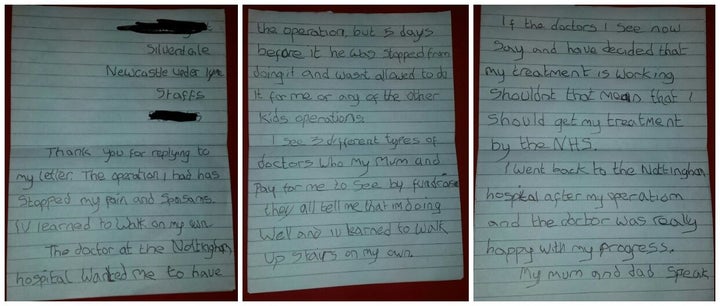 The letter Ben hand delivered on Wednesday 4 May read: "Thank you for replying to my letter.
"The operation I had has stopped my pain and spasms. I've learned to walk on my own.
"The doctor at the Nottingham hospital wanted me to have the operation but five days before it he was stopped from doing it and wasn't allowed to do it for me or any of the other kid's operations.
"I see three different types of doctors who my mum and dad pay for me to see by fundraising. They all tell me that I'm doing well and I've learned to walk upstairs on my own.
"If the doctors I see now say and have decided that my treatment is working shouldn't that mean that I should get my treatment on the NHS.
"I went back to Nottingham hospital after my operation and he doctor was really happy with my progress.
"My mum and dad speak to the NHS all the time but I"m still not getting help and none of the other kids are either.
"I started going on an underwater treadmill a bit ago. It's helped me learn to jog. But the hospital by me doesn't have one so I have to go to a private clinic.
"I'm not the only child with CP [cerebral palsy] having this problem. Please can you help Mr Cameron?
"We all need the NHS, so please can you fix it?"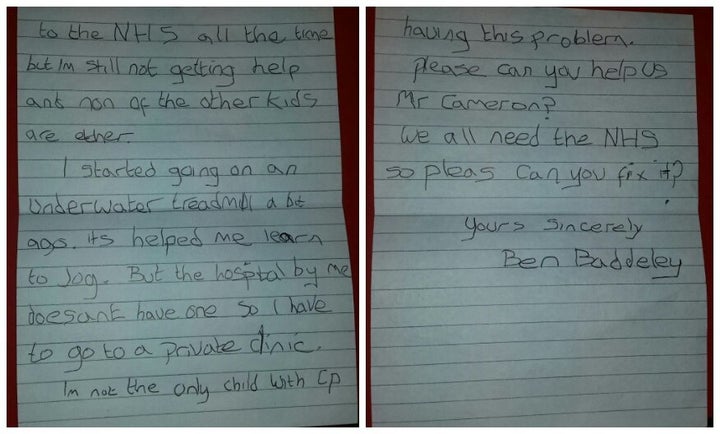 Mrs Baddeley said the family has been raising funds for the past year, but are quickly running out of donations.