A lorry rammed into a crowded Christmas market in central Berlin on Monday evening, killing at least nine people and causing many injuries as it tore through tables and wooden stands.
The driver was reportedly arrested nearby, while a passenger, said to be a co-driver, died on the spot.
The truck crashed into the market outside the capital's popular Christmas market at the Kaiser Wilhelm Memorial Church, a memorial to the Second World War.
Police are urging people not to share videos from the scene on social media.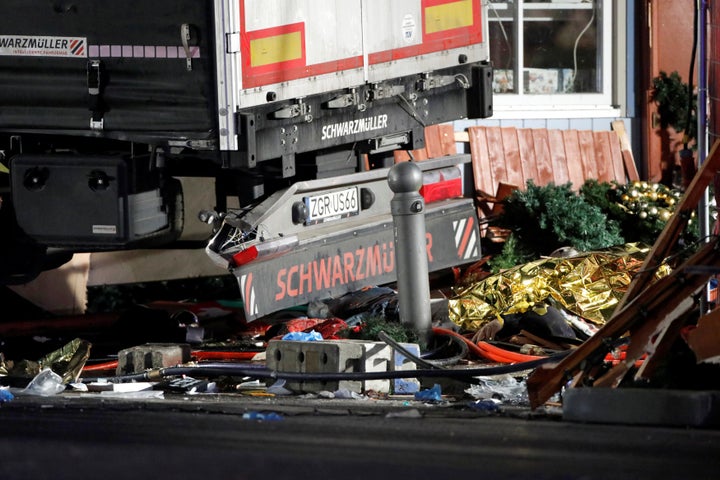 Berlin police said that in addition to the nine dead in a Christmas market about 50 people were injured, including several critically.
Berlin's top security official, state interior minister Andreas Geisel, told RBB television that it was too early to say whether it was an attack, and said that reports the truck may have been hijacked were "pure speculation".
Police said the truck was registered in Poland, but that they were still investigating where it came from and who the driver is.
Television footage showed a large Scania truck with its windshield smashed out on the sidewalk alongside the market, with a swarm of ambulances nearby. A large Christmas tree with a gold star on top was toppled over nearby in the street.
The attack comes less than a month after a US State Department calling for caution in markets and other public places, saying extremist groups including Islamic State and al-Qaida were focusing "on the upcoming holiday season and associated events."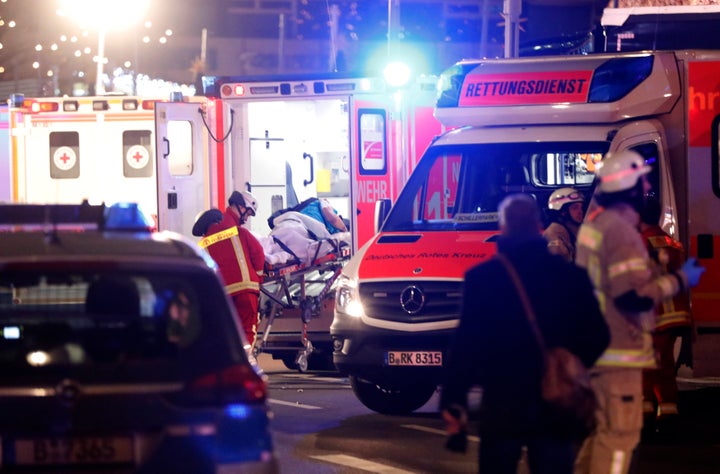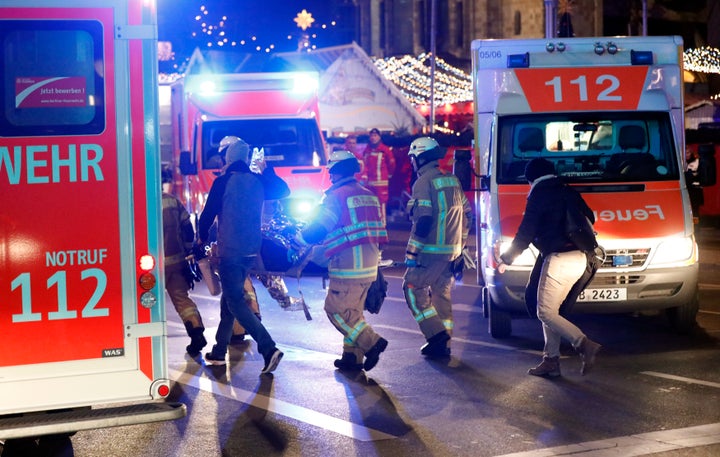 Islamic State and al-Qaida have both called on followers to use trucks in particular to attack public places. On July 14, a truck plowed into a Bastille Day crowd in the southern French city of Nice, killing 86 people. Islamic State claimed responsibility for that attack, which was carried out by a Tunisian living in France.
Mike Fox, a tourist from Birmingham, UK, told HuffPost Germany at the scenein Berlin (see video at top of article) that the truck missed him by about three metres as it drove into the market, tearing through tables and wooden stands.
Fox said he helped people who appeared to have broken limbs, and that others were trapped under Christmas stands.
"It definitely looked deliberate," Fox said. "My girlfriend said it appeared the truck was not stopping, there was no attempt to stop. It was careering, bashing into the stalls, and then carried on through."
He added: "When it's breaking the cab dips down, when it's not breaking it carries on up. It didn't look like it was stopping. There was no break sounds. It was clearly going straight on through.
"Whether it was driver drunk going on through, whether it was lost control or deliberate attempt, I can't tell you. But there was no attempt to stop that we could see."
The United States said the incident "appears to have been a terrorist attack".
White House National Security Council spokesman Ned Price says the US condemns the attack "in the strongest terms."
The White House said the US stands with Berlin in the fight against those who "target our way of life and threaten our societies".
British Foreign Secretary Boris Johnson said: "My thoughts and condolences are withe the people of Germany following tonight's terrible tragedy in Berlin, leaving so many dead and injured."
Popular in the Community