At HuffPost, we take the Christmas sandwich taste test extremely seriously.
So we assembled a fearless team of journalists, armed them with pens and printed questionnaires, and asked them to sample dozens of sarnies from across the high street. What were we looking for? The things that can make Christmas sandwiches such a treat: taste, texture, portion size, creativity, presentation, value for money and – most important – Christmassy-ness. Once they'd reported back after a massive sandwich-eating marathon, we crunched the results in a huge spreadsheet to find the best, worst and the just a bit 'meh'. Did I mention we take this seriously?
We learned that sandwich preferences vary significantly – there were some I loved, that others almost spat out – and there is such a thing as too much cranberry sauce. To help you digest the results more easily (groan) we've split them into the best turkey, best meat and best veggie sandwiches. We've marked the ones that are gluten free, too.
Turkey - the winners
Pret Christmas Lunch, Pret, available in stores, £3.75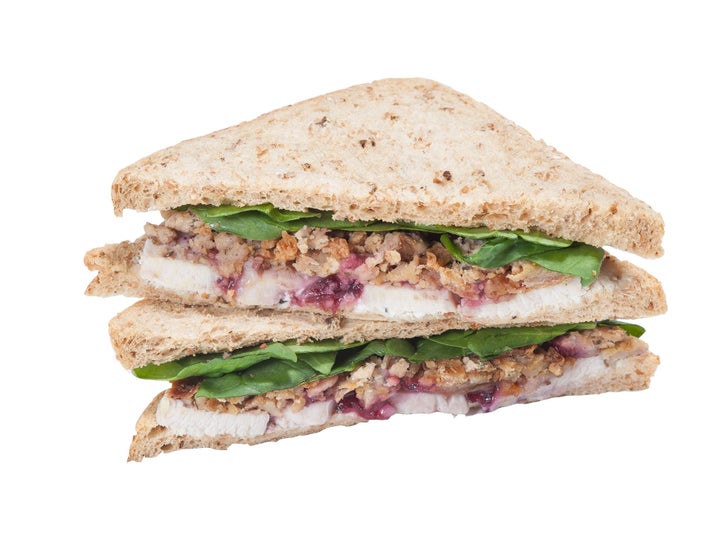 What is it? Free range turkey with port & orange cranberry sauce, herby pork stuffing and baby spinach leaves. Finished with a dab of free range mayo and crispy onions.
The verdict: First impressions count and this sandwich certainly looks delicious – thick turkey slices, ample stuffing and lashings of cranberry sauce. Once you start eating you quickly realise all the good stuff is packed into the middle, so start from the outside and work your way in. The turkey is moist, the brown bread and spinach makes it feel a tiny bit healthy, and the mayo, which we thought was a bit weird at first, is a great addition – a backseat condiment helping to balance everything and ensure the sandwich isn't too dry.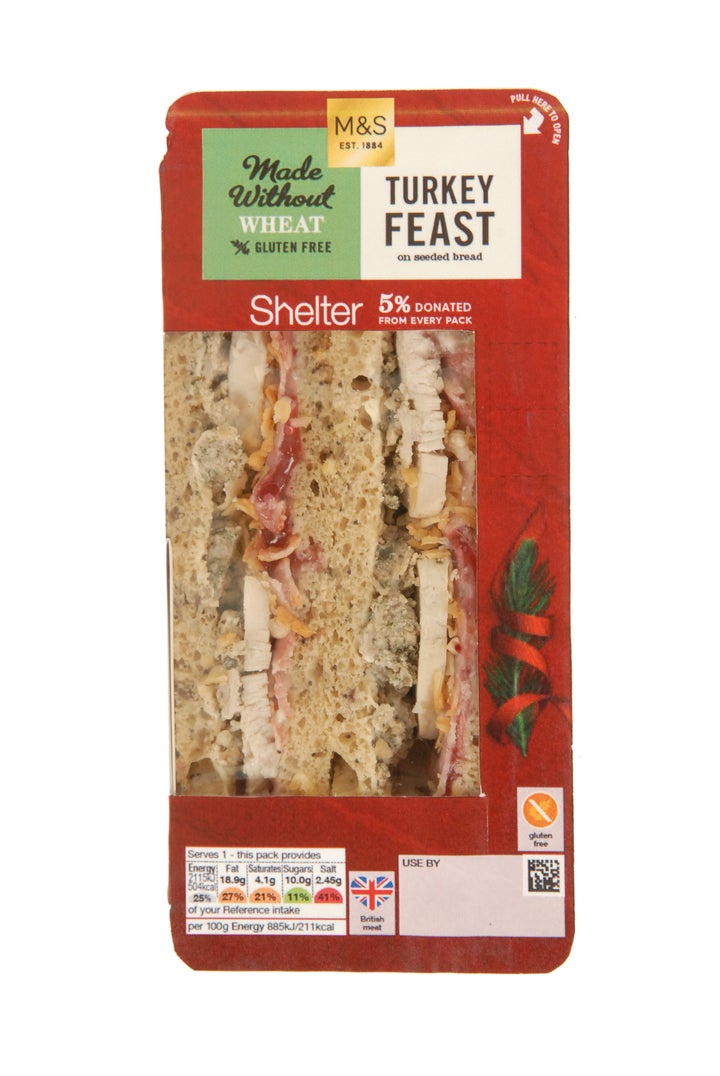 What is it? Part of M&S 'Made Without Wheat' and gluten-free range, this includes turkey, stuffing, bacon and red current chutney encased in seeded bread.
The verdict: The usual problem with gluten-free sandwiches is that the bread is terrible, but this sandwich breaks that tradition – it's soft and holds together really well. Packed full of filling, this really does feel like a proper 'feast', with great flavour balance between the turkey, cranberry sauce and stuffing. It only falls down when it comes to texture.
Turkey - the loser
Christmas lunch sandwich, Greggs, available in stores, £2.75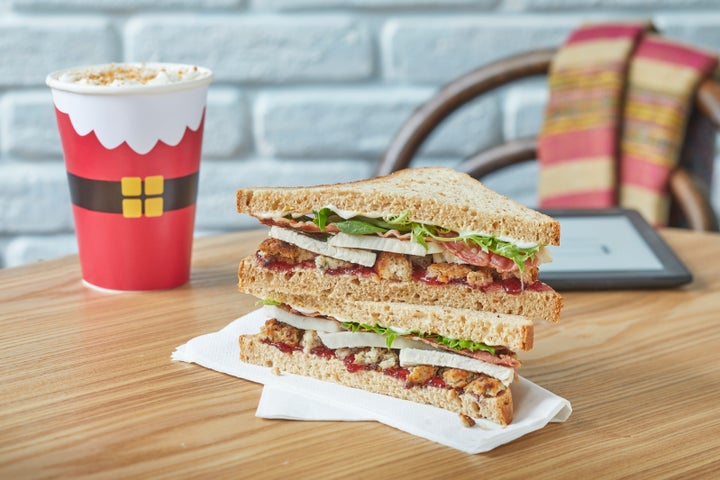 What is it? Turkey breast, sage & onion stuffing and cranberry & port sauce layered with spinach and mayonnaise in malted brown bread.
The verdict: The sarnie looks pretty good and the packaging is nice. But eating it is quite disappointing – we feel no more festive by the last bite than we did at the first. The bread itself is dry (more cranberry please) and the meat is a little chalky, but much more importantly the ingredients seem to mush into one, lacking texture and distinctive flavours.
Meat - the winner
The festive hock feast, Paul, available in stores and online, £4.50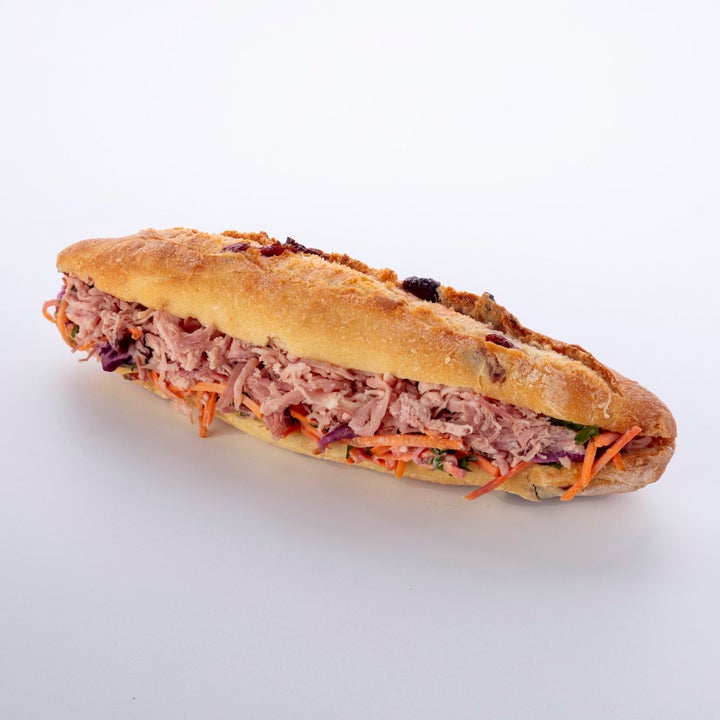 What is it? Hand-pulled ham hock combined with a Christmassy coleslaw with red cabbage, carrots, parsley, chopped cranberries, cream cheese and mayonnaise with horseradish.
The verdict: If you're tired of turkey or just fancy something a little different, this baguette nods to the festive Christmas ham. The bread is simply delicious, the filling is generous and the flavours work really well together. One reviewer thought there was a little too much red cabbage, but top marks for pushing the boat out.
Meat - the loser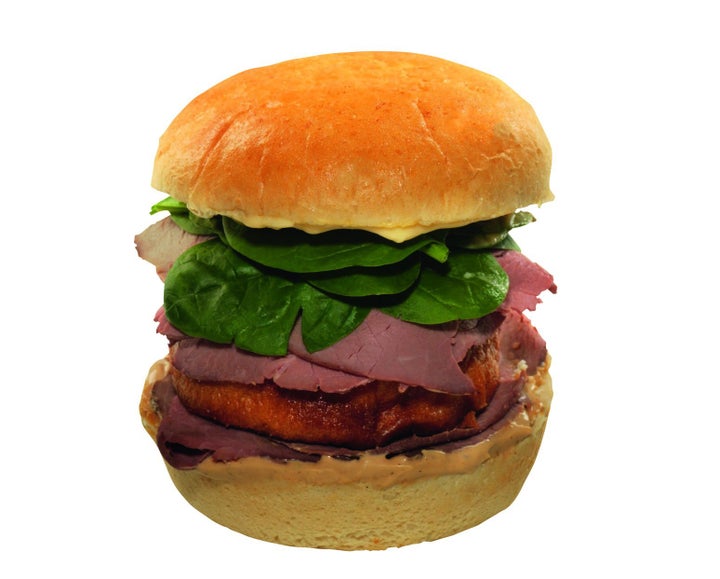 What is it? A soft white roll filled with double layers of rare beef, cheese fondue sauce, spinach and a gravy-soaked Yorkshire pudding.
The verdict: Firstly, it looks more like a burger than anything else and it's hard to see what is Christmassy about that. The beef is good quality and the ingredients are tasty, but it is bursting out of the bun and very stodgy. One reviewer said: "If you had to eat this in public, you would be embarrassed."
Veggie - the winners
Pret's Veggie Christmas lunch, Pret, available in stores, £3.50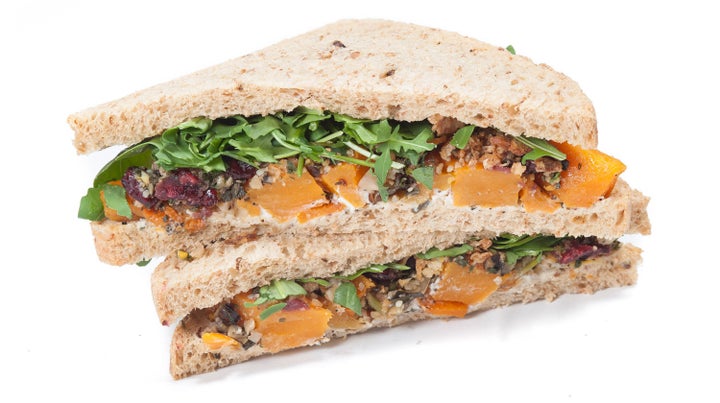 What is it? Roasted butternut squash, peppery rocket and Christmas pesto made with pine nuts, chestnuts, pumpkin seeds parsley and rosemary. Served with yogurt and mayo dressing and a sprinkling of crispy onions.
The verdict: This is jam-packed with filling - a bright burst of orange mushed with stuffing and loads of greenery. If you like roasted veggies this is delicious. There are citrussy notes, pine nut pesto and rocket, which work well together. Where the sarnie falls short is the texture – it's very mushy – and overall Christmassy-ness. This feels more autumnal than wintery.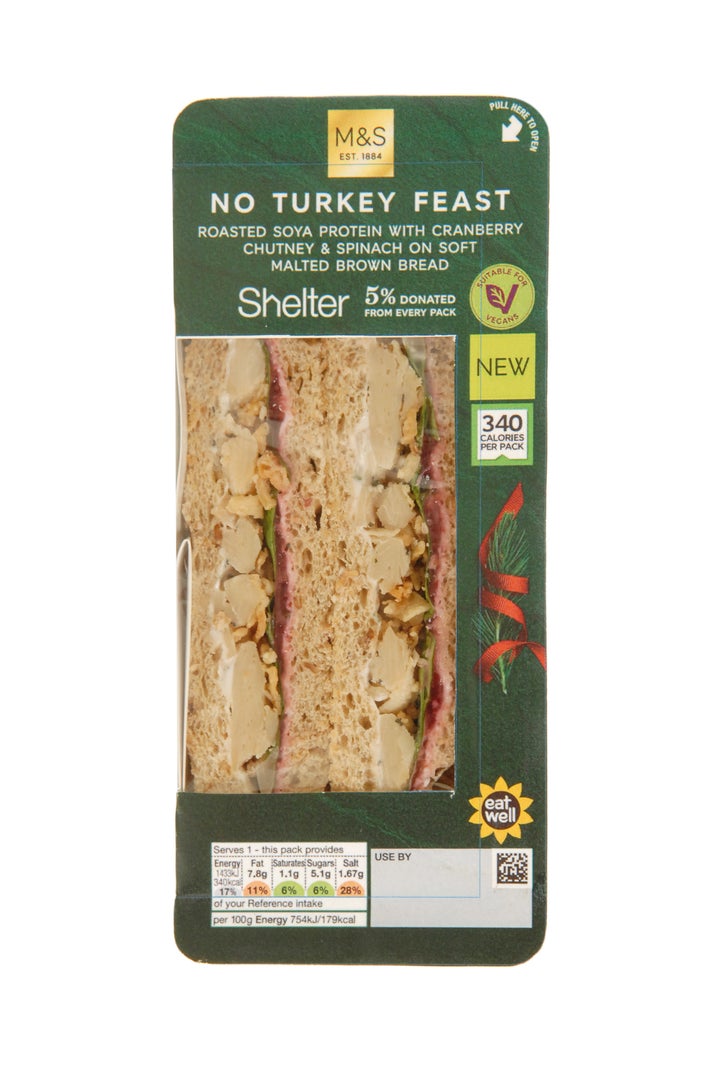 What is it? This new vegan sandwich swaps turkey for soya protein, then adds cranberry chutney and spinach on soft malted brown bread.
The verdict: The seasoned roasted furkey (that's fake turkey) tastes like the real thing, and complements the layered spinach and chutney. The bread is nice, but the texture of the turkey proved divisive – for one reviewer it was better than the real stuff "less stringy and not at all dry", while for another it was "suspiciously soft while also being slightly rubbery". The layered spinach and cranberry chutney makes it look (and feel) festive, which is nice.
Veggie - the loser
Tesco Vegetarian Christmas Dinner Wrap, Tesco, available in stores and online, £2.50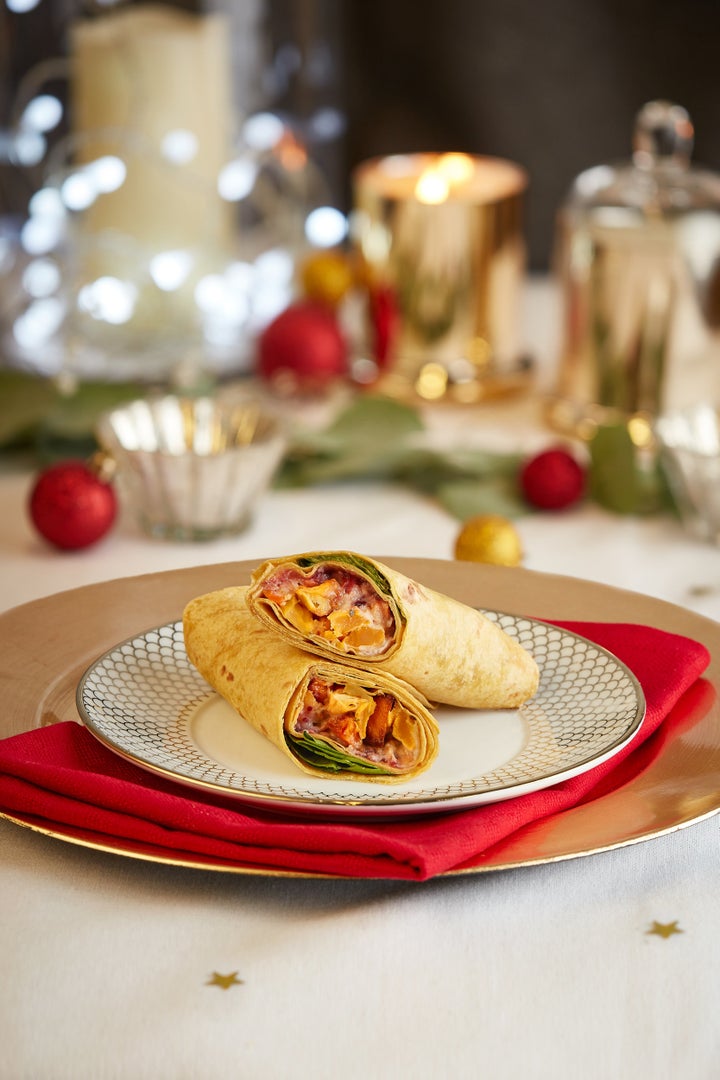 What is it? Maple roasted vegetables, mayonnaise, cranberry sauce, sage & onion stuffing and spinach in a wheat flour tortilla with pumpkin powder and turmeric.
The verdict: If we hadn't known this was a vegetable Christmas dinner 'sandwich' beforehand, we wouldn't have known. This has no discernible festivity or relation to Yuletide, save perhaps the cranberry source. Worse, the vegetables are bland and squish together in a tasteless, wet, orange mess.
We all work hard to earn our money – so it shouldn't feel like hard work to spend it well. At HuffPost Finds we'll help you find the best stuff that deserves your cash, from the ultimate lipstick to a durable iron to replace the one that broke (RIP). All our choices are completely independent but we may earn a small commission if you click a link and make a purchase.